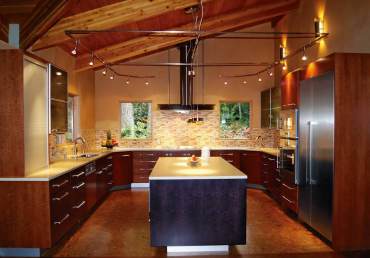 Large or small, a well-designed and organized kitchen can save you time, money and make preparing meals safer and more pleasurable. So whether you have a small organization budget or are planning on remodeling or building, feast your eyes on the hidden treasures in this kitchen!
For improvements you can do right now that don't require a screwdriver, consider affordable off-the-shelf drawer inserts such as those found at local retailers that keep cooking utensils (B), knifes (C) and spices (D) well-organized. For people who like to compost kitchen scraps, an attractive compost pail (with built-in filter) can stay on the counter for easy access (available in white porcelain or stainless steel) (E). Remember to purge your drawers and cabinets of unwanted items before starting your organization.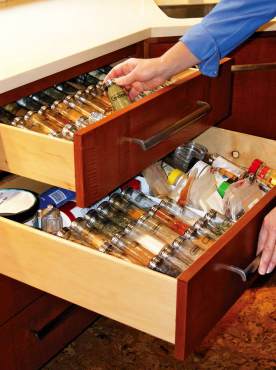 Feel empowered by power tools? There is a wide variety of off-the-shelf cabinet convenience hardware that can be installed with a few simple tools. Storing dishes below counter in a drawer is much more ergonomic than above counter. It also makes them more accessible for small children and those with physical disabilities. Consider installing a dish-drawer peg-board system (F). The pegs nest the dishes so they don't bump into each other as the drawer is closed.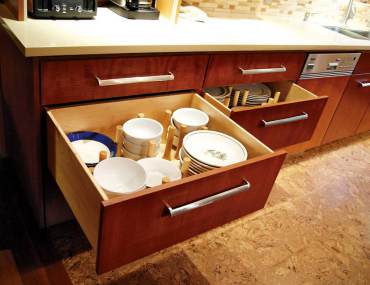 Store cutting boards on the inside of your cabinet door (remember to reduce the depth of your cabinet shelf) (G). This specific board is designated for meat while the adjacent butcher block counter is reserved for veggies/herbs/aromatics on one side and fruits and bread on the other side. Promote recycling by installing a tandem trash and recycling center that's convenient to use (H). This can be done as a retrofit with models that are bolted to the back of the cabinet door (you will need to putty the screw holes where the former door hinge was).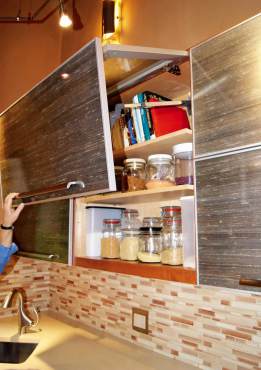 Cherish your counter space! If you currently have frameless cabinetry, you might even be able to retrofit a pop-up mixer stand (I). If not, consider including one of these in a future remodel or build project. Notice the routed channel that prevents eggs from rolling off the counter (J) and the slim line electrical receptacle strip tucked under the upper island countertop.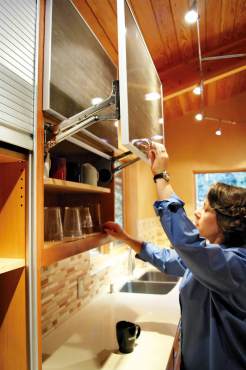 Make the most of every corner with a "super susan." Super susans are a spindleless version of a lazy susan (K). A rotating disc is mounted on the base cabinet shelves (hopefully the upper shelf is adjustable) — you would be surprised at how much better the storage is without the spindle. This is not generally considered a retrofit item unless you happen to have your countertops off.
Out of site but not out of mind. If you like the functionality of a restaurant kitchen but the aesthetics of a home kitchen, then this open shelve condiment cabinet, directly across from the cooking surface, is definitely the best of both worlds (L). There are a few toasters/ coffee makers in this world that possess design flair, but face it, most of us don't own one of those, so… park them in a strategically located appliance garage (M).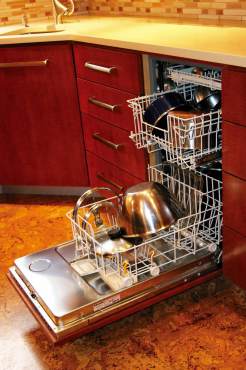 Ever walked into an open cabinet door? It is hard to do when they go up (N & O). Notice the organized storage jars. By purchasing foods from the bulk section of your grocery store and storing them in opaque sealed containers, you can maintain better inventory control and reduce spoilage, thus saving you trips to the store and money on your grocery bill.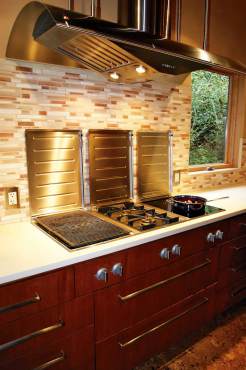 Size it right. Glass and enamel baking dishes are heavy and noisy when nested together. Consider designing a shallow drawer for these items and a deeper drawer for lighter metal baking pans that nest more easily (P).
Insufficient counter space is the No. 1 complaint from consumers when asked what they least like about their kitchen. Two ways to maximize counter space is by installing the microwave under counter and/or installing a dishwasher. This type of microwave drawer is ergonomic for people of different sizes and mobility (Q).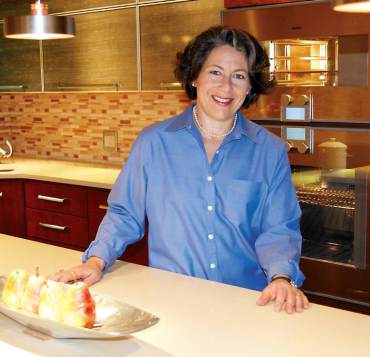 Believe it or not, there are still many kitchens in this country without a dishwasher. By installing a slim-line model (18-inches wide) (R) as either a primary or auxiliary unit, you can get dirty dishes off the counter and out of the sink. Remember that mechanical dishwashing uses less water than hand washing does and it is more hygienic, too.
If organizing your kitchen seems like an overwhelming task, consider working with a professional organizer. An organizer can help you prioritize your purge and make sense of any space. When it comes to laying-out and designing kitchens for remodels and new construction, hiring a professional who specializes in kitchens will be the best money you will ever spend. A good designer can help you ferret through all your options and help you select the components that will deliver the most bang for your hard-earned buck. To find professional designers in your area, contact the National Kitchen and Bath Association at www.nkba.org.
This article was first published in the Winter of 2009 print edition of the WestSound Magazine. Any discrepancies, omissions, or inclusions that seem incorrect are purely due to the age of this article. WestSound Magazine deemed this article useful and beneficial as a contribution to today's readership, and therefore is included in this site's online article archives. If you feel the content of this article is detrimental due to its age, please feel free to contact us to request removal or modification.