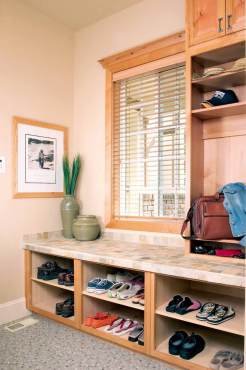 Picture your kitchen counter. Is it a dumping ground for mail, backpacks, briefcases, coupons and family messages that usually get lost in the shuffle? Do you yearn for a serene, organized location to store frequently used items, house grubby shoes and to act as a go-between for your home and the outside world?
The solution can be found in one of the most overlooked rooms in the home. While they may not have ended up with a very sophisticated name, mudrooms can be one of the most vital areas of the house. Their inner beauty lies in the fact that they make great places for depositing everything from baseball bats to backpacks, and they go a long way toward keeping the rest of your house clutter-free.
What's in a Name?
Probably originally named in northern climates where it has been popular for quite some time, the mudroom began as a sort of detoxification chamber between the muddy winter weather and the interior of the house. While most of us don't spend much time hiking through the snow, mudrooms have gained popularity due to their ability to collect sundry objects and their flexibility to accommodate the ever-changing needs of all kinds of families.
Basically, a mudroom can be any area of the home that acts as a drop center or transitional space for storing the items that are often used outside. Rather than trekking these items into the house and (maybe) putting them away, you can stow them in the mudroom until the next time they are needed. As a transitional space, a mudroom can also be ideal for communication among family members, complete with a message board and a family schedule. It's the nerve center of the house.
Purposeful Planning
If you are convinced you need a mudroom or already have one that could use some additional organization, getting started requires assessing your family's needs. Consider how many children will use the room, keeping in mind how old they are and, of course, that they will grow. Are there pets involved? Mudrooms can be great places to store leashes, food dishes and litter boxes. Hats, gloves and coats find a home in a mudroom, too. You can even use the area to store sports equipment or make crafts.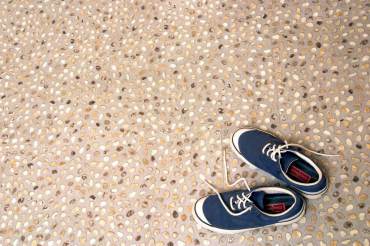 The main thing is you want to think this out and design the space to work for your family's lifestyle. A mudroom can help a busy family stay organized.
Location, Location, Location
As transitional spaces, mudrooms are best placed between high-traffic entryways and the rest of the home. Often, this is near an entrance that leads from the garage to the kitchen, creating a sort of anteroom to the kitchen. If you don't have a room to dedicate, don't despair. It can also just be part of a hallway. If you don't have space to create a physical room, keep in mind that houses are full of traffic patterns where you have wasted hallways that can become very functional.
You can also tuck a mudroom into a specific corner of your kitchen. Adding a small bench with storage below the seat and some coat hooks can turn a simple wall space into a genuine mudroom. Even creating a system on a staircase with designated baskets for various items along the stairs can help eliminate clutter in mudroom style.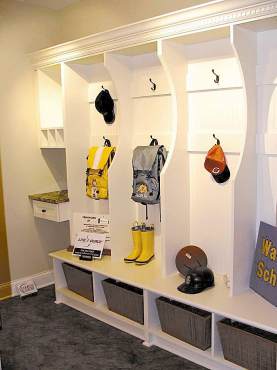 There are a few places to avoid installing a mudroom. Garages are passable locations, by most people find mudrooms more useful when they are located inside the home. The same goes for basements, which can be dingy and don't always lead straight from a much-used outside entrance to the interior of the home.
Pick Your Favorite Features
A typical mudroom might have the following features: about eight by 10 feet of space, a hanging area, linen storage, a place for outdoor toys, overflow kitchen storage and an open center area. Yet, even with these common features, each mudroom should be tailored to fit the individual needs of the family.
The most important thing to remember is that this is the primary space for entering and leaving the house. It is high traffic. You want it to work for you. You don't want it to end up being just another place to dump, so the areas have to have specific needs in mind.
To begin with the basics, you'll definitely want a bench. This provides a spot for shoe removal and, preferably, allows for storage underneath. Consider the height of all family members when choosing the bench.
Next, include locker-sized cubbyholes for each member of the family. You also can use actual school lockers; these are perfect places for children to store book bags and other school materials. Also, add an area for each person to write notes to himself or herself as well as communicate with other family members.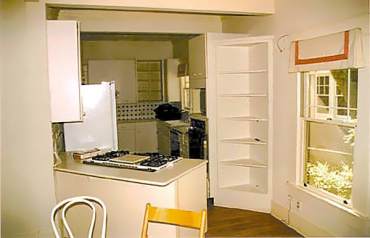 Make sure to have hooks for coats and bags, a mail slot for incoming and outgoing mail, a place to hang keys (including spare keys) and an umbrella stand. Depending on how large the room is, you might include designated areas for sports equipment or storage for paper goods, such as wrapping paper, as well as shelving with baskets to keep items organized. Don't forget a nonslip mat for times when the mudroom lives up to its name. And below it all, the floor material is crucial. Choose flooring like tile, vinyl or stained concrete, and avoid carpet and hardwood, which can be stained or damaged easily.
Super Mudrooms
When is a mudroom more than a mudroom? When it becomes a "super mudroom," a space that can be multipurpose and also function as a utility area. For example, one such super mudroom could be a long area with doors connecting to the laundry room, an area with cubby storage, an office area that includes an expanded desk and family calendar, as well as a half-bathroom. The entire super mudroom connects to the kitchen and the garage.
Another great use of a mudroom can save the floors of families with pools. Placing a mudroom between the swimming pool and the house keeps wet towels and bathing suits from dripping all over the house. Include a stackable washer/dryer and a half-bath in this super mudroom and having kids in the pool will no longer mean messes in the house. All of the pool and outdoor necessities can be stored here, too, from sunscreen to towels to pool floats.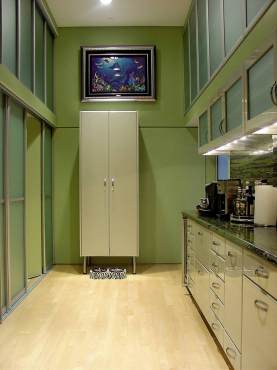 A floor sink can be the final exhilarating touch to a super mudroom and it is well worth the expense. It's similar to a step-in shower and has a drain in the floor. Not only are floor sinks just the thing for cleaning shoes, garden tools and sports equipment, they are also a good fit for washing the family dog. If you want something a little more traditional, large utility sinks can also be very handy in mudrooms.
Bonus Benefits
Mudrooms provide many advantages to homeowners by keeping the rest of the house separate from the outdoors. Today, more and more people are creating them or adding them to the home. In fact, including a mudroom is almost a prerequisite to kitchen renovation in many homes. When it's time to sell, mudrooms can pay for themselves. Mudrooms are one of the new must-have features. They can actually make the difference between the sale of your home and a similar home that lacks a mudroom.
One word of caution, though, is to not make a mudroom that is too specific. For resale purposes, it should be as accessible as possible to potential buyers. Select storage furniture rather than a lot of family-specific custom cabinetry.
Start planning, call an organizer if you need help and begin making the most of your entryway today. A mudroom not only keeps your house cleaner but it can enhance your life and the value of your home. If you are planning a renovation project, put it at the top of your list.
This article was first published in the Winter of 2010 print edition of the WestSound Magazine. Any discrepancies, omissions, or inclusions that seem incorrect are purely due to the age of this article. WestSound Magazine deemed this article useful and beneficial as a contribution to today's readership, and therefore is included in this site's online article archives. If you feel the content of this article is detrimental due to its age, please feel free to contact us to request removal or modification.