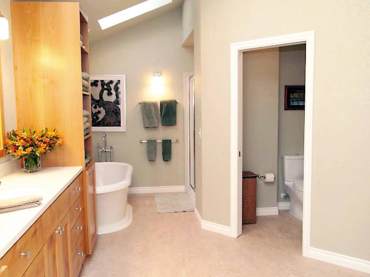 Most design projects begin by drafting and prioritizing the client's wish list. At the top of the list you will typically find more storage, better lighting, updated finishes, etc. However, when a homeowner has multiple chemical sensitivities (MCS), the priorities change, with indoor air quality and chemical-free maintenance hitting the top of the list.
As an asthma sufferer, I designed and built my own house with these specifications and relished the opportunity to do it again when I was approached by a prospective client with severe chemical sensitivities.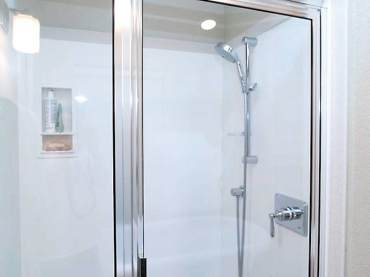 The client had a poorly designed master bath, which had a vaulted ceiling with an exhaust fan set 12 inches off the floor and ducted into the roof space. Additionally, the room had tile that was improperly installed and maintained and had created a black mold problem. The net result was poor indoor air quality as well as cleaning and maintenance issues that kept the homeowners from even using the bathroom. When they found out they were expecting their first child, they realized it was time to seriously tackle the master bathroom's numerous issues.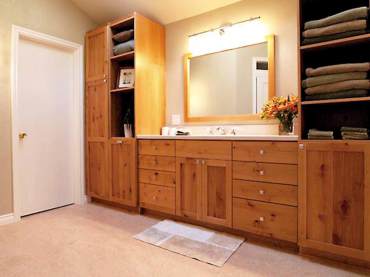 MCS, as defined by the U.S. Environmental Protection Agency in 2003, is a physical condition whereby the affected person reports sensitivity or intolerance to a variety of common chemicals, both natural and synthetic, at very low levels. Common irritants include cleaning agents (bleach, soaps and detergents), paints and varnishes (including sealants, caulks and glues), as well as upholstery, carpet, furniture and cabinetry that have been treated or manufactured with common chemicals such as formaldehyde resins (a known carcinogen), pesticides and other toxic solvents.
These substances and materials have a tendency to "off-gas" a variety of chemical irritants referred to as volatile organic compounds (VOCs), which compromise the indoor air quality of the home. Today's energy-efficient "tight" homes trap these irritants indoors, potentially impacting the health of the occupants. Symptoms include sore throat, watery eyes, nausea, headaches, muscle and joint pain, memory loss, blurred vision, difficulty breathing, skin rashes, chronic allergies, sleep interruption, behavior issues, brain damage and depression.
BEFORE: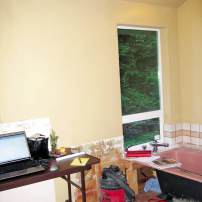 Architects, designers and builders have an ethical obligation to educate homeowners on their options for incorporating low-or non-toxic materials that will render any project safe and healthy for its occupants. As a base line, here are some primary selection criteria for consideration:
Use natural, hard-surface flooring such as cork, linoleum, wood or tile instead of carpeting, laminate or vinyl to minimize off-gassing and the harboring of dust mites, mildew and/or bacteria.
Low-or no-VOC paints and finishes should be chosen over their high-VOC brethren — look for third-party certifications such as Green Seal or Green Guard for assurance of low-VOC levels.
Vintage furniture has likely already off-gassed its toxic components so consider buying used. If you need new furnishings, look for a manufacturer's membership in the Sustainable Furnishings Council, which promotes the manufacturing of sustainable, low-toxicity products.
Look for stock or semi-custom cabinetry that has earned the Environmental Stewardship Program Seal from the Kitchen Cabinet Manufacturers Association.
Consider buying custom-made cabinetry and furniture that uses only no-added formaldehyde plywood, particle board and/or medium density fiber board (MDF) along with low-VOC finishes and adhesives.
Countertop materials are available that don't contain high-VOC glues, resins or other toxic binding agents and can be maintained without the use of high-VOC sealants and cleaning agents.
Buy window coverings and furnishings that use untreated natural fibers such as wool, cotton, jute, etc. rather than synthetic fiber materials.
Analyze and supplement, where necessary, the home's ventilation including upgrading kitchen and bathroom exhaust fans, installing a filter on a forced-air furnace and installing a room air exchanger.
Opt for materials that do not require toxic cleaning agents for routine maintenance.
Remedies for the client's toxic bathroom included:
Installed an 8-foot flat ceiling over the shower with a new exhaust fan vented to the outside of the house; installed a second fan in the water closet.
Replaced carpet with Marmoleum (natural sheet linoleum) flooring.
Used no-VOC Benjamin Moore Natura paint for walls and ceiling.
Cabinetry was comprised of Forest Stewardship Council (FSC) alder doors and drawer fronts with FSC maple plywood cabinet and drawer boxes and a low-VOC finish and adhesives.
Replaced tile with solid surface countertop and shower surround (slab and panels) fabricated with low-VOC adhesives and caulks. These surfaces are very low-maintenance and require no toxic cleaners for long-term maintenance.
Installed prefinished millwork, minimizes the impact of the built environment on the health of a home's occupants, it is important to do your homework and have a clear understanding of not only the manufacturing process but also the maintenance requirements of the components and finishes being specified. Working with professional architects, designers and builders who are well versed in the area of environmental design and construction is one way to ensure that selected materials and finishes meet the needs of the MCS sufferer. For those consumers who would like to have a deeper understanding, there are many resources available to help you make good, healthy choices.
This article was first published in the Fall of 2010 print edition of the WestSound Magazine. Any discrepancies, omissions, or inclusions that seem incorrect are purely due to the age of this article. WestSound Magazine deemed this article useful and beneficial as a contribution to today's readership, and therefore is included in this site's online article archives. If you feel the content of this article is detrimental due to its age, please feel free to contact us to request removal or modification.