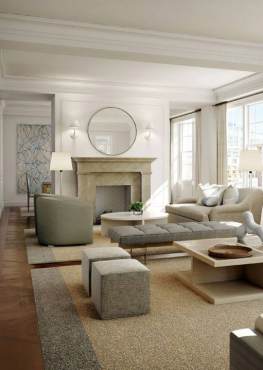 Most of us love a great room. It's a latter-day architectural concept that suits a casual lifestyle and allows everyone to talk to the cook and help out with dinner. Perfect for the casual living of the 21st century.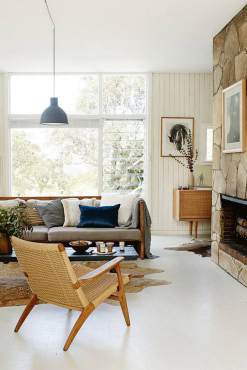 Here are some easy design tips to implement in your own home right away:
Create zones with area rugs
You can use rugs that are the same color and design (see Room No. 1), or rugs that are the same color but different design. Room No. 2 uses the theme of cow-hide rugs to divide the space into zones while tying the zones together with a common style.
Divide the space with low furniture
The back side of a sofa is a perfect way to separate zones. If there's room, you could place a console table behind the sofa with lamps for good reading light when you're stretched out with your feet up.
Separate areas with a kitchen island or half wall
There is plenty of visibility over an island, which keeps the space open for conversation or viewing a TV screen.
Repeat design elements from zone to zone
The use of similar pendant lamps, throw pillows or flooring materials makes for a flow throughout your whole great room.
Stand back and check your "sight lines" for continuity
Look at your space from the north, the east, the south and the west — and look as far as you can. Ask yourself if what your eye takes in goes together. All zones should "talk to each other."
Unify your great room with a single color palette
Don't change color schemes within the space. Carry your colors through the entire room and into the next rooms if you like. In fact, I am a big fan of repeating a color palette throughout an entire house. Each room can have its own distinct personality but this practice of repeating color creates a serene flowing environment with smooth transitions.