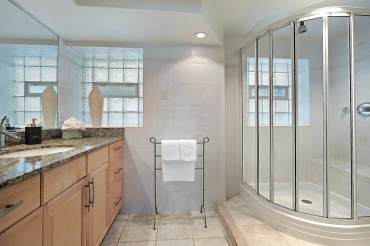 From basic hygiene to a spa-like escape, showers fulfill different needs for different people. Most don't give a second thought about what goes into creating one of the most used features of the home nor how the design and maintenance of this simple enclosure can create either joy or misery.
Use these ideas to assist you in selecting the right components and materials the next time you are creating, updating or repairing a shower while simultaneously avoiding potentially costly pitfalls. (For the purposes of this article, showers are defined as standalone units with no accompanying bathtub.)
The basic components of a shower include: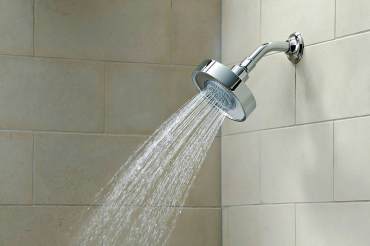 Pans and receptors: Pans and receptors form the base or floor of a shower. Pans are "custom built," multilayered bases for decorative tile. Pans provide decorative flexibility but if installed improperly, the results can be water intrusion to the subfloor and floor joists. It is equally important to keep a proper maintenance regime for tile pans to ensure long life and serviceability. Receptors can be made of fiberglass, acrylic or solid surface. They are generally more affordable than pans but come in a limited color palette and may be hard to maintain if the home's water source is hard. With receptors, it is particularly important to abide by the manufacturer's care and use guidelines to ensure lasting good looks.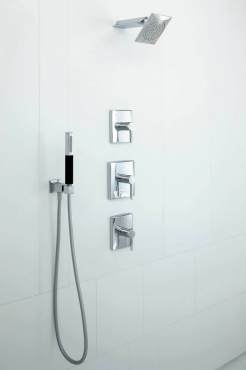 Surrounds: Surrounds comprise the shower walls, other than shower glass or curtain. Going from least expensive to most expensive, surrounds can be constructed of pre-formed fiberglass, glass block, tile, solid surface panels or natural stone slabs. Each material has unique qualities and maintenance requirements (solid surface having the lowest maintenance requirements and tile and natural stone having the greatest) and should be selected based on the homeowner's lifestyle and budget. Adding shampoo niches to the shower surround will help keep toiletries organized and keep the shower floor clear of tripping hazards. Integrated seats can provide extra comfort and relaxation for bathers of all ages.
Shower heads: Shower heads can be either fixed or hand-held. They can be mounted on the wall or on the ceiling, multifunctional or single function, low flow (1.0-1.75 gallons per minute) or standard flow (2.5 gallons per minute) and they come in a variety of styles and finishes. Today's hand-held showers provide equal performance to their fixed brethren and provide the added benefit of making cleaning the shower infinitely easier.
Installing both a fixed shower head and a hand-held head in the same shower provides the ultimate in flexibility. For example, following surgical procedures, many people find it difficult to shower with a fixed-head shower due to the inability to keep the water directed away from incisions and bandages. This same issue applies to the bather who wants to shower but does not want to wash hair. Lastly, depending on the size of the shower, the installation of two heads can facilitate dual showering for busy households.
Note: The best installation for a hand-held shower is on a slide bar that allows users of different physical heights to adjust the level of the shower head to their liking.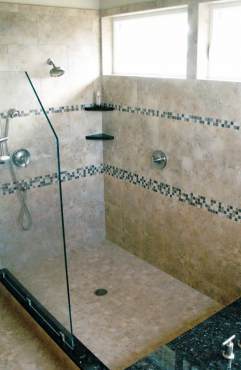 Body sprays: Similar to a shower head, these units have no neck, are mounted flush to the wall and are activated by a shower valve or valve with diverter. They are intended to be installed at heights that are specific to the body of the homeowner. It is important to ensure the home has enough water pressure and the supply lines are adequately sized to properly activate body sprays. Given that body sprays flow at 2.5 gallons per minute and that it is relatively standard to install two or more sprays in a single shower, it is also important to properly size the home's water heater to ensure adequate hot water delivery — a 10-minute shower with two body sprays will consume 50 gallons of hot water. With potentially five gallons of water flowing per minute, it is also important to size the shower drain accordingly to minimize standing water.
Valves and valve trims: There are two basic types of valves: pressure balance and thermostatic. The water flow with a pressure balance is either on or off, while the temperature is adjustable. These valves are more affordable and can be easily installed in any remodel where the wall's interior is accessible. A thermostatic valve allows you to set a preferred temperature on the valve and has a separate volume control for the water flow.
Thermostatic valves provide the bather with more flexibility and have water conservation attributes but do not lend themselves to all retrofit scenarios due to the required three-quarter-inch supply line. Valve trims are the decorative cover for the valve and often include a diverter for diverting flow to a tub spout or another flow source such as a hand-held shower or body sprays. Many plumbing fixture manufacturers offer "whole suites" of coordinating shower heads, valve trims, faucets and even decorative hardware such as towel bars for creating just the right look for any home.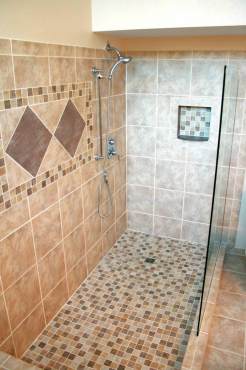 Shower glass/curtains: Shower glass enclosures come in two basic configurations, framed and frameless. Framed glass has a metal frame running along the base and the top of the glass that is affixed to shower base and walls, holding the glass in place. Frameless shower glass is just as the name implies, it has no frame and the glass is supported by decorative metal hinges. Framed is the more affordable of the two types of shower glass. Whether you choose framed or frameless, it is a good idea to include a towel bar on the shower door.
Doorless showers have a multitude of attributes including less surface area to clean, less material to install and easier access for individuals with impaired mobility. It is important to size the doorless shower properly so as to minimize water intrusion to other parts of the bathroom. Shower curtains, held up by either a straight or curved shower rod, can help keep project costs down and add a decorative look to a bathroom. It is important to size the curtain correctly so that there is adequate coverage to keep all shower water inside the shower.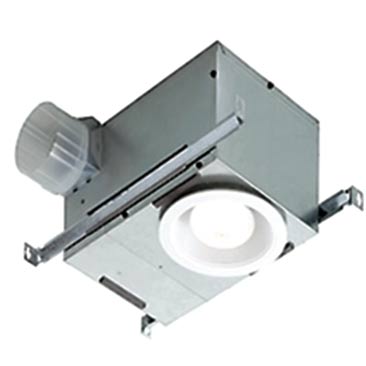 Exhaust fans and lighting: Installing a good-quality exhaust fan will ensure your bathroom finishes are protected from excess moisture as well as will help maintain good indoor air quality. Exhaust fans have become multifunctional, with some fans including built-in lights while others include heat lamps. These fans can be wired to the light switch so that the fan comes on each time the light is turned on, activated by humidity or occupancy sensors or it can be placed on timers — the method of activation should correlate to the lifestyle of the homeowner. It is important to locate the fan as close to the shower as possible and it is often recommended that a second fan be installed above the toilet if the bathroom is more than 50 square feet.
Shower extras: Steam showers can produce a wonderful, deep-penetrating heat similar to a bath but with a fraction of the water or energy consumption. Steam showers necessitate tile or stone walls and ceilings (ceiling must be sloped) as well as full-height glass with transom windows for ventilation. Grab bars are recommended for people of all ages and physical abilities and they can add a decorative element to the shower. Shower caddies can add a decorative touch as well as additional storage.
There are literally thousands of shower fixtures and accessories to choose from. To narrow your search, pick a style (traditional, transitional, contemporary, old world etc.), pick a finish (chrome, nickel, oil rubbed bronze, gold etc.) and establish your budget, then head out to a plumbing showroom near you and get some expert advice from the showroom personnel or retain a professional bath designer to assist you with your selections. These experts will save you time and money, and circumvent potential pitfalls by helping you select the right products for your project as well as connect you to reputable plumbers, electricians and tile masons.
Are you ready for a good sing in the shower?