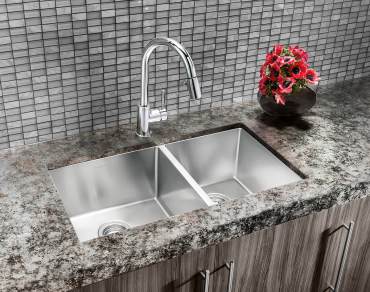 Go into a plumbing showroom or home-building store and you will be amazed by the variety of types, styles and finishes available in kitchen plumbing fixtures today. The following article is designed as a decision tree to help you make the right choices for your kitchen by understanding your options.
Sinks
Sinks come in a variety of materials (cast iron, fireclay, stainless steel, copper, stone, concrete, solid surface and a few other materials), shapes, sizes and bowl configurations. The most common sink is 33 inches wide, double bowl sink.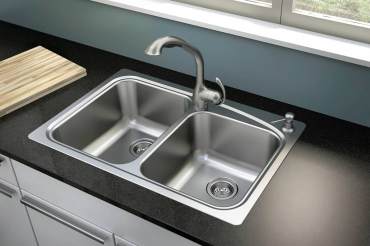 The sink features you want to focus on first are the installation type and size (if you are retrofitting into an existing cabinet, you will want to measure the interior space of the cabinet to make sure it will accommodate your selection, and if you are remodeling or building with new cabinets, you will want to ensure that the size of the sink cabinet has been appropriately specified).
There are four basic installation options, each with its own merits:
Self-rimming (installed on top of the counter, with faucet, etc. mounted in the deck of the sink)
Tile-in (installed in the counter, with the faucet, etc. mounted on the sink deck)
Under-mount (installed under the counter, with the faucet and accessories mounted on the countertop behind the sink)
Apron front, a.k.a. "farmhouse" (installed under the counter, with the faucet and accessories mounted on the countertop behind the sink)
Sinks with integral drain boards (installed above counter)
Bar/prep (typically one small bowl)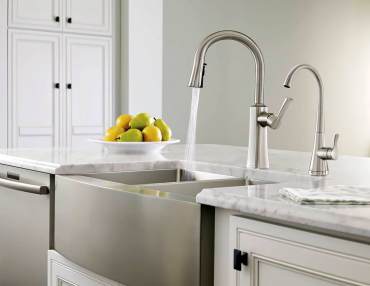 Faucets and Accessories
Once you have decided on your sink installation choice, you will need to consider your faucet and accessory choices before you can select the perfect sink. The type of faucet and accessories will dictate how many holes the sink must have in order to accommodate your faucet and accessory selections.
Note: Some under-mount sinks have a back flange that is drilled for faucets and accessories while others do not — read the sink specifications very carefully before purchasing.
Faucets come in five basic mounting options and are available in a variety of styles and finishes, each befitting to a general architectural style. Some styles are available in both a water-conservation model with a 1.75 gallons per minute flow rate as well as the standard of 2.2 gallons per minute.
Single lever on the base faucet
Single lever on the deck faucet
Dual handle wide spread faucet
Dual handle bridge faucet
Wall-mounted faucet
Pot filler (typically installed above and next to the range/cooktop)
Note: Single and dual lever faucets typically offer either a pull-down (high arc) or pull-out (low arc) aerated head, which makes cleaning fruits, vegetables and the kitchen sink a breeze.
Motion/touch activated faucets (operating with sensors)
Sink Accessories
Accessories can help increase the efficiency and tidiness of your kitchen:
Spray head — if the main faucet does not have an aerated head, then you can incorporate a side sprayer.
Filter/hot water dispenser — whether you simply want to fill a sport bottle or make a nice cup of tea, a filtered/hot water dispenser is a useful and affordable luxury.
Soap/lotion dispensers — help keep kitchen counters clear of soap and lotion bottle clutter.

Moen single lever Arbor Motion Sense Faucet in stainless finish

Air gaps — not the most attractive fixture but required by building codes in many jurisdictions

Garbage disposal — grind up and dispose of food particles in your sink. Some are designed to handle small amounts of soft waste while others are capable of grinding up small animal bones. Carefully review the features of any model you are considering and note that garbage disposals are not recommend in homes that utilize a septic system as the particulates can clog the drain field.
Basket strainers — a necessary part that does not come with the sink and must be ordered separately It is possible to get finishes to match the sink or faucet.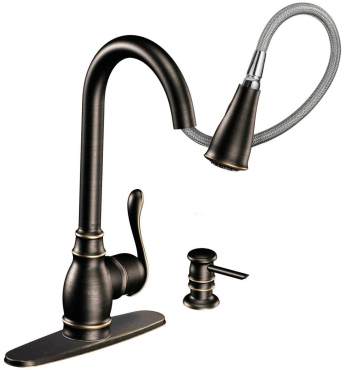 The next step is to count up the number of accessories you have selected along with the type of faucet to determine how many holes your sink requires and if there is enough deck space to accommodate your selections.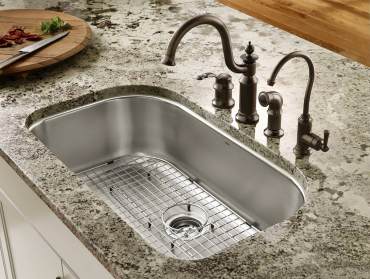 If you have chosen an under-mount sink, then you just need to confirm that there is enough room in the cabinet behind the sink to install each fixture and accessory, taking into account the ability to access the tightening nuts under the countertop and if there are predrilled holes in the flange that will accommodate your accessory choices.
Other Options
The next step in selecting your perfect sink is to consider your remaining sink options. The number of bowls is a personal preference. The number of holes that you require for your faucetry and accessories may limit the models available to meet your selection criteria.
Sink shapes are also a personal choice; however, consideration should be given to the style of the home. For example, a trapezoidal or meandering sink bowl would not look appropriate in a traditionally styled home.
Just like shape, the material the sink is constructed from is a personal decision but again, the installation type, size, number of bowls and shape will limit your options when it comes to variety of sink material.
Lastly, some manufacturers do a better job with their accessory options, so if accessories are important criteria, you might want to put them higher on your decision tree.
Number of bowls: one, two or three
Number of holes: one, two, three or four (depending on your needs; if you need four holes, you may find your model options more limited compared to a two- or three-hole sink)
Shapes: square, rounded or unique
Material: stainless steel, cast iron, fireclay, stone, concrete, copper
Accessories: bottom grids, colanders, cutting boards, etc.
Laundry room sinks are often overlooked and can be a vital amenity for many homes. Most of the selection criteria you would apply to a kitchen sink can be applied to a laundry room sink. However, it is customary to spend less on the laundry room sink, faucet and accessories than you would normally spend on the same items for your kitchen.
It should be noted that many manufacturers produce "identically styled" plumbing products at more than one price points. The difference between these identical products is the price and the quality of manufacturing. For example, two faucets by a major manufacturer may look identical but are assembled with different "guts." The lower-priced faucet has plastic guts and the identical but higher-priced one has ceramic cartridges that will provide drip-free service for many years to come.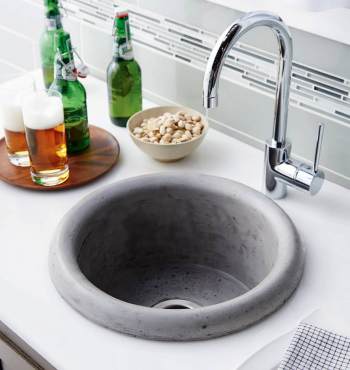 A similar principle applies to sinks. Two stainless steel sinks can look identical but one is constructed of 16-gauge stainless steel and the other, 18-gauge (the lower the gauge number, the higher the quality of the steel). Another differentiating point is sound absorbers under the sink. Low-priced, stainless steel sinks either have no sound absorbers or very thin ones, hence emitting an irritating, "tinny" sound when you place dishes in an otherwise empty sink.
There are many variables to consider when selecting plumbing fixtures. To ensure you are getting the best value for your money, consult with a residential design professional or an experienced plumbing showroom associate. In West Sound, there are two plumbing showrooms: Ferguson Enterprises in Port Orchard and Keller Supply in Bremerton.