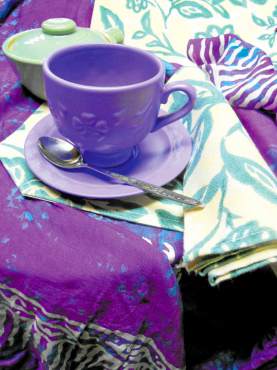 Like trying to capture wind to put in a mason jar or finding that the cake baked and rose higher than expected — that's purple.
"Go, Huskies!" the man shouted while wearing a bright-purple sweatshirt and an equally vibrant UW monogrammed baseball cap.
Sports easily accepts this go-getter, out-there hue. The Minnesota Vikings won't be changing their theme color to aqua or moss green any time soon!
It takes a strong color to convey power, confidence or royalty. Purple is all that and more.
I put on my waist-high waders and jumped in the river of purple, and the current bounced me around like a bronco in a rodeo shoot. I became aware of the purple-world. And I became aware that people do not state out loud they do not like the color. Oh no, not to purple loyalists.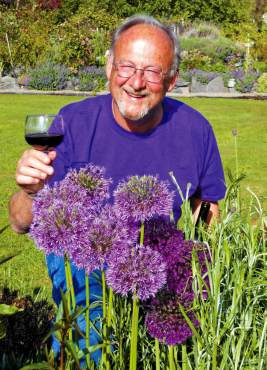 Artist and textile designer Terri Nokell told me, "Many feel that purple is not a statement. It is a way of life."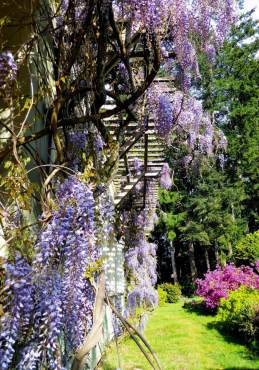 One day a senior woman and her sister visited my art gallery. Karen Bennett's hair was as bright as I had ever seen. I had to ask her, and she was delighted that I asked. Yes, the hair was real, permanently dyed purple, and her 12 grandchildren love it, she told me.
Bremerton artist Cynthia Engelgau is noted for her paintings of purple cows. Her installation in the Amy Burnett Gallery's display window was one of the most popular, as we watched people stop, smile and converse.
Kids and teenage girls seem to love, love, love purple, from oversized cartoon characters to bedroom wall paint.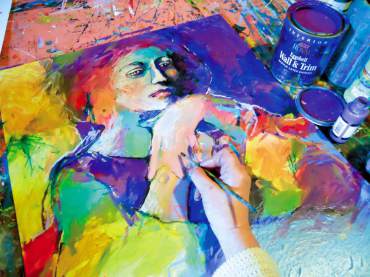 Of all the colors in the world, purple is the one that is a standalone creature pointing to itself, making sure its presence is known. I have noticed that women who wear purple usually coordinate the event with not just one accent, but with an array of items, from handbag to shoes to nail polish. And I have not met one purple-person who wasn't happy and likable.
Then there is the flower garden, where purple-petal-faces are a must. I visited Ron Gillespie's magnificent gardens, where the hue danced everywhere.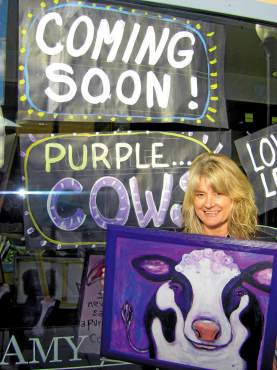 On the other hand, is there a sinister side to purple? Yes, but maybe it is more dark or repulsive in particular situations. Heavy, long, deep-purple velvet drapes that enclose damp castle windows may connote a cold, eerie feeling. A large, vibrant-purple sofa would dominate a living room and in most cases produce feelings of anxiety.
If foods that we think of as white, like milk, mash potatoes or cauliflower, were dyed purple, it would repulse our appetite. Purple is somewhat accepted in contemporary kitchens but I have never seen bright-purple flooring. And the vibrant hue is used minimally in dens or study areas because purple is selfish and takes attention away from serious concentrations. If I saw a big purple vehicle on the road, I would think it was a commercial rig or belonged to a young driver.
The purple story began a year ago when I went to the store to buy a big can of purple paint. I was stymied at the choices, discovering the color lacked a specific definition. But I made a selection and went home to begin painting so I could emotionally and physically feel purple.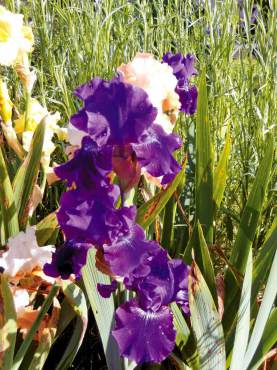 Not my favorite color and seldom part of my lifestyle but soon I was knee-deep in that river called "purple study."
I got out my paints and a few canvases. As I mixed the purple with other colors, I found it muddied easily and control was needed. Large areas of purple produced drama and I felt it partnered well with moss green, orange and aqua.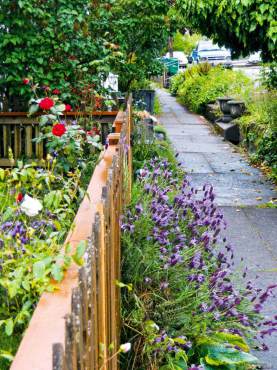 Then I painted a chair purple and felt a bit uncomfortable with the results.
There was a dilemma with another part of the study. This was my 10th in-depth color study and with each, I would create table installations, for I feel relating color with kitchen and dining is essential. But I could not find purple vintage dishes or cookware, lest for a late clear-purplish Pyrex mixing bowl set. I ended up painting old dishes, so they were no longer utilitarian.
Even now it is difficult to put a title on purple. It is as heavy as an elephant and as comforting as a feather pillow. In my art gallery by the pay counter, I had these great medium-size opaque plastic bags: orange, pink, green, black, white, yellow and purple. Upon a sale, I would ask the customer which bag they would like. One color disappeared quickly.
Guess.