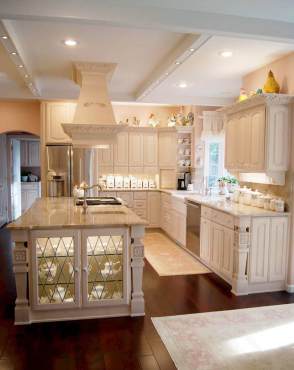 When Irv and Sally Sauer built their dream house in McCormick Woods 20 years ago, it was perfect for their lifestyle. The couple designed the 3,400-square-foot house so well, in the two decades since then they hadn't done any remodeling except for a few small things like replacing the carpet and the fireplace mantels.
The kitchen was especially dear to Sally, who loves to cook and entertain. Custom cabinets displayed her crystal collected from travel all over the world. An island provided ample room for food preparation. And even the colors were perfect — a pink floor and granite countertops making no apology for her favorite rose color, which is incorporated throughout the house.
"I spend a lot of time in the kitchen. Every time we have company, everybody goes into the kitchen," Sally said.
But last year, the Sauers returned home from a cruise to find their kitchen in ruins. Water seeped in through the vents during a heavy storm — and the kitchen was practically destroyed.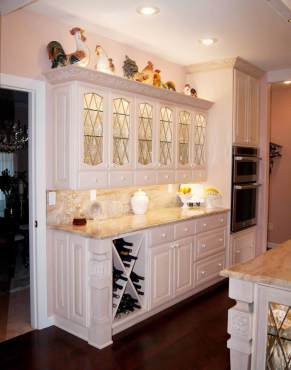 Facing what would be the first — and possibly last — major remodel of their home, the couple chose to turn lemons into lemonades. They decided that not only would they recreate Sally's kitchen, they would add money out of pocket above the insurance payment and include a few extras — like a Wolf range she's always wanted.
"We thought, as long as we're going to have all this work done, let's add to it and do what we want," Irv said, adding that his job during the design process was "to keep Sally happy."
Working with Shain Hamilton of Kitchen Design Group, the Sauers found materials and fixtures that recreated the general look of the kitchen, including cabinets in the same style.
"I loved my kitchen. I was lucky to find the replacements that I love," Sally said.
Among the major improvements in the new kitchen is the generous storage space. The new custom cabinets have various built-in nooks and crannies, including special drawers for spices, silverware, pots and pans, root vegetables, knifes and even the garbage and recycling cans. Vertical dividers maintain trays and baking sheets neatly organized, while a roll-top door keeps small appliances out of sight, but within easy reach. A baker's corner with a built-in breadbox, plentiful storage for dishes and a lazy susan add to the convenience.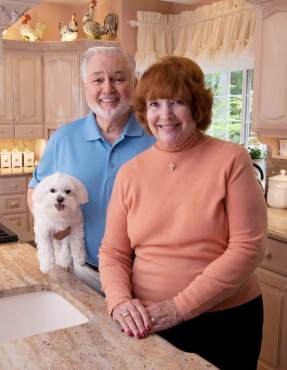 The cabinets feature another enhancement from the previous ones — custom-made, leaded-and-beveled-glass doors that give Sally's collection of crystal as well as teapots from Italy a special appeal.
Intricate carvings — some made in the Ferrari factory — on the cabinets complement the carved trim on the heavy-duty range hood.
The Wolf cooktop is one of the couple's favorite additions. A grill in the middle doubles as a cutting board when not in use. And each of the four gas burners has two levels.
"It puts out a lot of heat when you need it and it does a really good job just simmering," Irv said.
Cherry-hardwoord flooring has replaced the pink marble, the lights were converted to LEDs, stainless steel appliances were selected in favor of the previously white ones, and some new touches were added like an apron-style (also known as farmhouse) sink and unique faucet fixtures. It's enough to make the Sauers feel like they got their old kitchen back, only much improved.
With their remodel finished this past winter, the couple were already planning their first party for early summer.
"My friends haven't seen my kitchen yet," Sally said. "It will be a surprise."