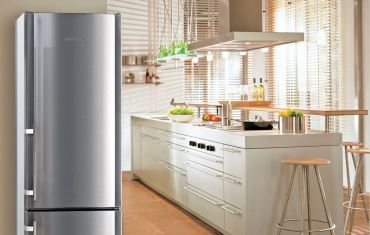 Be it utilitarian or a gastronomic palace, there is one thing that all kitchens have in common — appliances. With the increasingly wide variety of sizes, features and finishes, choosing the right appliances for you and your home can be overwhelming. This first installment in a two-part series will provide tips on making the selection of cooking appliances easier.
When designing a new home or remodeling an existing one, start with the appliances and in particular, the size and fuel source. These two attributes will dictate, to some degree, where you can safely install your desired appliances as well as your windows, cabinetry and plumbing fixtures.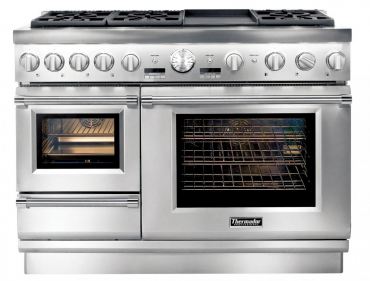 When selecting the size of a range, cooktop, clothes washer etc., ask yourself, "How much space and capacity do I really need?" By right-sizing your appliances, you will maximize your storage space while keeping your project budget as well as your future utility bills in line.
Another important question for replacements is, "How much space do I actually have for a new refrigerator, oven etc.?"According to Mike Lindquist of Nilsen's Appliance in Silverdale, "many homeowners only measure the width of their refrigerator space, forgetting that the height and depth of the space is equally important and will determine to a significant degree what models are eligible for consideration."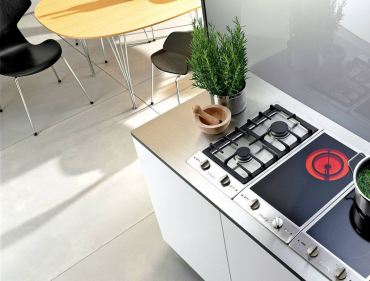 The availability of different fuel types, such as natural gas, propane or electric, will typically narrow down a homeowner's appliance choices, as not all areas have access to natural gas and installing propane may not be cost-effective for certain projects. In the Pacific Northwest, low electricity rates make the all-electric approach affordable but many homeowners are intrigued by the responsiveness of gas cooktops and gas ranges (note: induction cooktops are equally responsive as gas cooktops).
In addition to operating costs, there is another thing to consider with respect to fuel types — safety. An open flame from gas cooking may be less optimal for a home with children or seniors compared to electric. Lastly, electric cooktops, and more specifically induction cooktops, are more efficient than gas ones because the cooking pan comes in direct contact with the cooking surface whereas the heat output from a gas flame is dissipated by the distance between the flame and the pan. This translates into longer cooking times and potentially higher utility costs.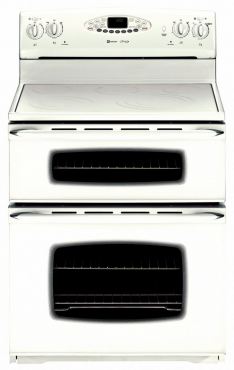 The next criterion is price. By working with an experienced design professional or appliance sales person, you can quickly narrow your search by price, bearing in mind that price will be reflective of features. According to Marie Dickerson of Schmidt's Appliance and Sleep Center on Bainbridge Island, "it is important for consumers to understand that many mid-range to high-end appliances have a UMRP (unilateral minimum retail price), which the appliance dealers are bound by, as opposed to an MSRP (manufacturer's suggested retail price), so shopping around for a single item or even a package of appliances from the same manufacturer may not render any price savings."
However, many manufactures have rebate programs whereby the homeowner receives a rebate (reimbursement) directly from the manufacturer once the appliances have been installed. Keep in mind that some appliance manufacturers produce for different market segments (i.e. big box retail vs. independent dealer), which renders appliance models with a similar appearance but different features and price points and makes it challenging to compare "apples to apples" pricing.
The last major decision is features. Features can be broken down into installation style and *bells and whistles.* Installation is either free-standing (typically a value price product) or built-in (customizable with an option for custom panels). There are cabinetry tricks for making free-standing refrigerators look built-in but a standard free-standing range will always have a gap between the counter and the range where food can drip down.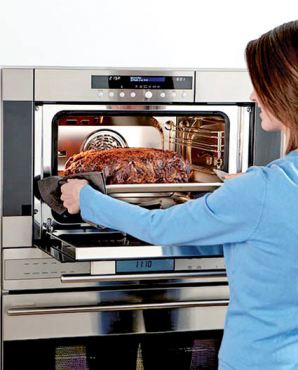 When choosing bells and whistles, focus on features that are best suited to your cooking and lifestyle. If you are a whirling dervish in the kitchen, then you will want to select units that are easy to clean (racks, grates and the like can be washed in the dishwasher) and have time-saving functions. If you eat to live rather than live to eat, select models with the least number of features and allocate your financial resources elsewhere. But if cooking is your passion, don't scrimp, as you may suffer buyer's remorse in the end.
With respect to individual appliances, the following are the major categories to consider:
Cooktops and range tops can be either gas or electric and range in size from 12 to 60 inches. Units may be configured with only burners or a combination of burners and other options such as grills, griddles, French tops, tepan yaki, etc. These units are typically pared with a wall oven, either under the cooktop or located elsewhere in the kitchen.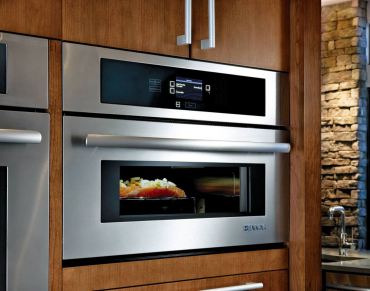 Ranges consist of a cooking surface and an integrated oven below as one unit and range from 24 to 60 inches wide, with units 48 inches and wider having at least two ovens under the cooking surface. Ranges can be all-gas, all-electric or a hybrid also known as "dual fuel," with gas on the cooking surface and electric for the oven. Free-standing models have finished sides and require a gap between the unit and the adjoining countertop or cabinetry. Slide-in models have an integral flange that spans the gap between the unit and the countertop edge. Professional style ranges are free-standing (with exposed legs under the unit) but are built in for a flush appearance.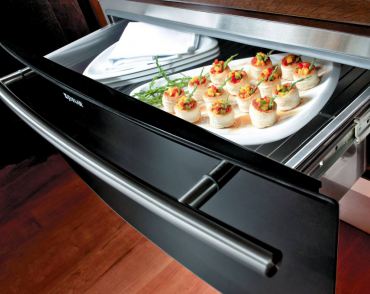 Exhaust fans come in two primary styles — updraft (wall-mounted or island "hoods") and downdraft (integral to the range or cooktop or "pop-up" models), start at 24 inches in width and are required by code. These functional necessities often provide a decorative element to a kitchen's design. Important features to consider are ease of operation and the sound level during operation.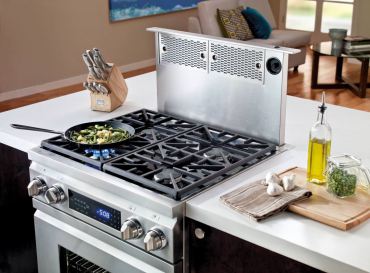 Wall ovens can be gas or electric and range in size from 24 to 36 inches. Gas ovens are great for braising meats while electric provide better baking results. Features to consider are convection, self-cleaning, concealed bake element, ball-bearing rack glides, the quality of the interior lighting, the ease of operation of the control panel, as well as the feel of the door handle and hinge. Oven accessories include pizza stones and probes (they take the guess work out of cooking the perfect turkey, roast, etc.). Due to improvements in insulation, interior oven cavities are more spacious than in years past; consider a 27-inch model over a 30-inch model and gain 3 inches of cabinet storage.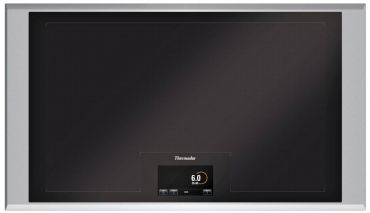 Microwave ovens now come in three configurations — standard left-hand hinge door (some models have a convection bake mode), drop-down door (with convection bake mode) and the drawer model (no convection available). Choosing a microwave with convection bake mode essentially gives you two appliances in the space of one but be prepared to pay for that extra feature and remember to locate it where the additional heat will not damage cabinetry. A perennial favorite is the over-the-range microwave hood, which offers standard microwave functions combined with an exhaust vent. Experience has shown that in very small kitchens, these are effective for keeping countertops clear but for most homeowners, they create a congestion point, render hazardous access (think reaching for hot liquids over your head) and the exhaust elements are ineffective. Some people only reheat in a microwave while others actually cook; choose a model based on the features you are likely to use.

Steam ovens are somewhat new to the residential domestic market though long used in restaurants and Europe. They range in width from 24 to 30 inches with a trim kit. Some models provide low-moderate heat and steam-cooking options while others offer a variety of temperatures and cooking modes. These units are a must-have for health-conscious consumers as well as passionate cooks. You can bake your own artisanal bread in a steam oven and achieve a chewy crumb and crusty crust for about $1 a loaf. Additionally, because many typical stovetop cooking functions such as cooking rice, steaming vegetables, etc. can be performed in a steam oven, homeowners who select them are content with four burner ranges or cooktops.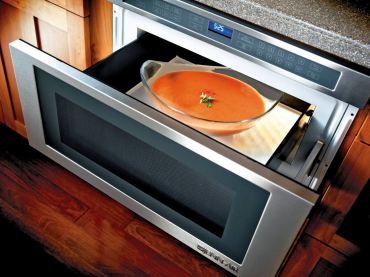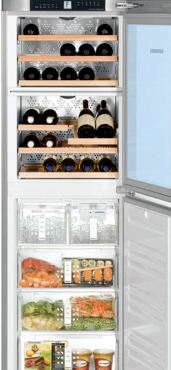 Warming drawers are built in ovens that have a temperature range of 120-200 degrees, depending on the model, and can be used to proof bread, warm plates, keep foods warm as well as "slow cook." Sizes range from 24 to 36 inches wide. This is a valuable asset for families with hectic schedules as well as people who entertain frequently.
With respect to style, some homeowners prefer a matching set of appliances while others are happy to mix and match based on features. One thing to take into consideration with mixing and matching is the style of each appliance's handle and how compatible they are, especially if you are placing a refrigerator by a wall oven, as well as the finish. Additionally, one manufacturer's stainless steel can have a very different appearance than another manufacturer's.
With the vast array of features and functions of today's appliances, anyone can find a model to fit their budget and the potential to launch them into becoming the next Master Chef.
The second installment will cover food and beverage storage and cleaning appliances.