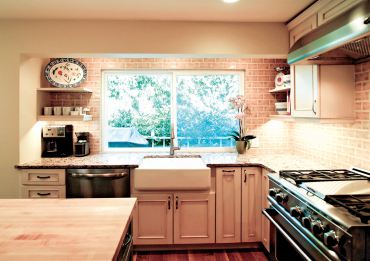 Pretty colors and fancy trim aside, a well-designed room exudes a subtle beauty. The essence of that beauty is in the placement of cabinetry, fixtures and furnishings. People derive a sense of comfort and purpose when they can walk into a room and intuitively know how they are going to navigate it and perform specific tasks.
Cabinetry provides the backdrop for a room's decorative style by virtue of its composition and finish. Nowhere is this more evident than in a kitchen. Given the vertical presentation, cabinet exteriors have a significant visual impact, while accessibility of cabinet interiors affects a person's ability to perform basic tasks such as grooming, meal preparation or office work. Suffice it to say, cabinetry plays a powerful role in creating a room's sense of harmony between function and aesthetics.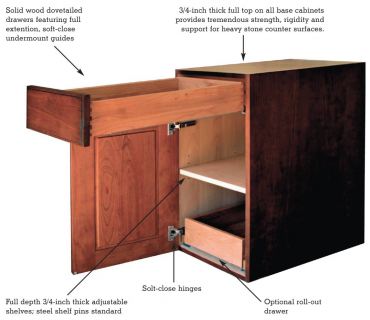 According to Brian Mayer of Sumner-based Bellmont Cabinet Co., "people often 'fill a space' with cabinetry without considering how the space may actually be used, effectively diminishing the room's functionality."
By understanding the various component parts of cabinetry, you can bring the various tasks a room is expected to perform in balance with a desired style. The following is a basic overview of residential cabinetry.
Box construction: There are two basic types of cabinet construction, face frame (including inset) and frameless (also referred to as full access or European cabinetry). With a face frame cabinet, a frame overlays the front opening of the cabinet box (also referred to as a carcass) that typically matches the species and finish of the cabinet doors and drawers. When the cabinet doors/drawers are open, you see the face frame rather than the interior side wall of the cabinet box.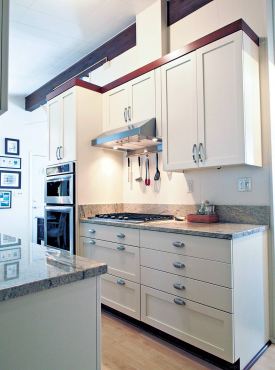 With a frameless cabinet box, when the door is open 90 degrees, it is virtually flush with the side wall of the cabinet box, providing more usable storage space when compared to face frame cabinetry. Drawer boxes also have more usable interior space with frameless cabinetry compared with face frame. The side walls, floor and backs of a cabinet box can be particle board (budget priced), furniture board (midpriced), medium-density fiber board (very heavy and challenging to install), plywood (premium priced) or a combination, and come in a variety of thicknesses. Side walls and bottoms are typically ? to ? inches thick while backs are typically 1⁄8 to ? inches thick, depending on overall cabinet quality.
Drawer boxes: Can be constructed by stapling a butt joint or by an interlocking dove-tailed joint. The actual box may be made of particle board, hardwood such as alder or maple in ?- to ?-inch thickness (bottoms are 1⁄8 to ? inches in thickness) or metal. Hardwood dove-tailed drawers are the most popular type of drawer box construction.

Functional hardware: Door hinges may be exposed or concealed (most popular) and come in various opening degrees. Some are adjustable so that you can actually control the distance the door can open (preventing it from banging into nearby objects). The most popular hinge is a "soft-close" style. Give the cabinet door a gentle nudge and it will close all by itself — silently. Drawer glides are either side-mounted (rollers or ball bearings) or under-mounted. Under-mounted glides are preferred for their many attributes such as quietness and soft-close functionality (like the doors). Also crumbs do not get caught in them like in the side-mount glides. Some manufacturers offer soft-close door hinges and under-mount glides as a standard feature while others provide these as an "upcharge" item.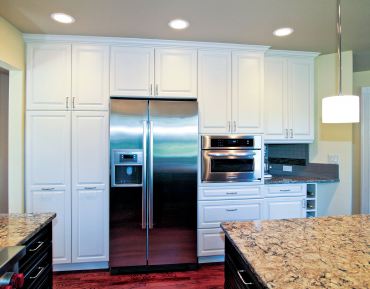 Toe kicks: This is the area that is recessed back and under the cabinet box. The depth is typically 3 inches and the height 4 to 4 ? inches but can be higher to accommodate wheelchair wheels. It is important in a remodel to determine where the existing flooring stops in order to ensure adequate coverage of the flooring under the toe kick.
Decorative molding can be used to cover gaps, especially if floors are uneven. Toe kicks can be augmented with decorative valances and moldings to create a "furniture look" with standard cabinetry.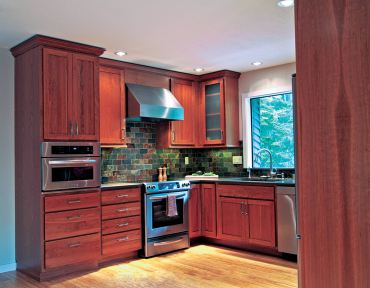 Door and drawer styles: There are three basic categories of door and drawer styles: raised panel (typically the most ornate and associated with a traditional style), recessed panel (typically associated with a transitional style) and slab or flat panel (considered contemporary or minimalist). Some cabinet manufacturers offer the option of having slab drawers with either raised or recessed panel doors.
Doors and drawers can be a specific species of wood or paint grade. Standard, solid wood offerings, in order of ascending price, are oak, hickory, alder, maple and cherry. There is a multitude of other species available in both solid wood, wood veneers and laminate.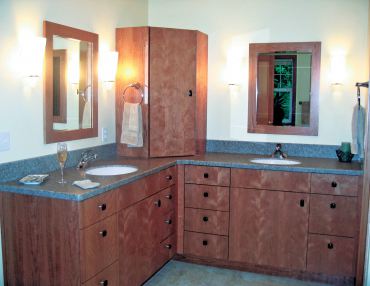 Finishes: Wood cabinets can be finished with a stain and a catalyzed conversion varnish, a stain with a glaze and a catalyzed conversion varnish, painted, painted and glazed, painted and accented, distressed or a combination of the aforementioned. The finish will be predicated on personal preference as well as the overall style of the room. Paint finishes can be sensitive to changes in temperature and humidity, resulting in cracking. If using in a bathroom, ensure that the bathroom ventilation is used on a regular basis.
Decorative elements: Decorative end panels, crown molding, light valance, toe valance, shoe molding, base molding, corbels, onlays, etc. represent a variety of decorative elements that may be applied to cabinetry to make the look not only complete but unique to the home or homeowner. These items can serve a functional purpose as well as a decorative purpose. For example, light valance is both a decorative element and a functional one by concealing the housing for under-cabinet lighting.
Convenience hardware: Chef's pantries, roll-outs, lazy susans, super susans, pantry/spice pull-outs, pull-out trash and recycling bins, laundry hampers, drawer dividers, spice drawers, cutlery drawers, mixer lifts, knife blocks, tray dividers — all of these convenience hardware items keep the content of people's lives and the cabinetry organized, easily accessible and safe.
Decorative hardware: Consider cabinet "jewelry"; decorative cabinet knobs and pulls can make even the plainest cabinetry special. Decorative hardware comes in a wide variety of styles and finishes to match just about any taste or desire: from whimsical star fish for a beach cottage theme, to contemporary stainless bar pulls for minimalist kitchens, to bejeweled knobs and pulls.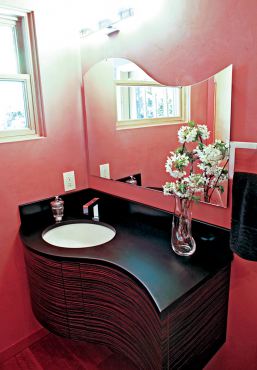 Stock vs. custom cabinetry: Cabinetry is manufactured in a variety of ways, including ready to assemble, stock, semi-custom and fully custom. Ready to assemble (RTA) cabinets are value priced, in part because you must assemble them yourself; RTA cabinets do not offer size modifications, typically have a short order lead time and the component quality is a reflection of the price point. Stock cabinets are fully assembled upon delivery, typically have limited available styles, and size modifications are generally not available. Semi-custom cabinetry is made in a factory and offers a wide variety of custom options, a large but finite variety of door/drawer styles and wood species, a durable factory finish and a warranty.
Fully custom cabinets are typically made in small shops and afford consumers the ultimate in customization but have hand — rather than machine — applied finishes, can have unpredictable lead times and typically no warranty. Brian Mayer of Bellmont Cabinet Co. says, "Many consumers believe that fully custom cabinetry is naturally superior to cabinetry that is built in a manufacturing facility. While custom-built cabinetry has its place, it doesn't always have the state-of-the-art machinery, superior catalyzed conversion varnish top coat and standardized processes. These benefits aid in the ability to provide the consumer with a highly consistent and quality product that may not be guaranteed by a custom shop built product."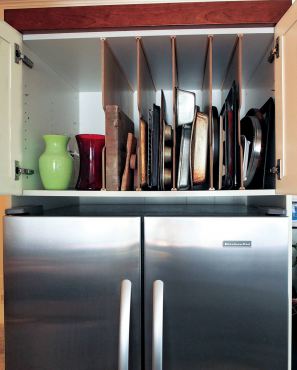 Installation: Good cabinet installers are worth their weight in gold. They can make value priced cabinets look great and quality cabinets look like they "grew" in place. Therefore, to protect your cabinet investment, make sure the person installing your cabinets has both the expertise as well as the tools to complete the job. When inquiring about cabinet pricing, confirm whether the price includes installation.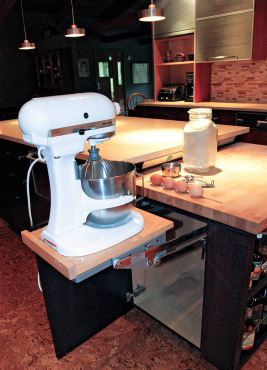 Pricing: As with many things in life, you get what you pay for when it comes to cabinetry. According to Greg Lasater of Poulsbo-based custom cabinet shop Mortise & Tenon, "homeowners are often mystified by the cabinet construction options and the associated costs of those options."
Cabinetry pricing will depend on several factors, including box construction (particle board vs. plywood), functional hardware (side-mounted roller glides vs. under — mounted soft-close glides), door/drawer wood species as well as door/drawer style, finishing (paint vs. stain plus additions such as glazing, distressing, etc.) convenience hardware (chef's pantries, tray dividers, cutlery trays, etc.), the variety and intricacies of moldings as well as the overall size of the cabinetry (90-inch-tall cabinets cost less than 96-inch-tall cabinets).
Given the number of variables that comprise a cabinet package, trying to estimate a price per square foot or a linear foot price is difficult (inaccurate) at best. In a standard kitchen remodel, cabinetry typically comprises 40 percent of the total project cost as well as having a large visual impact. Cabinetry is often installed before the flooring and always before the countertops and backsplash, meaning it is difficult to replace the cabinets without damaging the surrounding materials. In order to reap the greatest project satisfaction and value for your money (cabinets that will last and support heavy stone countertops over the long haul), select the highest quality cabinets with the most appealing door/drawer style you can afford.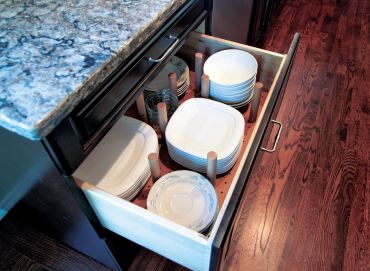 Cabinet refacing: For homeowners who are happy with the layout of their kitchen and are simply looking for a "fresh" look, cabinet refacing may be a cost-effective option.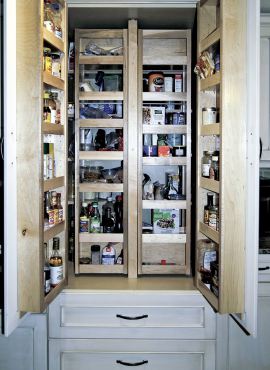 "The benefits of refacing are minimal disruption in the ability to use the kitchen, short project duration and the overall project cost because the need to replace flooring and countertops and backsplashes can be avoided if you choose," Lasater says. "The shortcomings include limited functional improvements, limited improvement in total storage, and once you spruce up the cabinetry, the countertops and/or appliances may look like Cinderella without the glass slippers."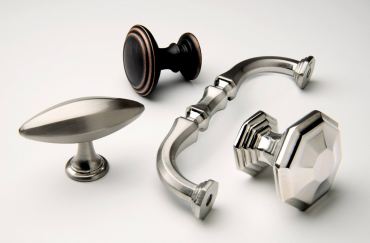 Refacing requires a steady hand and a keen eye to render a reface project that looks like it is original to the home. Consider hiring a professional custom cabinet maker to reface your cabinets with the added benefit that the cabinet maker is well-versed in augmenting cabinets to maximize function and efficiency.
Whether your project is large or small, simple or ornate, it is important to consider which cabinet options are right for you and your project.