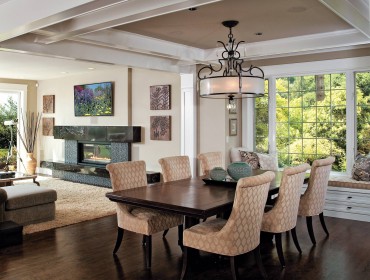 As we look forward to spring bringing new energy into our lives, we long for renewal in our homes, too. We turned to our design experts to find out what's new and exciting for 2014.
Trends in home design are similar to trends in fashion. There are always hot new colors and styles — and it's tempting to feel like you need to revolutionize your home every year to keep up.
But as any good designer will tell you, trends are simply a guideline for possibilities. The best trend is the one that suits your personality and lifestyle.
We've asked our designers what they see as some returning and emerging trends this year — and for advice on how you can incorporate some of the fresh ideas into your home.
---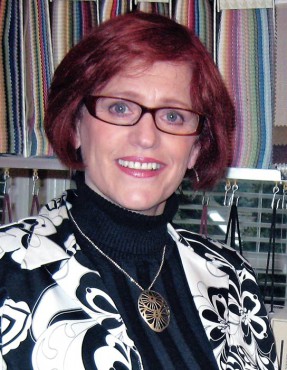 Laurajean Welch
Harrison Street Design
Poulsbo • 360.697-7366
harrisonstdesign.com
Laurajean Welch opened Harrison Street Design in 1996 and has helped hundreds of clients find the right in-home decorating solutions that suit their color and style preferences, existing furnishings, budgets and lifestyles. Prior to starting her own business, Welch worked at a design firm in Bellevue. She also has lent her expertise to two Street of Dreams homes and has managed a design store. Welch currently lives with her husband, Alan, in Old Town Poulsbo and works out of her on-premises design studio.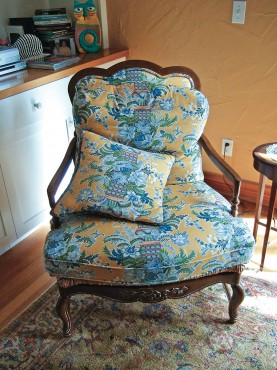 Design in 2014
Laurajean Welch sees patterns as a big trend for 2014. She notes baroque glamour, graphics and subtle floral — think English gardens — as well as leaf patterns and water themes with coral and nautilus seashells.
Pantone's Radiant Orchid will be a popular color. "Embracing, enchanting and encouraging, this new color has a magical warmth and beguiling charm," she said.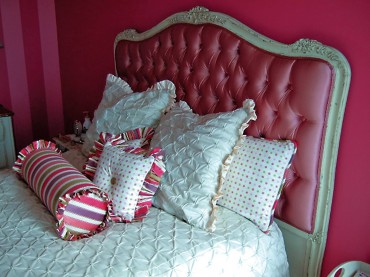 Big-ticket items, however, will still come in neutral, from rich gray to camel. "But watch for the bold and bright pops of color, which suggest we are hopeful about our future," she said.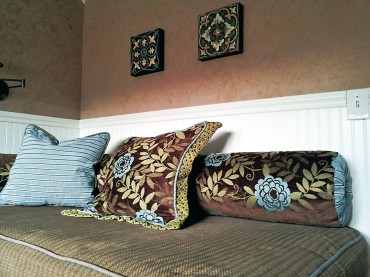 Fabric designs are also exploding, with abstracts, metallic surfaces, gold tones and overall unusual patterns. "We still love blue tones. Think Cerulean blue haze," she said.
Trends in countertops will include surfaces that mimic exotic semi-precious stones like agate and malachite while kitchen cabinets will be painted in rich gemstone colors.
Welch also sees technology as being a growing factor. "Motorization of your drapery and window coverings will be strong for 2014, with the ability to operate your shades and blinds with your smartphone app," she said.
Her advice for the novice? "Relax and loosen up," she said. "Do your homework by reading magazines and researching online. Check Pinterest! Consult with talented people."
---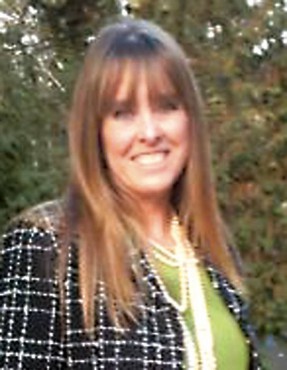 Connie LaMont
LaMont Design, Inc.
Poulsbo • 360.779-7227
lamontdesigninc.com
connie [at] lamontdesigninc [dot] com
Connie LaMont has been an interior designer and colorist in the Pacific Northwest since 1993. She holds a bachelor's degree in arts from the University of California in Irvine and a second bachelor's from the Interior Designers Institute in Newport Beach, Calif. LaMont and her architect husband, Wayne, own LaMont Design Inc. in Poulsbo. Some of their joint projects include Austin Towers in Poulsbo and Elkhorn Place in Sequim.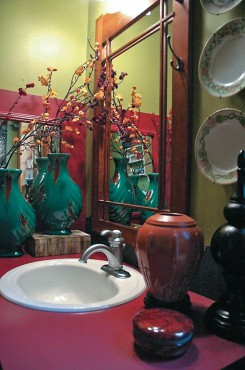 Technology and Color
Connie LaMont sees a continuation of last year's trends of reclaiming, repurposing and recreating what we already have. "People are feeling a bit more comfortable as the economy strengthens and therefore, more confident with the idea of continuing to simplify their lifestyles," she said. "All of us are looking for high-quality design concepts, so reinventing how we use our space has become more important than needing more space."
A colorist as well as an interior designer, LaMont is always on the lookout for colors and is interested in seeing how different palettes can layer themselves and become new, irresistible combinations.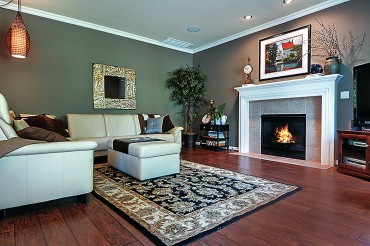 "Depth of color is delicious when paired with something lighter; it's like pairing the perfect Cab Franc with a robust Cuban roast," she said. "Deep, sooty grays blended with pale, washed-out blues and soft off-whites, or bold, earthy golds combined with heavy reds and weathered greens make for an easy-on-the-eye interior. Whether one's personality feels comfortable with a simplistic color palette or a more complex one, that space is perfect for them, and that's why sculpting a home with color is what I love to do every day. If your interiors make you happy, then life is good."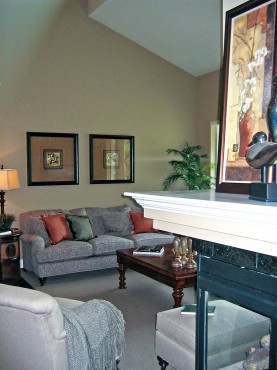 LaMont notes many new materials being utilized, from cloth to countertops. She especially loves how artistic and expressive concrete can be. "Countertops and fireplace hearths can be so versatile and can be customized with geodes, agates, etc. in conjunction with custom sizes and shapes. When used on the floor, it can ground a home, especially when one has in-floor heat," she said.
Technology is a rising star in interior design, from the 3D tools available to professionals to the connectivity within homes, as many people have mobile phones, laptops, multiple TVs, tablets etc.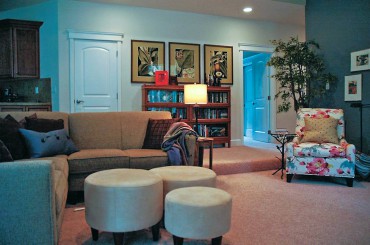 "Incorporating technology into the busiest parts of our homes is wonderful, but can sometimes be a challenge to the interior's design scheme," LaMont said. "Touch-screen computers and flat-screen TVs are sleek and stylish, but sometimes they lack the 'warm and cozy' look. Viewing your personal photo files on your 70-inch flat-screen in your great room can soften the large, black screen and create an interesting focal point instead. And tucking the laptop or touch-screen computer within our tablescapes can lessen the 'office-look' but still give you the convenience of it being right there."
What novices need to understand is there are no rules connected to art. "Interior design is simply a 3D artform that involves creating multiple still lifes that people live within. Yes, there are different styles, but what I find important is that we surround ourselves with the colors and objects that give us joy," LaMont said. "All artists explore new ways to express themselves — what a novice needs to do is take a deep breath and explore who they are or who they'd like to become, but most of all, they need to have fun in doing so."
---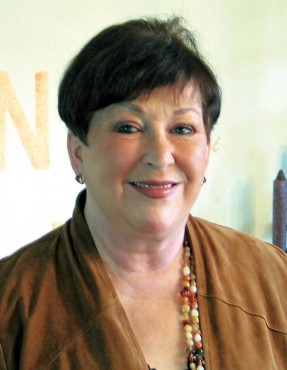 Cate Adams
Arnold's Home Furnishings
Bremerton • 360.377-5582
arnoldshomefurnishings.com
Cate Adams has a degree in art and design from the University of London and has worked in London, Paris and Spain. Adams eventually settled in the Pacific Northwest and approximately 25 years ago founded The Decorating Source, a design service in Kitsap County offering consultations as well as products. She also has worked at Hood Canal Interiors in Belfair. Adams currently serves as an interior designer with Arnold's Home Furnishings. She lives with her husband, Jack, in Silverdale.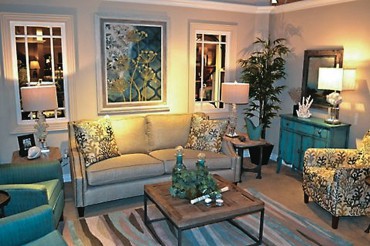 The Return of Shabby Chic
Cate Adams sees a return of shabby chic — taupe, gray and white on white — being used with reclaimed woods. The finish is wire-brushed and distressed to age the appearance. "'Danish Modern' is also strong at the moment, with such clean lines, it's perfect for smaller scale homes and condos," she said.
Blues are dominant in color, in all but pastel shades. Bright green is emerging with some sage and olive. Reds are turning toward rusts and orange. "Wild Orchid is Pantone's color of the year, which is a bright mix of purple and pink," she said.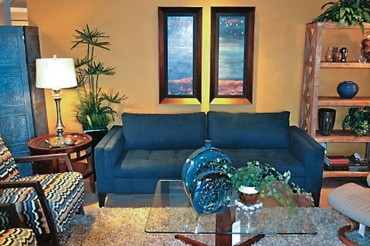 She notes more "hi-lo patterns" in carpeting. "Frize is waning, but plush is still doing well. Looped Berbers are out, and two color patterns are on the rise. Beige tones are becoming grayer," she said.
Hardwood is still the major player in the Northwest but Adams sees wider planks in many wood species and tones.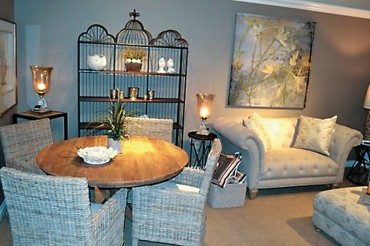 Her advice to novices is to study magazines, TV shows etc to find their style but she cautions them not to ignore the space they're working with. "Using a contemporary New York loft style in a traditional two-story home can be done, but it shouldn't be attempted by a novice," she said. "Young families should perhaps choose to put their best quality furnishings in dining rooms or master bedrooms. These are the pieces that will last a lifetime. There are wonderful, rugged, cleanable fabrics available in upholstery today — these are ideal pieces to use with young children."
---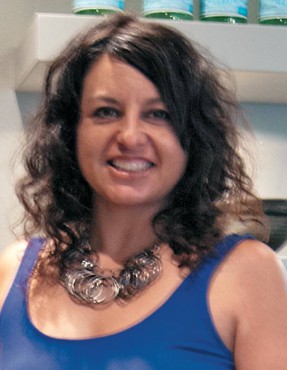 Alinda Morris
Habitations Interior Design
Gig Harbor • 253.579-8431
habitationsinteriordesign.com
Alinda Morris opened her firm, Habitations Interior Design, in 2006. After working out of her home for several years, she opened an office in downtown Gig Harbor. Morris is a nationally published, award-winning design professional, with an accredited degree in interior design. In addition to Morris' versatility — ranging from minimalist restraint to traditional chic — clients find her passion for design an exciting process. According to a local builder, one aspect that sets Morris apart is her ability to "value-engineer" extremely well, effectively achieving the "million-dollar look" on a budget.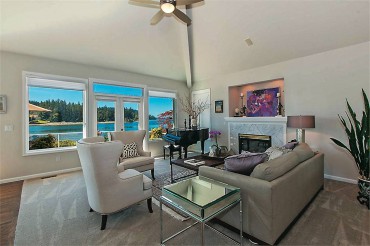 Individual Style Trumps Trends
Alinda Morris sees people embracing the idea of "everyday glamour" by mixing metals and layering textures while incorporating sturdy materials that can stand up to families who really live in their home.
"For home décor, the biggest trend in interior design is what I like to consider an individual design style. Everyone — regardless of their budget — wants their home to reflect their own uniqueness. No one wants a cookie-cutter house with the same pieces, finishes or colors as their neighbors," she said.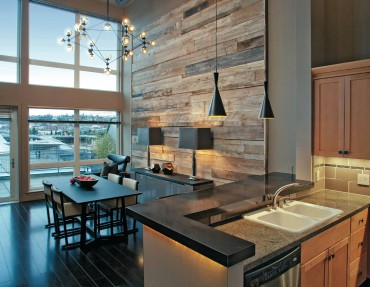 She feels the days when clients would walk into a furniture store and select the entire floor display just to replicate it in their own homes are waning. "The spaces I create are polished and sophisticated and express the clients' own personality, family and history," she said.
As far as colors, Morris believes that gray is the new beige, but neutrals still rule. "Muted tones offer sophistication and flexibility. The trick to this look is approaching a color palette by layering different textures, otherwise it can fall flat," she said. "A pop of color is easy to incorporate. Conversely, the idea of having a bright 'accent wall' has become so overdone that the concept now feels passé."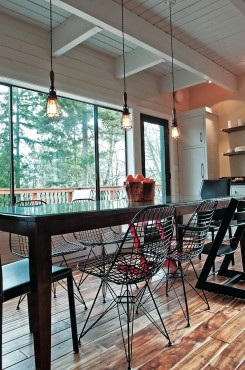 Some other trends she noted include bold graphic patterns, like chevrons and stripes (she notes wallpaper is a great opportunity to implement that), along with new materials such as reclaimed wood for walls and hot-rolled steel for countertops. In flooring, wide-planked hardwood is popular — pre-finished lightly distressed, particularly honey-colored woods such as walnut and brushed oak — as is heated flooring.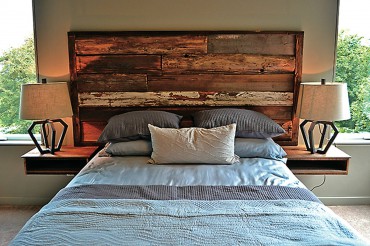 "Technology has given consumers an arsenal of resources and information at their fingertips. Sites like Pinterest, Houzz and even Instagram are great resources but remember, the best DIY projects are the ones that do not appear to be DIY," she said.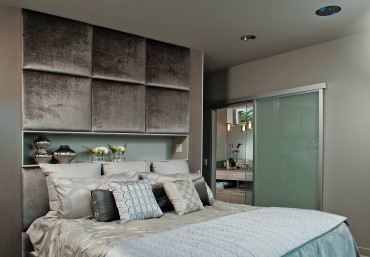 Her advice to the novice is to not be afraid to hire a professional once in a while. "A two-hour paint consultation may save you thousands of dollars," she said. Here's a tip: All of my clients desire the most visual impact for their investment dollars, and while it's great to get a deal, not everything needs to be cheap. I love pairing uber chic designer pieces with items I source from consignment shops, antique shops and online sites like Etsy, or well-made, higher-end, custom, local-made pieces with existing pieces in a client's collection."