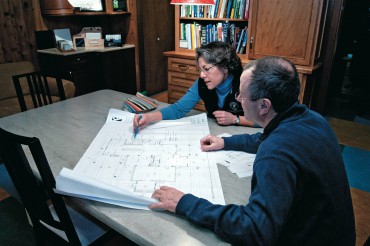 When embarking on a home remodel project, there are two things that most homeowners want to know: How much it will cost and how long it will take. The answer to both questions is: That depends on several factors. Let's start with cost.
How do you define a remodel?
For some people, it means painting the walls and replacing the flooring and maybe the countertops (low cost). For others, it means gutting the room down to the framing and the subfloor (moderate cost) or bumping out (high cost). The extent of the work will have the biggest impact on the cost. So when planning a remodel, define the scope of work to be done.
Set a realistic budget.
You may not know how much a kitchen, bathroom or home office remodel costs but you do know your financial resources and what you are comfortable spending. Consult with a design professional or remodeling contractor to learn how your budget dovetails with actual costs with reference to your list of needs and wants.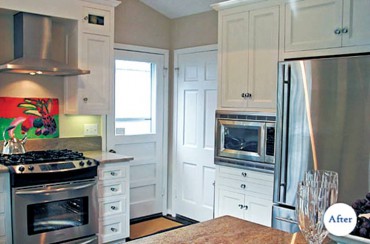 That said, a general rule of thumb for the cost of a full kitchen remodel is typically equal to 15 percent of the value of the home, while a master bathroom remodel will equal approximately 8-10 percent and a child/guest bath around 5 percent of the value of the home. Total costs will depend on materials selected and what, if any, water or structural damage is uncovered at demolition. It is distinctly possible to spend less or more than those percentages; they are simply a guideline.
By following these rules of thumb, you can minimize the likelihood of "overbuilding" for your home and your neighborhood. If you do not know the value of your home, look at your assessed value from the county, check Zillow.com or speak to a local real estate professional.
There are websites that track project costs by room type and zip code that you can review, but take the numbers with a grain of salt. You never know what is actually going into the numbers. Cost items that often are overlooked are DIY labor hours, permits, demolition and hauling, design fees, etc. (see resource list for links).
Without having a budget or by making decisions on the fly, you will inevitably spend more than you need to. It is strongly recommended that you have all your materials selected and ordered before the first hammer swings.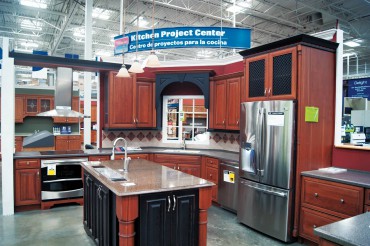 Create a plan with a timeline.
Whether you plan your project on your own or elect to work with design-build professionals, establishing the "blueprint" for your project will help you keep your project costs down. Are you going to move the toilet (expensive proposition), add a code-required exhaust fan to a kitchen that never had one, or take down a wall? Make sure you have detailed drawings that illustrate what you are going to accomplish with your remodel. Detailed drawings are required for most building permits but even when they are not, they will make the permitting process easier. The physical plans will also help you draft your project material lists.
Lastly, create a reasonable timeline for completing the project (if you work with a contractor, he or she will do this for you), taking into consideration holidays and major family events.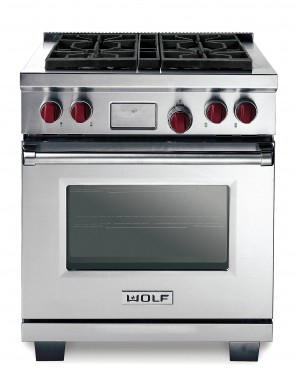 One man's needs are another man's wants.
The cost of materials comprises roughly 50 percent of a full kitchen remodel and approximately 60 percent for a bathroom remodel, with labor costs making up the balance. Actual project costs will be predicated on the size of the room being remodeled, the quality of the materials as well as the number of bells and whistles desired. A 30-inch gas range can cost anywhere from $500 for an entry-level, free-standing four-burner model to just over $5,000 for a pro-style, four-burner, dual-fuel range. (insert photo here of ranges) Both models will bake/roast/broil food but the higher priced one does a better job, is more ergonomic to use, is easier to clean and will likely have a longer service life than the entry-level model.
One variable that can be difficult to estimate, especially before demolition or deconstruction, is structural damage due to leaky pipes or roofs; this needs to be remedied before the remodel can commence. If you suspect that there may be damage in the walls or floors, add a contingency factor to your budget.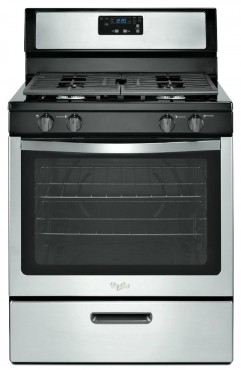 How much is your time really worth?
Do-it-yourself projects can be immensely gratifying but they can also be very costly, both in monetary terms and relationships. Homeowners who do not design and build residential remodels for a living may not have the requisite skills, knowledge or tools to complete projects in a cost-effective and timely manner, and may unwittingly take shortcuts that compromise the integrity of the home's structure and make it difficult to sell in the future.
Service Providers
It's important to find the right provider for you and your project. Listed below are several options. Regardless of what option you choose, it is always imperative that you check the references for any professional or firm you are considering hiring. One of the best places to start is the state of Washington's Department of Labor and Industries. You can look up a contractor by surname, company name or, better yet, by license number (all licensed contractors are required by law to print their license number on their business cards, letterhead and other promotional materials) at www.hiringacontractor.lni.wa.gov.
You can look up firms and people on LinkedIn.com, Houzz.com, Facebook, Google Places for Business, Better Business Bureau and many other sites. Do your due diligence before hiring anyone to make sure they are a good fit for you and your project.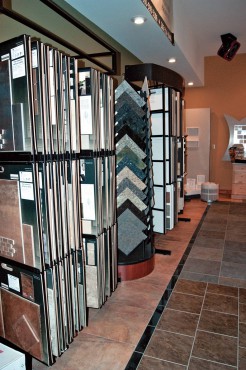 Big-box stores: Offer one-stop shopping for homeowners who find decision making easier with a limited number of manufacturer and color options. You can hire a remodeling contractor through a big-box store but realize that you are contracting with the store, not the actual contractor, and you will likely not have any say as to who the contractor is or which subcontractors may come into your home. However, the stores do their due diligence by performing background checks on the companies they contract with.
Alternatively you can order all the project materials through the store, with assistance from helpful and qualified sales associates, and do all the work yourself. You are responsible for providing all the requisite sizes, dimensions, finishes etc. to the sales associate. If things are wrong when delivered, you may need to take responsibility for your own errors along with the installation of those items.
Home furnishing stores: Some home furnishing stores offer cabinetry, plumbing fixtures and appliances. These outlets also provide designer services for their "ready to assemble" cabinet products, plumbing fixtures and appliances. This can be a cost-effective route, just be sure you have taken proper measurements, can get the appliances serviced by local repair and warranty personnel and that the quality and product warranties fit your overall timeframe for enjoying your new kitchen or bath.
Specialty services: There are companies that can transform your bathroom in one day. They can do this by overlaying on your existing bathtub or shower pan with a new bathtub or shower pan. The cost of these bathroom renovations is high but is worth the price for a consumer who is looking for minimal downtime, is happy with limited color or material options and has little reason to believe there is water or structural damage behind the tub or shower.
There are similar format companies for countertops. If you are looking to simply spruce up your cabinetry but virtually nothing else in the room, you can hire a refacing company to give a new look to existing cabinets or a refinishing company to provide a fresh look to existing cabinets. Refacing and refinishing can help keep costs down as well as minimize the downtime for your kitchen or bath but these options generally will not allow you to optimize the flow, functionality or storage of the room.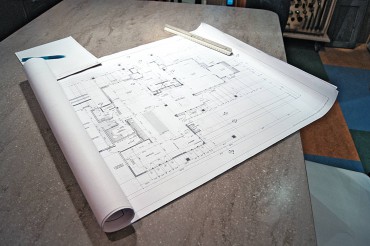 Designers: Designers come in many flavors. Some specialize in color consulting, others in soft goods (furnishings) while others specialize in complete kitchen and bath design. Designers can be very helpful in assisting homeowners develop just the right look, at just the right price while avoiding costly pitfalls of remodeling. They can also introduce you to knowledgeable and reputable building professionals.
Builders and contractors: Builders tend be hands-on folks who wear tool belts while contractors tend to oversee the operations of a construction firm and delegate construction activities to a project manager or foreman. Both builders and contractors come in two basic flavors: new construction and remodeling. Prior to the recent recession, it was uncommon for builders or contractors to cross over into both areas but the economy forced many new construction companies to shift their emphasis to remodeling to stay in business during the recession. It is a good idea when planning a remodel to ask a builder or contractor which area of construction he prefers. If he doesn't love remodeling, you may want to focus your efforts on a builder or contractor who specializes in remodeling.
Design-build firms: These firms may be focused on new construction, remodeling or both and offer in-house design and construction services, providing a seamless approach to remodeling. One of the distinct advantages of using a design-build format is that fewer decisions and design concepts can get lost in translation when shifting from the design phase to the build phase of a project, generally resulting in a project that best matches the homeowner's ideas and expectations.
Whether you have a small budget and enjoy remodeling projects or have a generous budget that allows you to delegate the design and build to professionals, there is a variety of people, in your region, who can help you develop and execute the right design, find the material selection and build your dream remodel project. To find professionals in your area, contact your local Home Builders Association and the National Kitchen & Bath Association.
To ensure that you are reaping the best value for your money, cultivate your understanding of project costs and how to set a rational remodel budget by researching materials and price-comparison shopping on manufacturers' websites (not eBay, craigslist or closeout merchandisers) or by working with design-build professionals. Whatever route you choose, remember, remodeling can be fun!
Cost Estimate Resources

Professional Resources