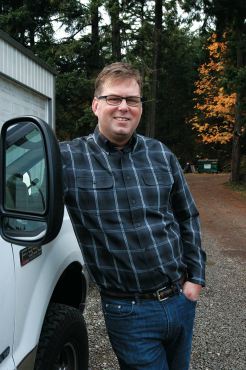 It's possible to drive right past the office of WRK Construction, Inc., even with directions in hand. Owner Wayne Keffer operates out of a white, metal-sided barn across from the family home in the Central Valley area of Silverdale, and the single-lane, unmarked dirt road off a two-lane country road leading there is easy to miss. The family home, built by Keffer, is set well back off the main road and comes complete with an on-duty golden retriever pacing the wraparound porch, barking halfheartedly and wagging his tail at visitors.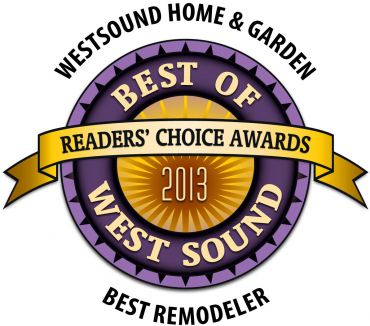 Inside the comfortable but no-frills office, there are large, framed photographs of various remodeling jobs completed by Keffer and his crew. Some are as modest as replacing a deck. Others, like whole-house remodels, are more complex. What they have in common is the quality of the workmanship — Keffer runs a tight crew, many of them older. "I think there's value in an older crew. We do work that requires a lot of knowledge," he says.
Keffer has run his own business since 2004 and has accumulated numerous Excellency in Remodeling awards from the Home Builders Association of Kitsap County. In 2008 and 2009, the association named him the remodeler of the year. Last year, he served as the HBA president. And for the past two years, he's been named best remodeler by readers of WestSound Magazine.
But when he's asked to talk about his success, he ends up talking mostly about other people. "I've been lucky," he says. "I've had a lot of people pour a lot into me."
Keffer grew up in Columbus, Ohio, making the trek west after his parents split up and his mother returned to the area. He tried living with his dad for a while, but the lack of supervision left him feeling unmoored. "I probably missed my mom," he says. Moving between his junior and senior years of high school was "the best thing that could have happened" to him. "I was pretty depressed," he says.
A new friendship would change his life: His friend's parents welcomed him into the family, and Keffer started attending church with them. "Their family functioned differently than the family I grew up in," he says. "I realized I wanted whatever it was that was different. I accepted Christ as my savior because I realized that was the difference."
After graduation from high school, Keffer attended Olympic College for two years, accumulating credits by taking classes he was interested in but stopping just short of his associate's degree. At the same time, he worked construction jobs, eventually realizing, he says, that he liked the jobs more than he liked school.
"One thing I know today that I knew 20 years ago is that I love what I do," he says. "I know if you're going to be successful, you have to love what you do."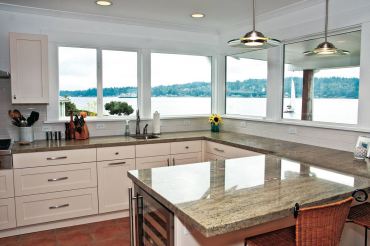 For nearly 20 years, Keffer worked various jobs around Kitsap County, and he counts Dale Sutton, working as a finish carpenter at the time, as one of his early personal and professional mentors. Keffer noted how Sutton took care of his family and the people who worked for him. "He was above reproach," Keffer says. "He seemed like a good person to emulate."
Other bosses over the years taught him remodeling, fire restoration and estimating. Along the way, Keffer took classes, with much of his continuing education happening through the National Institute of Home Building.
He also met his wife, Tammi, on a blind date, not knowing it was one at the time. A group of church friends were going to a concert in Seattle; Keffer was working and had to go at a later time. They asked him to pick up Tammi and bring her to the concert, but when the couple arrived, their friends hadn't saved them seats, and they left early.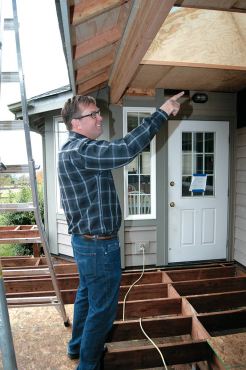 "I'm pretty sure they set us up," Keffer says with a smile. "But the joke's on them." The couple, married 21 years, have three children, all of them well-known local athletes. Their oldest son, now a student at Olympic College, has overcome two rare brain tumors, and the journey through his treatment and recovery has forever altered them as a family, according to Keffer.
"I've put him on a life flight helicopter twice," he says. "I've left the hospital thinking I wouldn't see him alive again. It made me more understanding that I'm not in control. There are other things that are bigger than me.
"It's brought us very close together," Keffer adds. "We learned to rely on each other. We learned to rely on family and friends. It taught me a lot about who you want to surround yourself with. I think it's affected how I approach everything. Every day is precious."
The death of Keffer's father was another turning point in his life, he says. As he was clearing out his dad's belongings and wondering what his dad stood for, he decided to quit his current job and start his own company.
"I wanted my kids to be able to follow their dreams," he says, "and how could I expect my kids to follow their dreams if they hadn't seen me do it?"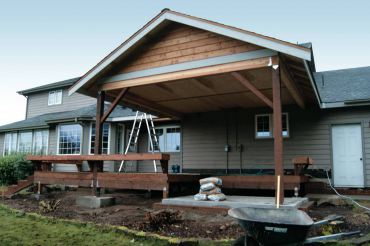 He continued his education, sometimes driving to Eastern Washington to take classes, and qualified WRK Construction as a Certified Graduate Remodeler, a Certified Aging in Place Specialist and a Lead-Safe Certified Firm.
He also avidly reads trade journals, he says, to keep up with a business that is constantly evolving. "We have a much more educated customer than we used to have," he says.
He's come to understand that knowing the craft will only take him so far. "I used to think that I was strongest because I knew my craft well," Keffer says. "Now I think I know my craft well, but I connect with people. I won't get a job if I don't connect with that person."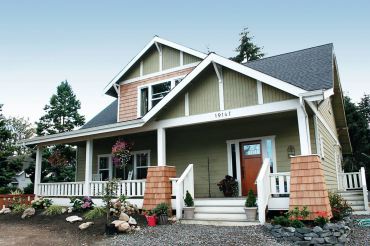 Part of that connection is being honest with clients even when, for instance, they might have unrealistic expectations from watching too many home-improvement shows. "If they didn't want your guidance, they'd hire their brother-in-law to do it," Keffer says. "I love the variety and I love the problem-solving. I love working with the client."
Keffer long ago made the decision that WRK Construction would serve a wide range of clients. "One of the things I've always felt was important was not to turn down the small jobs," he says. "We will do jobs as small as what we call 'four-hour minimum.' People are really excited because they can get someone to do their job."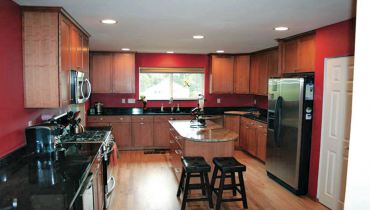 It's also become a savvy business strategy. "By being willing to do those jobs, people know who we are, and they know we'll take care of them," Keffer says. "We're creating customers. It's about becoming their contractor."
One repeat customer is Dean Church, owner of Liberty Bay Auto Center. Church, who's built multiple houses in Washington and Montana, says he frequently has contractors knocking on his door, wanting work. But for the past 15 years, his remodeler of choice has been Keffer.
"It's endless, everything he's done," says Church, adding that Keffer has keys to all of his properties. "I call him whenever I need anything fixed. We call Wayne because we know it's going to get done."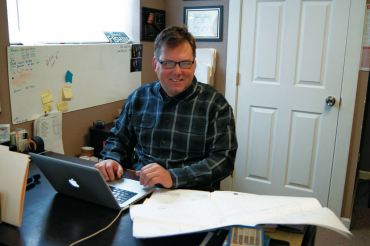 Among the multiple projects Keffer has done for Church are a remodel of a home on Hood Canal that involved opening up an interior space with several load-bearing walls, and the building of a barn on property where the permitting proved difficult. Keffer's knowledge and connections, Church says, are invaluable.
"He's an asset," Church says. "He's a very good guy. And he's honest. He's got good guys working for him, too. Everybody knows him and respects him. He's not flash. He's very humble."
Now that he's achieved the business goals he set for himself a decade ago, Keffer says he thinks about what he can do going forward "that's significant." Besides volunteering labor for various organizations and projects around Kitsap County, he also hosts a group of men, many of whom are younger, from his church, Peninsula Bible Fellowship, for Monday night football and an informal Bible study. And after working in the construction business for so many years, he wonders how he might reach out to mentor some of the craftsmen he comes into contact with.
"Sometimes they know how to make money but don't know how to provide for their families," he says. "So they're well-intentioned, hard-working craftsmen, but they struggle."
Whatever he decides to do, he will probably follow a well-proven strategy. "It's important to me that people love what they do," he says. "Find out what you love to do, figure out how to be the best at it. The rest kind of takes care of itself."