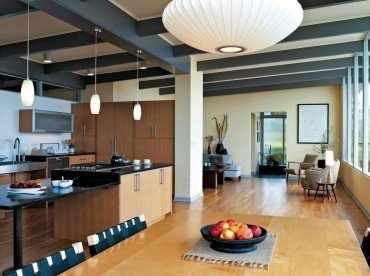 Universal design (UD) is more than 36-inch-wide doorways, wheelchair ramps and grab bars. It is a method of designing and building spaces so that they are accessible and safe for people of all physical and cognitive abilities.
Often mistakenly referred to as aging-in-place, universal design (UD) principles apply to active toddlers, young people who have had a debilitating accident as well as mature adults who may be experiencing a general decline in their abilities. By incorporating universal design principles, you are ensuring that your homes can be visited by all.
According to the fundamental principles of UD, as developed by The Center for Universal Design in North Carolina, universal design should:
Enhance the quality of life for anyone regardless of age, limitations or abilities;
Be so intuitive that you don't even notice it;
Enhance access while adding safety and comfort.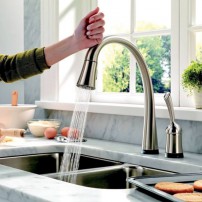 These principles seem like common sense; however, despite the fact that nearly one-third of all Americans have some type of physical or cognitive limitation, less than 10 percent of U.S. homes are designed and built to accommodate people with limitations. This seems out of sync with the desires of 95 percent of Americans over 50 years of age who, according to AARP, want to live in their current homes as they age. Further, for those who have cared for aging parents or are aging themselves, it can be immensely stressful when loved ones are neither safe nor happy in their living situation.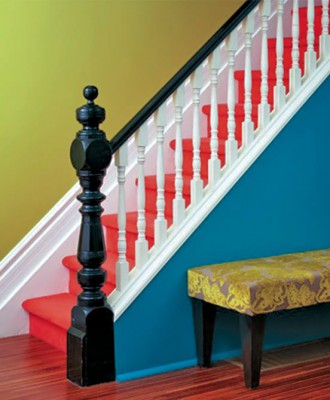 Why consider UD? People's physical and cognitive abilities are affected by a variety of circumstances. For some, it is due to age. Others may have been born with limitations or have experienced either a temporary or permanent injury as a result of an accident or in the line of service to their country.
Regardless of the reason, designing and building with UD in mind will allow people to live with greater safety, freedom and dignity — all of which are basic to the fundamental needs of human beings. Additional benefits include the ability to welcome friends and family members into homes with comfort and safety as well as the potential for reaping higher resale values, as evidenced by recent sales statistics of homes that feature UD principles.
What does UD look like? It is flexible. Fixtures and spaces can be manipulated and accessed in a variety of ways. As an example, the Delta Touch 2O faucet does not require you to grasp a handle; you can simply tap it with the back of your hand to activate and deactivate the flow of water — a great feature for someone with limited dexterity.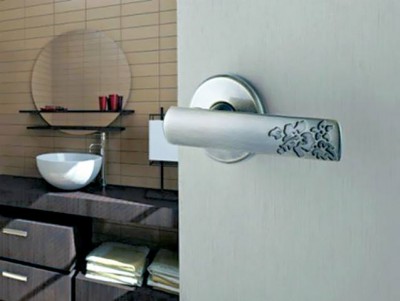 UD is equitable; it leaves no man behind. For example, the zero-threshold of a garage makes the entry into the house accessible for people in wheelchairs, those who use walkers as well as those who are fully ambulatory. UD is simple and intuitive. Installing lever handles on interior and exterior doors makes opening them simple and easy for everyone, be it a mother with a sleepy toddler in her arms or a senior with arthritic hands. This principle can also be applied to decorative cabinet hardware. Cabinet pulls are infinitely more ergonomic and easier to use than cabinet knobs.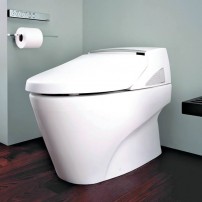 UD provides tolerance for errors. The Simple Touch C30001 is an auto-shutoff safety electrical outlet with multiple time settings. Plug in curling irons or stock pots and program them to turn off if you forget to. Perfect for forgetful people young or old, it delivers a lot of peace of mind for less than $20. UD is perceptible and functional without being garish or institutional.
UD requires low physical effort. A toilet with a built-in washlet seat allows those with limited range of motion or dexterity to toilet themselves with little or no assistance, preserving their dignity while allowing them to live more hygienically. UD is approachable. By providing space under the toilet, sink or cooktop, people can get close to the fixture or appliance for ease of use regardless of whether they are in a wheelchair.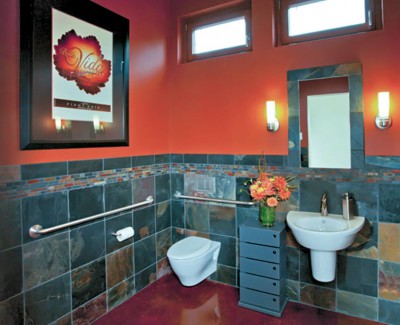 UD in the Kitchen
No one enjoys rooting around in the back of a base cabinet or using a step stool to get to the back of the wall cabinet. Bring the contents of your cabinets, appliances and fixtures to you by incorporating convenience hardware, drawer systems and fixtures such as the pull-out pot rack by Rev-a-Shelf, dish drawers with peg boards, a microwave drawer (offered by several manufacturers), a sink with a hydraulic lift or dishwasher drawers.
Standard countertop height is 36 inches above the finished floor, incorporating tops set at 30 to 32 inches. They are a comfortable prep height for people in wheelchairs, and bread bakers will also appreciate this height for kneading dough. Electrical outlets on the side of an island or tucked under the standard countertop are more accessible than those in the back splash. Tall toe-kicks allow wheelchair users to pull up to cabinetry while providing a stylish modern look. Open shelves rather than cabinets with doors that emphasize accessibility can provide decorative appeal with the display of beautiful dishes and serving pieces. Side-hinged ovens provide better accessibility for people of all abilities.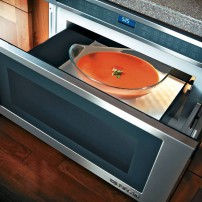 UD in the Bathroom
Most home accidents occur in the bathroom. Incorporating UD principles in the bathroom can help prevent accidents and improve the quality of life for a wide range of people. Wall-hung toilets that can be installed at a height specific to the user or comfort height toilets are both stylish and ergonomic and are particularly appreciated by individuals with knee, hip or back issues. Dual square sinks and cabinetry can allow a seated user and an ambulatory user to each have a beautifully coordinated look at a comfortable height for each. A bathtub with side grab bars allows a bather to transfer from a seated position on the side of the tub with safety and ease. Lastly, grab bars can be both stylish and functional.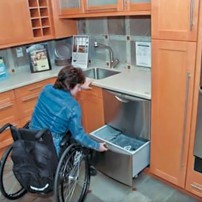 Last but not least, layered lighting will provide beauty, drama and safety to any living space while allowing for proper illumination for any task. In a kitchen, this can include overhead lighting combined with under-cabinet lighting as well as over-cabinet lighting, depending on the style and layout of the room. It is important to have these different lighting sources switch separately and to use rocker paddle type phasing dimmer switches, which allow the occupant to shut off the lights and leave the room while the lights slowly dim out and provide illumination for a safe exit. Another feature to consider is an illuminated light switch, which makes finding the lights in a darkened room easier.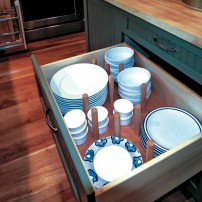 There are numerous books and online articles on universal design that you can reference when designing and building. Alternatively, you can choose to work with a CAPS (Certified Aging in Place Specialist) certified builder, designer or architect. The CAPS designation is awarded by the National Association of Home Builders and covers the specifics of both design and construction relative to the needs of individuals with physical and cognitive limitations. These certified professionals can assist you in using the beauty of universal design.