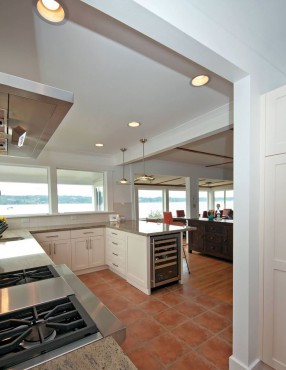 Cary Bozeman is officially retired and on sabbatical while he figures out his next move, but you'd never know it.
On a recent day at the home he shares in Manette with his wife, Kerri, there is a just-out-of-the-oven, picture-perfect peach pie cooling on the stovetop, ready for that night's fundraising auction for the Kitsap Humane Society. Bozeman is on the board of directors. It's just one of the many endeavors — he also serves on several Seattle-area boards and frequently gets asked to consult on various projects — that occupies the time of the former mayor of both Bellevue and Bremerton.
"I'm literally a professional volunteer, and I like it," he says. "I've never taken a sabbatical. It's pretty cool."
These days, though, there's also this: In 2009, after being single for 35 years, Bozeman married Kerri Bumgardner. "I enjoyed being single. I was busy," he says. "But being happily married is a lot better."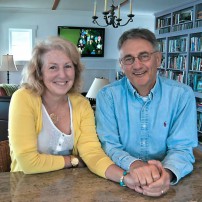 The couple has known one another for a long time. Cary, who had a 30-year career working for the Boys & Girls Club of King County, once coached Kerri's brother, who was a pitcher on the club's baseball team. Fast forward to a decade ago, and Cary found himself playing golf with Kerri and her brother, with whom he'd maintained a friendship. Unfortunately, Kerri was dating someone else (although she admits she'd had "a crush" on Cary for a long time).
More years passed. Kerri, single again, called Bozeman to ask his advice on raising money for a bond. "The rest is history," she says. That was June. By August, they were married.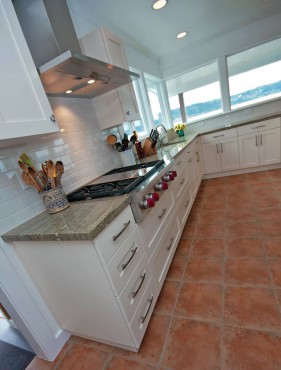 Kerri is a director of merchandise integrity for Nordstrom in Seattle and commutes to work and back each day on the ferry. She has settled into life in Bremerton and happily calls it home. "I have dear friends. I love where I live. I love being involved," she says. "I feel like I'm going on vacation every night when I come home."
The couple's home, which sits above the water along Shore Drive, was built in 1930, the same year the Manette Bridge opened. In keeping with the area's other homes, it's modest by most modern standards for waterfront properties, with 800 square feet on each of its two levels.
"They were just cabins on the water," Cary says of the homes in a neighborhood he says reminds him at times both of Nantucket and old Santa Monica. "There's not anything fancy along in here." Which suits him just fine. "I've never had a big house. I'm comfortable living in a small home," he says.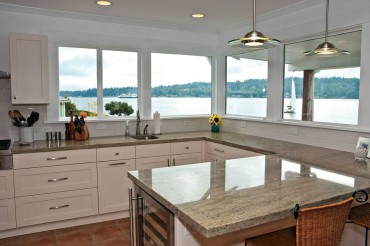 Cary had already done some work to the house by the time he married Kerri — the front corner of the main room, for instance, had been plagued by dry rot and had to be torn out and rebuilt. He'd also had the electrical system rewired.
But after Kerri moved in, the couple decided that something needed to be done about the kitchen. "Kerri loves to entertain and cook dinner for people," Cary says. The old kitchen was stuck in a dark corner in the back of the house. It didn't deter the couple, just limited them.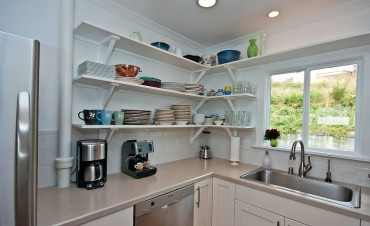 "We both love to cook and we both love to entertain," Kerri says. "And people were surprised by what came out of that kitchen. A lot of wonderful meals came out of that kitchen."
The couple met Wayne Keffer, owner of WRK Construction in Poulsbo, at a home show and decided to work with him for the remodel, even though he told them their projected budget was about half of what they would need to spend to get the space they wanted.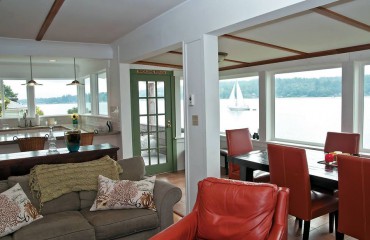 "He did a great job," Cary says. "He was on time and on budget."
Kerri, who'd spent a lot of time combing through magazines for design ideas in advance of the remodel, praises Keffer for his vision and flexibility. He once took a picture Kerri had given him, for instance, and flipped the design, which made more sense for the space. "Wayne's really good at that practical but thoughtful design," Kerri says.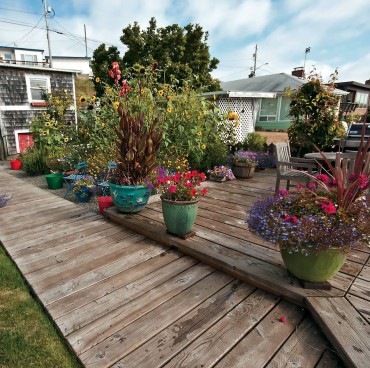 The former eating area became an extension of the kitchen, and the eating area was moved to a previously covered porch adjacent to the main living area. Banks of east — and south-facing windows replaced two small windows and opened up the view for whoever's lucky enough to be doing prep on the now-ample counter space. And some view it is, stretching from Bainbridge Island (to the east) across the Kitsap Peninsula (to the south) to downtown Bremerton (to the west).
The couple can also look down upon their four garden boxes, overflowing with eight varieties of sunflowers, zinnias, marigolds and bachelor buttons, among others, and the deck they built two years ago to accommodate the party they throw every year at the beginning of August.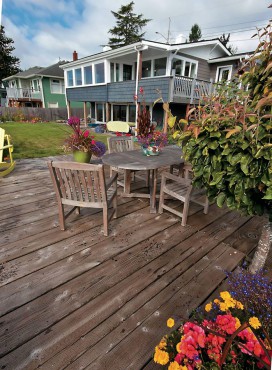 There is a prep sink in the new kitchen space as well as room for a small eating bar. Tucked underneath the end of the counter is a wine refrigerator. "That was my contribution to the plan," Cary says with a smile.
The old kitchen space was thoroughly updated with granite countertops to match the addition cut from granite slabs Kerri picked out at Poulsbo's Creative Countertops (also responsible for the subway tile used in back of the stove as well as for the backsplash). New appliances, including two matching ovens and a dishwasher, both Bosch, and a Wolf range retrofitted for propane, came from Nilsen's Appliance Center in Silverdale. For cabinetry, the couple worked with Brad Moore at Creekside Cabinet & Design in Silverdale.
"We wanted to try to buy locally," Cary says.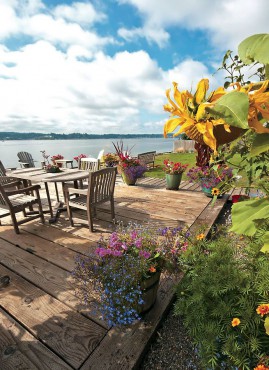 Because the main living area, the eating area and the new kitchen space share a mostly south-facing orientation, those areas are bathed in natural light. Looking across the water to Port Orchard and slightly west to downtown Bremerton and the shipyard means that there is always something happening outside to capture the attention. Ferries pass by several times each day, for instance. Once, Cary watched an aircraft carrier slowly gliding by. "It looked like 20 ferries," he says. "They're one of the wonders of the world."
For Kerri, whose peach pie brought $450 at auction, the kitchen remodel has been inspiring. "I've been waiting three years to roll out my pastry on the granite countertop," she says. "I'm in love."