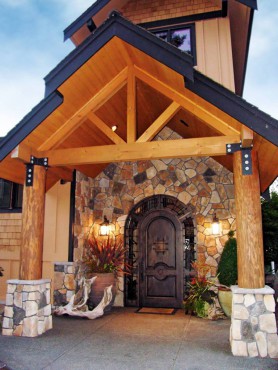 For years now, the garage has occupied a predominant place in American home design. Many homeowners don't even use their front doors, opting instead to drive into the garage and enter the house from there or use a side door, bypassing the formal entryway altogether.
Consequently, many homeowners miss not only a chance to make the all-important first impression, but a way to tie together the insides and outsides of their houses, according to Barb Bourscheidt, a Gig Harbor staging consultant who helps owners arrange both the interiors and exteriors of their houses for selling.
Bourscheidt evaluates the entrance to a house for "curb appeal" with an eye toward putting the house on the market but says, "There's no reason not to be concerned with curb appeal when you're living there. Any time we have a space around our house that pleases us, it makes us happy."
Bourscheidt says homeowners are often confused about what to do with their entrances, or how to make their entrances reflect the rest of the house. "They don't incorporate the in with the out. They see them separated in the design worlds and not discussed together," she says. "They don't know how to translate their preferences for the inside to the outside. They're afraid of that."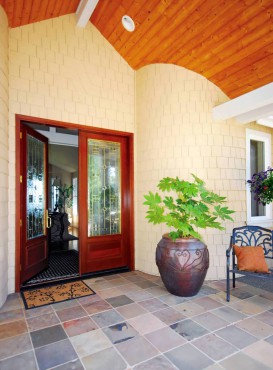 She offers several suggestions for homeowners looking to spruce up or customize their entryways.
First, make the obvious improvements, like sweeping away dirt and spider webs, or buying a new mat to brush dirt off shoes. Then evaluate the space, taking into account things like scale (size) and approach, security (are there any large plants in the way that could hide intruders?), sun exposure at different times of the year, and the availability of water and electricity (is a water feature feasible?).
Think about the inside of your house while planning the outside. "Plantings and pottery should harmonize with the color and design of the house," Bourscheidt says.
The point of paying attention to the entrance, she says, is twofold. There is a sense of pride of ownership, but it's also about making a first impression: "It's important because it says a lot about who you are."
Shanna Neims, an interior designer with Elandan Interiors in Bremerton, believes the entrance to a home is an opportunity. Neims often consults with homeowners on their entrances, both exterior and interior.
"When people come to an entry, they're going to be interpreting how they're feeling, " she says. And there are a lot of feeling entrances evoke — excitement as well as apprehension and confusion.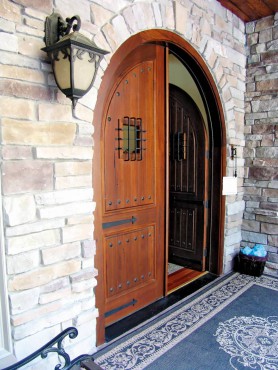 "I think it's an exciting prospect to think about creating something in your entry that gives some personality, and there's a lot of room for people to be able to do that," Neims says.
You can, for instance, choose a different color for the front door. With today's popular natural color palette, Neims often suggests using colors like navy blue or dark green, on the conservative side, or dark purple or red, for a door that's "a little more artistic or exciting." Sometimes she suggests a lighter stain on doors to match colors on the interior, but she steers homeowners away from pastels.
"Even though you're wanting it to be welcoming, you're still wanting it to be strong," she says. "You want it to be something that's creating a safety for you from the outside world."
Neims also prefers glass on or around the door to allow light into the entryway. "You don't want it to be cave-like when you first come into a house," she says. "You want it to be welcoming, not just when you're outside the door but when you first come in." For homeowners worried about losing privacy, she suggests looking into different types of glass that allow light to permeate, but that aren't see-through.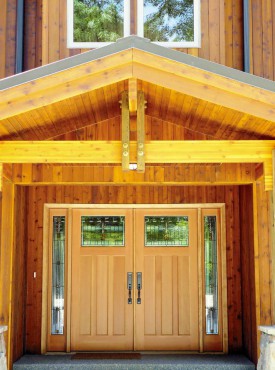 "If you think about it, your front door is kind of a portico of energy, and so you want to make sure that really good, positive energy is coming through your front door," she says.
Sometimes homeowners will incorporate into their entrances some of the principles of feng shui, an ancient Chinese philosophy that addresses, among other things, the relationship between humans and their environments. This can help create personality as well as a positive energy, Neims says. She offers the following tips: Keep elements natural (no artificial plants), balance hard elements (like stone sculptures) with soft ones (like plants), or consider adding a water feature (with water flowing toward the house, to bring prosperity) or a chime of some sort for sound.
"It's all about creating positive energy and also creating safety from the outside," she says.
In addition, new products appear all the time that encourage the trend of bringing indoor elements to the outside, Neims says. Some people hang exterior paintings. Others incorporate outdoor tables, chairs and lamps into their entrances, or hang signs that add personality.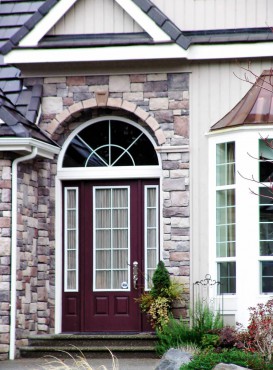 But paying attention to the entrance can benefit more than just the homeowners. In this day and age of oversized garages and multiple entrances, guests can be confused about where the front entrance of a house is located. Things like strategically placed planters can guide guests down a pathway to the front door, she says, "and plants are friendly."
"You really have to make it clear to people, because it can make them feel uncomfortable," Neims says, "and that's not the first thing you want people feeling when they come to your house."
What's in a door?
You may walk through it every day and hardly give it a second glance, but your front door makes a statement to the world.
At Peninsula Door & Millwork in Bremerton, the staff is ready to help you decide about that all-important first impression.
"I think you have to start out thinking about what you want the door to be for you," said Rita Riggs, sales specialist. "So do you want it to be this 'wow' factor thing, or do you want it to be secure, or do you want it to be emotional?"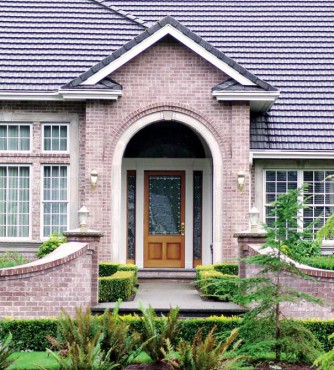 Not that any of the concepts have to be exclusive. Advances in glass quality and strength, for instance, have allowed homeowners worried about security to use glass in and around their front doors without sacrificing protection.
Where to start? Catalogs are a good place to get initial ideas, according to Dick Kelly, vice president of Peninsula Door & Millwork. The Internet is another.
There are a myriad of decisions to make: What kind of door (fiberglass, stainless steel, wood?), what colors (Peninsula Door & Millwork has 26 standard colors to choose from, but can customize any color to match flooring, drapes, interior paint or cabinetry), or what style (to match the overall style of the house)?
In addition, Kelly said, physical factors come into play. If a homeowner wants a wood door, for instance, the site should be evaluated for which way the door will face, how much overhang there is to protect the door, and how much the door will be exposed to elements like rain and sun. Also, wood doors require more maintenance.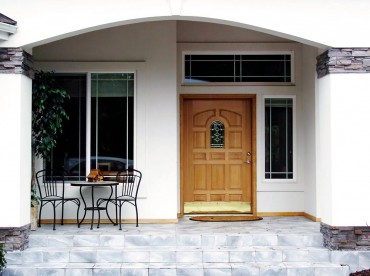 Sometimes, Kelly said, homeowners come to them with unusual requests. One customer on Bainbridge Island cut down some old plum trees in an orchard on his property, had the wood cut into one-inch-thick slabs and custom dried, and then brought the slabs to them to be turned into a door. "That wood was just gorgeous," Kelly said.
Another customer, a retired military man, picked out all the doors for his new house and then announced he wanted them painted red.
Apparently, he'd spent time during his career in England, where a blue door on a house signified you had a mortgage on the house, and a red door signified that the house was paid for.
"And he wanted red doors," Kelly said.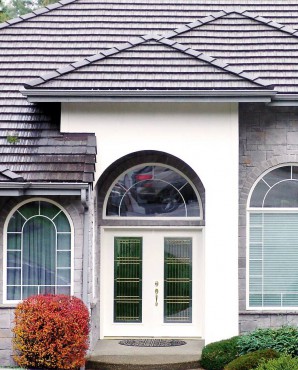 Frank Murr, owner of the Window and Door Shoppe in Poulsbo, said one of his customers chose to spend money on her custom door over other expensive interior finishes, like granite countertops in the kitchen.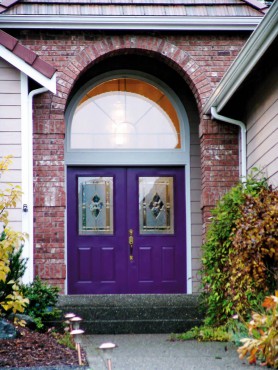 The door had a pattern that extended from the door to the sidelights and back in again. "It was an incredible door," he said.
In his own Port Ludlow house, he replaced an inexpensive door with a high-end mahogany door with a glass oval for one simple reason: "I thought the house deserved a better door," Murr said.
Murr often talks to spec-house builders about the importance of not scrimping on the front door, emphasizing that it's one of the first things potential homeowners notice. He encourages homeowners with standard-issue doors to consider replacing them, adding that just the door panel can be replaced without tearing out the existing trim, not something all homeowners realize.
In the Pacific Northwest, Murr said, the craftsman-style door is very popular, but industry experts are predicting the art nouveau door will be the next big trend.
Whatever the style, though, the bottom line remains the same. When a customer comes to him wanting to know if a certain door will work with their house, he offers this advice, "If it works for you, that's all that matters."