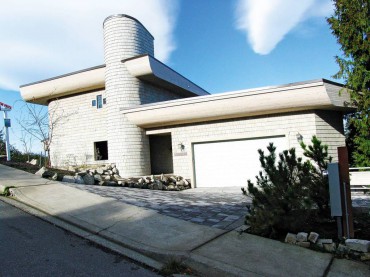 On the third of July, the neighbors came, drawn like small boys to a skyrocket. Louis W. and Claudia Alves were long since accustomed to the town's fascination with their Havn Court home, still under construction. At the local café, talk of their creation was as hot as the coffee. Alves, who spent every day on-site, regularly served as tour guide to the curious. But today, as the setting sun signaled the opening salvo of Poulsbo's Fireworks on the Fjord, the callers were — for once — as interested in the view as the architecture.
"By the time the fireworks started, we had 32 people upstairs and 16 down. All of them just dropped in," Claudia says. "It turned into quite a party. The view was perfect."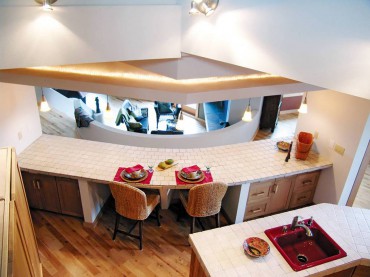 Though the lofty vista of Liberty Bay and the Olympic Mountains is inarguably eye-popping, the real star here is the home itself, the structural masterwork of Louis Alves.
Artistic houses are born of artistic minds, so it's no surprise that Alves, a licensed architect with a 25-year career designing homes in California and Hawaii, is also a professional artist. Proficient in many mediums, from pen and watercolor to marble and bronze, the architect brought an aesthetic eye to this project, his grandest sculpture of all.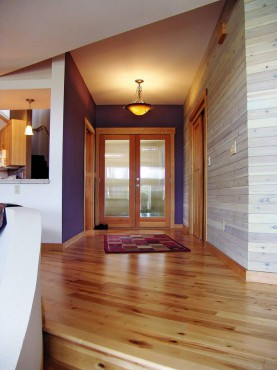 Art-Influenced Architecture
Upon returning to his native Hawaii in the late '90s, Alves opened his own art gallery, Visions of Hawaii. During these years, he donated a marble bust of King Kamehameha I to the Bishop Museum in Honolulu. By the time Alves moved to Kitsap County in 2000, the architect in him was eager to bring his quarter-century of design experience and inspiration to his own home.
"A lot of architects are frustrated. Working for clients, they can't design what they feel," says Alves, noting that many of his fellows never have the opportunity to manifest their personal vision.
Alves' personal vision stands out from its comparatively staid neighbors with a pronounced sculptural character. Yet, while the house on the hill is a landmark of modernist design, the contemporary exterior is a subtle tribute to Poulsbo's Nordic heritage, its roofline curved like the prow of a Viking ship. Other architectural philosophies found a place as well, including the Frank Lloyd Wright-inspired entry, tucked out of sight.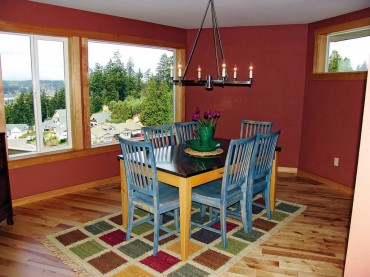 "We want visitors to separate themselves from where they've been. Arriving at the front door is the end of symbolic journey," Alves explains.
Inside, the home comprises a total of 4,500 square feet over three levels with four bedrooms, four bathrooms, six decks, multiple ceiling angles, sensuous curves and views from nearly every room. The ground floor is an 880-square-foot mother-in-law unit.
"This house goes and goes," Alves says. "You have to ask yourself, 'Where am I?' The object is to stop your head from moving and enjoy what you're seeing at the moment."
Site-Inspired Design
Construction took more than a year and a half. The architectural drawings alone — 150 pages of structural calculations and 25 pages of plans sketched freehand by Alves — are works of art that took three months to complete.
"The design centered on the property and the view," Alves says. "We also wanted maximum privacy from the street. There's not much yard here; we went boundary to boundary."
Indeed, the sloping, 45-degree site was the first and biggest challenge. Not only did it necessitate planning from the ground up, but there were safety considerations as well. "I thought the guy with the excavator was going to roll right down the hill," Claudia says.
Even with these restrictions, Alves found plenty of room to create architectural alchemy, turning this apparent liability into an asset.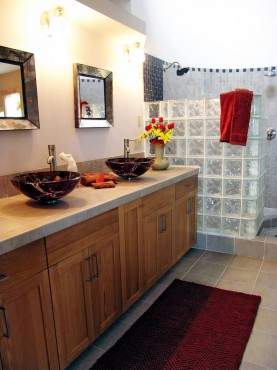 "We built this house like an adventure," Alves says. "If I'd known exactly what it was supposed to look like, there wouldn't be any point in building it. These spaces are all new spaces. The house is like a person you haven't met yet; you may speculate about what's inside, but when you finally get acquainted, it's even better than you'd imagined."
The Indigenous and the Innovative
In a mingling of the indigenous and the innovative, the home uses many native and sustainable materials, including 6,000 feet of cedar shake siding, solid birch flooring and hemlock trim and baseboards. In many rooms, interior wood paneling is stained the same glacier gray as outside soffits for an extended perspective.
Ingenuity takes center stage in the form of a rounded, two-story shower that ascends from the upper floor master suite. The theme continues in the main living area with a gently arcing promenade flanked by the kitchen's concave serving bar and a curvaceous knee wall that flows down to the sunken living room.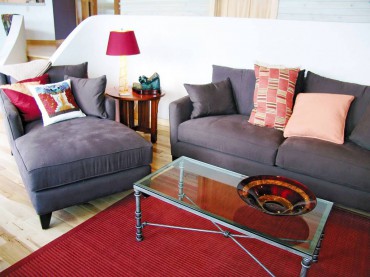 "They say if you deviate from square, you're wasting space, but this house proves them wrong," Alves notes.
Claudia, however, recalls one small problem with the use of such sinuous lines. "The curve of the floor nearly drove the hardwood installer crazy," she says.
Neutral Purple
As the project moved from concept to completion, Claudia also brought her design talents into play. An elementary school principal for the North Kitsap School District — and an interior designer at heart — Claudia was responsible for all the home's fixtures and furnishings, colors and staging. Challenging herself to fill their new house with champagne style at soda pop prices, she regularly canvassed local businesses.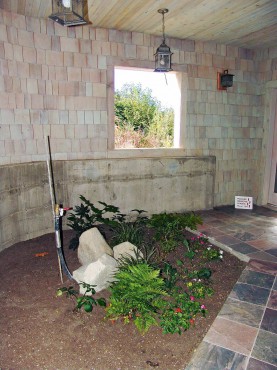 "It doesn't look like it, but we really tried to keep the cost down. I did a lot of careful shopping," she confides.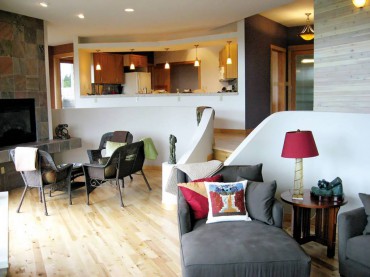 Paint colors lean toward the dark and rich, while stain choices remain light and luminous. For the living room, Claudia chose shades of chili powder, eggplant and cranberry. Chocolate-toned walls in the dining room set the stage for an understated chandelier, one of Claudia's favorite pieces the couple found in Victoria. The well-bred violet of the kitchen is a pleasant, if unexpected, surprise.
"I think of purple as a neutral color. Everything goes with purple," Claudia says.
Highly Entertaining
Since that spontaneous July 3 gathering, Claudia and Louis W. Alves have repeatedly opened their home for entertaining. The couple finds that even a crowd of more than three dozen can be comfortably accommodated.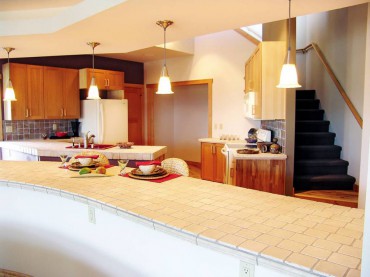 "There are four natural areas for conversation: the kitchen, living room, dining room and entertainment area," Claudia says. "We thought it might feel really formal, but it doesn't."
"The house shows the importance of architectural design," Alves says. "Many people don't understand what an architect can bring to a project. Good design personalizes a home; it's not 'off-the-rack' or designed for the masses. It's one-of-a-kind."