July and August are the perfect months to add more plants to West Sound gardens. Whether you are a more seasoned or a new gardener, check out the offerings at local nurseries. There are still plenty of wonderful plants to enjoy and all of the following plant suggestions are great for natural pollinators. The only caveat is to water these new additions regularly, about once a week during these warmer, often hot, months.
Here are just a few ideas to get your creative juices flowing and provide enticement to head out to the nurseries.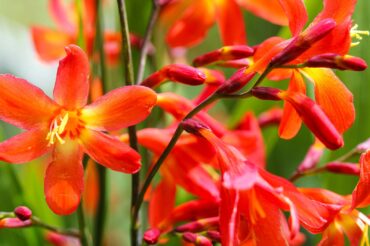 Perennials
Summer plants abound in vibrant shades of orange, yellow, gold and red. Crocosmia, rudbeckia and echinacea are just a few to locate. If pastels are more desired, gardeners can find echinacea in hues of pink and purple, too.
Crocosmia grow from short varieties to those that are nearly 4 feet tall when in bloom. Crocosmia 'Lucifer' grows quite tall and is festooned with vibrant, red blooms marching up the stems. It's a hummingbird magnet. Crocosmia montbretia is an antique variety in shades of orange, often with dots of red or yellow upon closer examination of the blooms.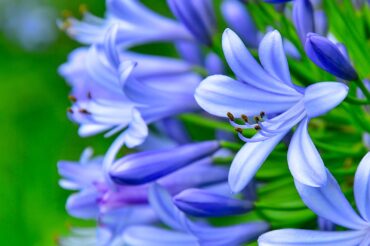 Crocosmia loves to grow in well-behaved sprawling clumps. They're perfect for slopes in gardens. There are also many varieties in shades of yellow and gold. Sundquist Nursery off Bond Road in Poulsbo has a large variety of crocosmia in every form imaginable. The nursery is open by appointment. Sundquist-grown crocosmia can sometimes be found at local nurseries as well.
Rudbeckia is available in many sizes from quite short to very tall. Golden petals surround deep brown centers. Leaves are usually dark green and deeply veined. They bloom from July through September and will return year after year. The blooms are delightful and long lasting in summer bouquets.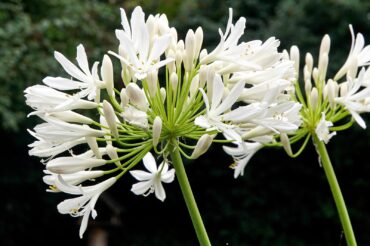 Echinacea has blooms in daisy-like form, with abundant petals surrounding a darker center. Some of the centers are ball-shaped while others are cone-shaped. Plant breeders offer echinacea in white, yellow, purple and orange. Echinacea is also known for its medicinal herbal uses.
Phlox is a lovely scented plant covered in blossoms in shades of pink, sometimes purple, deep rose and even white. Foliage can be found in varying green hues. It grows nicely in clumps, sometimes needs a little support to keep it from toppling over, and is great planted along a path where passers-by can enjoy its scent. Seasoned gardeners often cut the foliage back by several inches when this perennial starts growing in the spring. Cutting back early tends to help the plant grow densely without toppling over in the later summer months.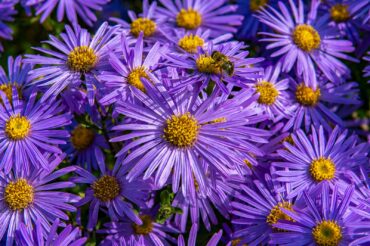 For silver-leafed beauties, find Stachys, also known as lamb's ears. Stachys has fuzzy silver foliage and tall stems finished off with purple blooms marching up to the tip of the stems. The common name lamb's ears describes the grouping of leaves that line the stems below the flowers. The leaves have a lovely scent. Stachys is also a great ground cover. Don't panic when it dies back entirely in winter — it will return again each year.
In August, start searching for asters. The only caution is some varieties can become garden thugs, spreading by underground roots throughout the space where they're planted and encroaching on nearby areas, so ask nursery staff and fellow gardeners which varieties spread profusely and choose the more well-behaved ones. Asters come in light to dark shades of purple. Some even look pink. Watch, too, for fall-blooming chrysanthemums available during July and August. Chrysanthemums come in numerous colors.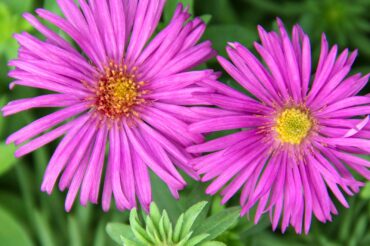 Bulbs, Rhizomes, Tubers and Corms
Visit local nurseries and garden centers for potted-up, colorful blooming plants grown from bulbs. The term bulbs includes rhizomes, tubers and corms. Lilies, gladiolas, agapanthus, iris and dahlias are a few to explore. You can enjoy these plants in their containers and then plant directly into the ground once they've died back. Most locally sold plants grown from bulbs will return each year during summer time.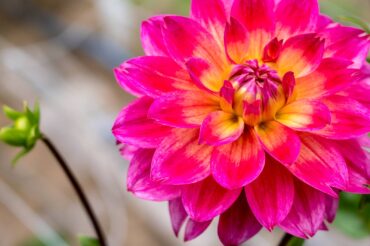 Dahlias come in numerous forms, sizes and colors and are available in containers during summer into fall. If colorful dahlias are a favorite plant, mark your calendars for the month of May each year as a reminder of the local Dahlia Society tuber sales.
Agapanthus is another great bulb to grow. Smooth, dark green leaves are formed around tall stems with flowers in an intense shade of blue. The stems are festooned with balls of color made up of clusters of bell-shaped blooms. There is also a variety with white blossoms.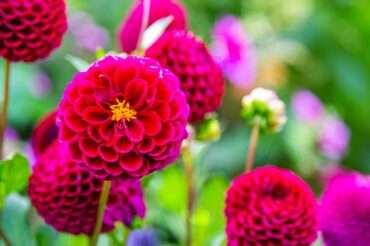 Last but not least in the bulb and rhizome category is Hesperantha coccinea, sometimes called crimson flag. It starts blooming in very late fall and may last into January and February. The most frequently found form is, indeed, crimson, but now is available in shades of salmon and pink. Watch for it at local garden club and Master Gardener sales each spring.
Herbs
July and August is the perfect time to put in an herb garden or to intersperse herbs throughout existing plantings. The key is plenty of sun for most of the day, especially for lavender, rosemary and sage. Herbs also grow happily in containers, but remember to gauge the container to the ultimate size of the herbs. Rosemary, lavender and sage have a shrub-like growth. It's probably best to plant them directly into the garden after a few years if they've been in containers.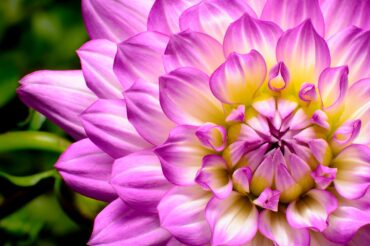 Last but not least, herbs are edible and culinary delights for many chefs. The one caution in planting herbs this time of year is to remember to water them at planting and at least once a week until late fall. Plant in well-draining soil with lots of sun exposure.
There are three kinds of lavender — English, French and Spanish. English is Lavendula angustifolia, French is Lavendula dentata and Spanish is Lavendula stoechas. English grows very well here and Spanish is mostly for ornamental purposes. French is often used for culinary purposes. English and French scents are exquisite and you can dry the buds along the stem by hanging bundles of stems upside down, or you can even just pop them into a vase without water until they dry.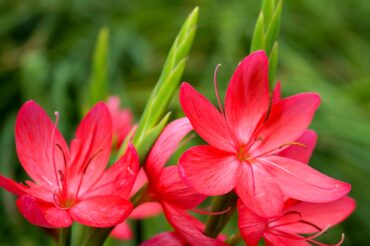 Local lavender grower and instructor Susan Harrington puts dried lavender stems into a pillow case and then rolls the bundles back and forth inside, where they magically turn into dried lavender, ready to pour into a container or make into sachets for enjoyment for months. Other lavender blooms can be found in deep purple, pink and even white. Lavender foliage remains during all seasons.
Rosemary is another favorite herb to plant this time of year. It has several growing forms, from quite large and tall to somewhat diminutive. There is a spreading form that looks lovely trailing down the side of walls. Blooms range in shades of light to deepest blue. When not in bloom, rosemary is often mistaken for an evergreen shrub since its foliage stays evergreen all year long. All forms of rosemary can be used for seasoning food.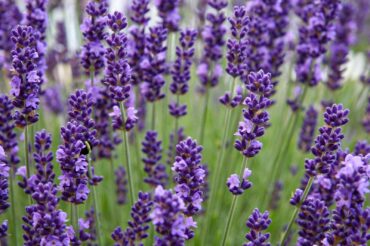 Sage is another herb for edible and ornamental purposes. Tricolor sage has leaves painted in shades of yellow, mauve and light green. This variety is not quite as hardy as the sage with light green leaves. Sage can grow into an ample-sized, woody-stemmed shrub, sometimes 3 feet tall by 3 feet wide. It has wonderful scents when brushed against while working in or wandering through the garden. Sage is a deciduous plant with foliage dropping off during winter months. New growth emerges in spring.
These suggestions hopefully provide lots of fun hours perusing local nurseries and garden centers. Remember that gardening is great exercise. But gardens are also a wonderful place to pull up a comfy chair, rest a while and enjoy the colors, scents and sounds, especially in July and August when we sometimes need to rest a bit or just enjoy the sunshine.