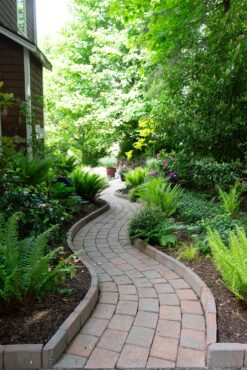 Tucked away on Eagle Harbor's south side, in the Eagledale neighborhood on Bainbridge Island, is a charming, private garden offering its owners year-round beauty and joy. Designed by Bainbridge Island garden designer Teri Cole, the garden makes best use of its natural habitat, as well as perennials, hydrangeas, annuals and a plethora of shrubbery.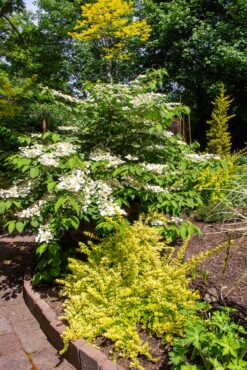 Not too long ago, this garden did not exist. There were no hardscapes, landscaping or perennials. Now, the garden is like a picture frame for the residence, a classic Northwest craftsman. Pathways, carefully configured with pavers deckled with moss, fade into the landscape as they wind through the garden and up to the residence. Each path beckons a game of hide-and-seek, leading to secret surprises at each turn.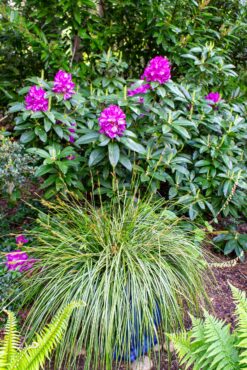 A stunning rose garden bursts easy-to-care and disease-resistant roses in colors of peach, pink, yellow, white and red. Interestingly, many disease-resistant roses are not fragrant, but in this garden, the fragrant roses are carefully positioned so that those walking through get a terrific whiff.
The rose garden is located on the property's north side and is protected with deer fencing that is at least 10 feet high. The fencing consists of a transparent netting, allowing for gorgeous color to jump out among a backdrop of evergreens and common Northwest foliage such as salal.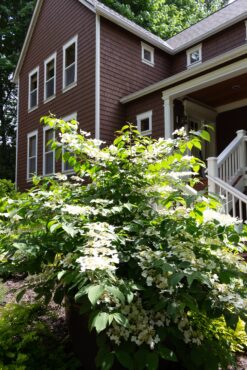 In summer months, copious perennials attract pollinators. A generous variety of hydrangeas — both the familiar big, round-shaped blooms and the ever-so-delicate lacy leaf varieties — complement seasonal blooms. The strongly acidic soil is fertilized and mulched organically, allowing for beautiful blue blooms all summer.
While roses give beautiful color, the garden is not completely drab during spring and fall months. Portuguese laurels offer pretty white blooms in May and June and attract birds with their red berries in the autumn. They are a lovely companion to the complex layering of wedding cake viburnum. Bright red and pink camelias line the pathways, giving showy color from inside the residence in early spring. Beds of pink heather offer color as those colder days await summer. And for the fall, a wide variety of Japanese maples — including a very unusual Katsura tree, with its romantic, heart-shaped leaves — give bursts of gorgeous red, yellow and orange colors.
Like many residences on Bainbridge Island, the property requires a septic system. Rather than fight with the challenges of gardening on top of the system, the garden is designed to work with it. One of the owners opined for an area to park his recreational vehicles — and Cole artfully tucked pavers on top of the septic bed adjacent to the garage. Such a parking area has a lot potential for the ugly factor, but with pavers colored almost the color of soil and tucked at the furthermost corner of the property adjacent to the detached garage, it is serviceable as well as attractive.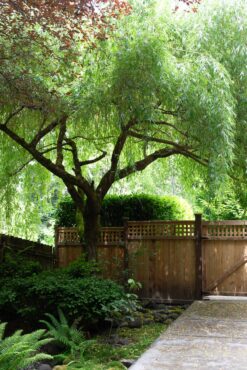 Every septic system needs an access point, and those, too, can be eyesores. For this house, a beautiful natural rust iron firepit, created by island artist Dick Strom, sits atop the septic access, making the access point convenient with a simple move to the apparatus. During the summer, the firepit is filled with annuals. Cole takes ready-planted hanging annual baskets and transplants the flowers into the firepit for an instant blooming glory. Adjacent to the firepit is a small, trickling water feature that encourages visiting bird life.
Like many craftsman-style houses, this one has a trellis covering a lovely private patio. It supports growing young grape vines, which will offer delightful summer shade for outdoor dining as they mature.
A note to gardeners everywhere: One way to avoid complex maintenance is to structure a garden with a variety of specimens that complement one another. When designing a garden, Cole begins with orange paint and lots of pictures from magazines to get a feel for what clients prefer. From there, she makes a plant list, which usually changes depending upon the availability of plants.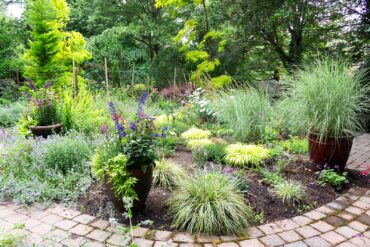 Then, Cole orders yards and yards of organic soil — this garden required upwards of 60 yards! From there, she mothers the planting process by digging holes for each young plant at least two times the size of its original container, fills the hole with mushroom compost at least a third of the way, adds more potting soil and the plant, then waters and fertilizes again.
A well-mulched garden with good organic compost keeps the weeds down while feeding the plants at the same time. Cole winces at the ideas of red bark, as it will suck nutrients out of the soil, thus being detrimental to the young plants. Her preference for fertilizer is Maxsea. The company makes one for hydrangeas, one for bulbs and one for all other blooming annuals and perennials. Since this garden does not have any grassy area, mowing, thatching and lawn feeding are nonexistent, as is the high-use watering requirement of a lawn. Once mature, this garden's maintenance will require minimal care, just watering, feeding and, of course, mulching — tasks that make any garden thrive.
This truly is a garden that just bursts and blooms, with trees as background texture. Cole smiles when walking through it, watching each little plant unfold, and explains, "This is a real garden."