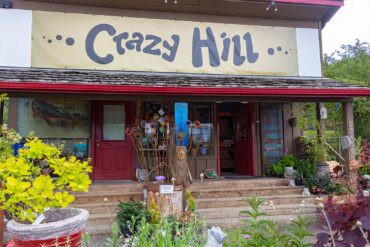 Crazy Hill Garden & Botanicals in Belfair lives up to its name. The nursery, which opened in March 2021, provides a laid-back, fun, artistic and casual atmosphere for its customers.
"The big-box shops buy safe, and we buy fun," says Crazy Hill Garden & Botanical co-owner Elton Busby, adding that the nursery specializes in "unique and unusual varieties of well-known plants."
Crazy Hill Garden & Botanicals was a dream come true for Busby and co-owner Michael Kerkes, who says he always wanted his own nursery.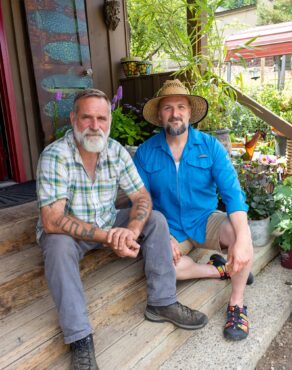 "This is a 20-year dream," Kerkes says. "So, the best part is to be able to live your dream."
Busby says he's worked his entire life, but didn't feel like traditional working environments served him well.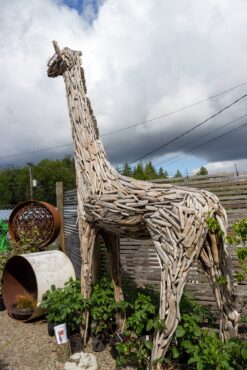 "I've done really well in careers before, because I apply myself in a very intense way to things I do. But, I'm not a big fan of people telling me when to come to work, and how to dress when I do it, and how to answer the phone, etc." he says. "And so, for me, it was a dream to be self-employed."
Crazy Hill Garden & Botanicals was the perfect opportunity for the two partners. Their success, in turn, became an opportunity for others — the nursery sells artwork for dozens of artists as well.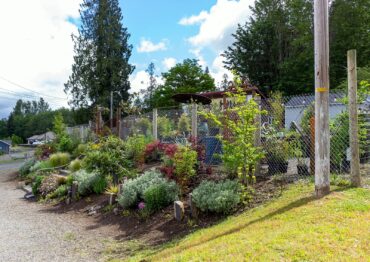 "Outside of having unique and unusual plants, I have six or seven metal artists, a woodworker, two jewelers, three ceramicists and two glass artists," Busby says. "There's just a ton, quite literally in some cases with my metal and concrete (artists). There is so much local art that we showcase."
The nursery has been an asset to the artistic community of Kitsap County and some customers go to Crazy Hill Garden & Botanicals specifically for the artwork.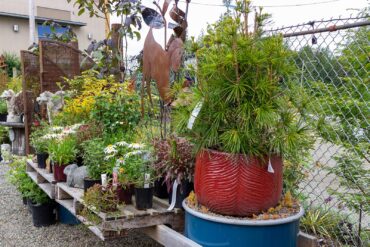 "This year, there are a lot of people that come in, and they bypass the plants altogether," Busby says. "They have nothing to do with the plants, because they know they can come here for custom jewelry, paintings or large-scale metal art."
Busby's and Kerkes' support of the artistic community is an excellent example of their deep connection to the community at large. They say they never would have achieved their dream with Crazy Hill Garden & Botanicals, if not for the help of others.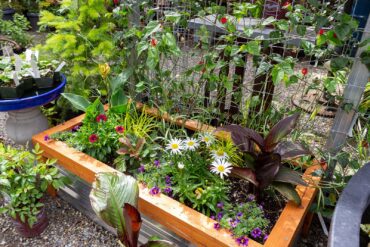 "It's a community thing," Busby says. "It took a community to put this together, (and) it is taking a community to keep it alive."
Kerkes adds, "Without our artists and our friends and family helping us, this would not be possible." So many people helped them prepare their property for the business. "It would have looked like a fruit stand nursery" otherwise, Kerkes says. They are especially grateful to Ray Hammer from Blue Collar Artwork for his help in starting the business.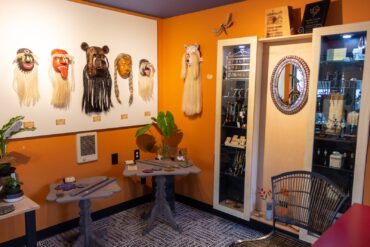 There is also the community between Crazy Hill Garden & Botanicals and its customers.
"We're developing some really strong relationships with our regular customers," Busby says.
The fact that the nursery is a small business aids this process. "We do spend a great deal of time with as many people as possible, making sure that they understand what it is that they want, and what we have to offer, and is that the same thing," he says. "It's one of the reasons we appreciate the small size that we have, the footprint that we have. If we were any bigger, it would be much, much harder to spend quality time with people."
Kerkes finds questions to be a vital part of his quality time with customers. He recommends that clients ask a lot of questions.
"Questions are compliments," he says, "because it doesn't matter how much or how little you know about gardening. Asking questions, you can always find out more."
Additionally, Busby says, "We take a great deal of pride in education with our customers that come in. We do an enormous amount of research for the plants, for the labels that are on there."
The nursery provides in-depth, specific gardening instructions for all the plants it sells. And with the help of Busby and Kerkes, customers are sure to find the perfect plant for their garden — and it's bound to be one that is fun, unique and unusual. After all, the nursery's name is Crazy Hill Garden & Botanicals.