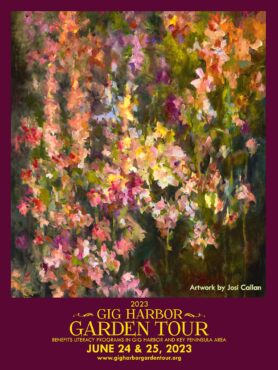 After a season of unusual cold and snow, it is a gardener's joy to see spring shoots promising summer abundance. This year's annual Gig Harbor Garden Tour offers a rich summer palette of color, natural foliage, manicured pathways and a natural forest. There is a garden for every type of gardener — novice to experienced — offering ideas to take home and try.
The six gardens selected for this year's tour are designed and maintained by the gardeners themselves. Many gardeners are afraid to pull out plants that are too small, too big or not quite right, perhaps the wrong choice for the space. The common advice from all these gardeners is to just do what you like, make sure to water regularly and plant what gives you joy. Indeed, joy is prevalent in each and every garden.
Elaine and David Brown's garden is a Northwest wonder. Located on the Bethel Burley Road, it features a natural forest, a beautiful pond and perennials. The couple spent most of their lives in much more urban settings, Seattle and Boston, in the center of the ballet world. For them, transitioning to this more rural space and embracing its changing light is magical.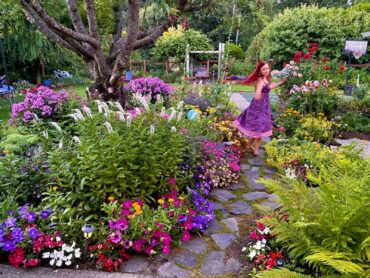 Burley Creek and Shattuck Creek run through the property. The couple have learned to be stewards of both, allowing nature to be the best caretaker. During spawning season, Shattuck Creek has chum and coho salmon, as well as cutthroat trout and a 50-foot nurse log — home to four 200-year-old cedar trees — that provides protection for the young fry.
Craig and Diane Brown (no relation to Elaine and David) created a garden filled with magic for their grandchildren. They have lived in their spot near Sunny Bay, off Ford Drive, for over 30 years.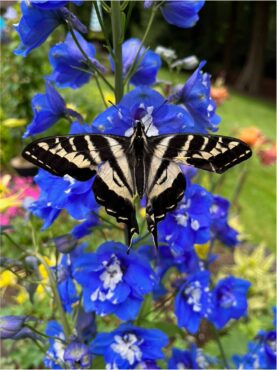 When they first arrived, it was a simple, flat garden that used to have a view. Now, evergreens block the view and garden rooms beckon grandchildren to stretch their imaginations. There is a circle of pavers the kids call the "circle of life" and a spot near the potting shed they have dubbed "hoe down."
Inspired by ideas gathered from garden shows and tours of other gardens, the garden has evolved into rooms featuring hydrangeas, flowering bushes, climbing clematis, dahlia beds and fantastic raised veggie beds fenced off from the deer.
Rose lovers cannot miss Marty and Anne Wallace's garden. They created a stunning rose garden in honor of Anne's mom with 46 roses. An additional 15 or so roses are scattered throughout the garden, with colorful perennial beds terraced down steep banks, so something is always blooming. Most recently, they added a pond with a small fountain and carnivorous plants. Located under pine trees are hostas, hellebores, cyclamen and a variety of ferns.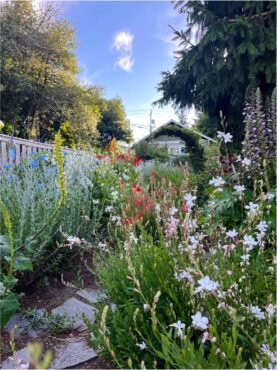 Most area gardeners contend with deer. Marty Wallace makes his own effective deer repellent. Mix egg, milk, garlic, fresh red pepper in a blender; add water; leave it out in the sun to get ripe. He says the potion smells a bit rank, but hey, if it works, why not?
Newer to gardening is Nathan Kice and his wife, Michelle. They moved to the area about seven years ago from the Midwest and Kice launched right in. He is an absolute perfectionist, but recommends gardeners be patient and let the garden grow. As a Gen X individual, he loves nothing more than to "dork out about gardening" and as a veterinarian, his garden needs to accommodate the family's pets.
Kice created an English cottage garden for the summer months. There are tons of perennials mixed with dahlias, so there will be color way into fall. Like in England, he believes anything can grow in our wonderful climate and he fully embraces the idea that if the plant is not working, yank it out. Michelle Kice loves bulbs and annual baskets, as well as indoor plants (she has over a hundred inside the house), so this is a garden guaranteed to produce color most of the year.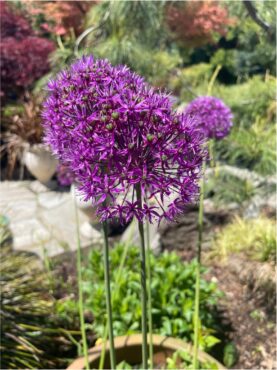 For Barnaby and Karen Beck, plants are a major component of their garden, but they are not the only focus. They carefully curated a garden featuring a variety of glass, ceramic, metal and stone sculpture to complement and allow guests to experience each area's vignette. The garden changes with the season and from day to night, thanks to meticulous lighting design. The Becks befriended many of the artists they collect and for them, the art adds another layer into the garden's story.
"Art has emotion and a sense of purpose in our garden," Barnaby Beck says. Many people will recognize some of the artists, including Dan Barnett's totems, Marcus Harper's flowers, Andrew Carson's wind glass sculpture, Dan Miller's (Tenino Stone Carvers) stone work and Dave Siemans' (Kennedy Creek Pottery) ceramics. In all, the Becks have an impressive collection of over 20 works.
The final garden on the tour belongs to violinist and photographer Cora Reuter and her husband, Justin Foster. Reuter likes to say she paints with flowers; her garden bursts with color, inspired by a childhood memory.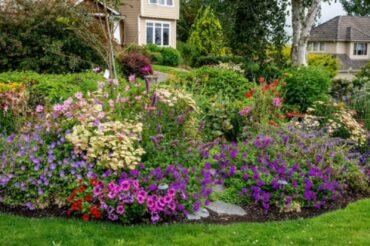 In just five years, Reuter single-handedly dug up almost every old shrub and redesigned the whole garden from scratch, not letting a surprise midlife baby in 2019 delay her lifelong dream of being on a garden tour. This manicured garden, which stretches across half an acre, features serene views of Henderson Bay with luscious perennials and a veggie garden. A mossy, stone shade path flanked by big hostas leads to an enchanting playhouse constructed by Foster.
The Gig Harbor Garden Tour is not just about gardens. Its volunteers raise money for important literacy projects in the community, distributing more than $20,000 to six community groups last year.
"We enjoy providing an opportunity for our community to come together on a beautiful summer weekend to enjoy each other and beautiful gardens, then support our efforts by giving back to the community." says chair Jan Reeder.
The Gig Harbor Garden Tour is always looking for gardens to consider. If you know of a garden, email webmaster@gigharborgardentour.org and let us know!