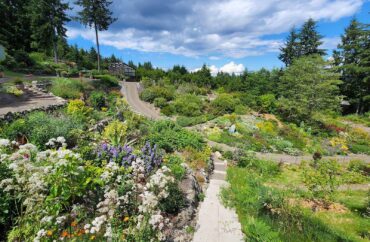 It could be argued that in the Pacific Northwest, gardening-mania far surpasses baseball as the favorite sport. With the help of April showers, June gardens are primped, pruned and ready for ohs! and ahs! as garden tour season begins.
Knowledgeable gardeners anticipate The Garden Conservancy Open Days, which grants unprecedented access to private gardens. Open Days pop up all over the country from April to early November and it's not uncommon for gardeners to travel distances and plan vacations around the open day schedules.
Our regional Open Days has a great lineup and begins with seven gardens to tour on Bainbridge Island on Saturday, June 24. The Kitsap Peninsula's Open Day is Saturday, Aug. 5. Just a day trip away, Puyallup celebrates Open Day on Saturday, June 10, with Vashon Island following on Sunday, June 11.
Teri Cole, garden designer and Bainbridge Island's ambassador for The Garden Conservancy, says that unlike many tours, Open Days are not bus-driven extravaganzas but smaller, low-key affairs with the owners on site for chats. Her work begins with identifying gardens, organizing volunteers and raising awareness of the conservancy. The organization's overall mission is to raise funds for preservation and grant-giving to exceptional historical gardens, such as Ruth Bancroft's dry garden in Walnut Creek, California.
Cole points out that this year the island gardens on tour are abundant in floral displays. However, Open Days feature all styles of gardens, from small jewel-box gardens to acreage covering forests and meadows, beachfront landscapes as well as arid, rocky hillsides and lush gardens that inspire and educate.
The Piraino, Skyler and Cole gardens are on tour, along with four others on the island. Trelowarth and the Jeanne Simmons garden are scheduled for the Kitsap Peninsula, and more gardens are added as the dates approach, so check The Garden Conservancy website at gardenconservancy.org/opendays for complete listings and information. Please note: Tickets may only be bought on the website. An e-ticket is issued, along with tour addresses and all the information needed for a joyful day in extraordinary gardens.