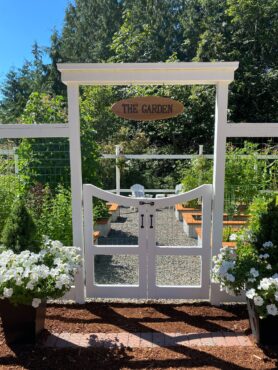 As a little girl, I took great comfort in our family garden. I grew up on a small farm in Woodinville. I vividly remember taking the short walk down to the barn to say "hello" to the horses and chickens, then slowly finding my way to our garden to pick whatever I could find growing in the rows of vegetables.
The garden was always a calming space for me as a child. A quiet place to enjoy the goodness of nature and breathe in the fresh air around me. The nostalgia I feel about those memories from my youth fills me with a deep passion for gardening as an adult. When I became a mother, I felt an overwhelming desire to provide my daughter with a garden sanctuary for her enjoyment as she grew.
When my husband, Chris, and I relocated from Sammamish to Silverdale in the summer of 2017, we left behind a small "starter" garden that had evolved over several years into a space we were very proud of. It brought us joy as we watched our daughter, Olivia, connect with nature and experience amazement while we gardened. I will never forget the first time she discovered a cucumber hiding under long, leaf-filled vines when she was just 2 years old. She wasted no time to twist it off the plant, promptly sit down and bite right into it! That memory and many like it provided Chris and I the motivation we needed to create our dream garden on our new Silverdale property.
Planning and Construction
By trade (general contractor and interior designer), Chris and I are strategic when preparing for a new project. We approached the planning of our garden location, the design, collection of materials and budget as if we were building a new home. We thoughtfully selected the location — a space at the west end of our property in full sun during the spring and summer months. At the time, this area was overgrown with blackberry bushes and weeds.
Once we thoroughly discussed and agreed on the approximate size, we determined how much ground fill we would need to level the area. Once it was cleared, truck load after truck load of sand, dirt and gravel were dumped and spread to raise and stabilize the new ground. The garden area was starting to take shape.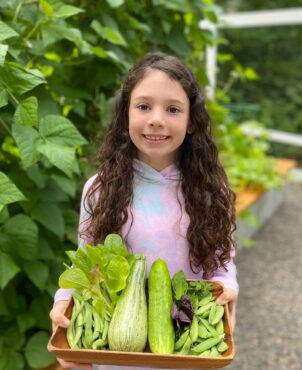 Next, we marked the perimeter and set the posts for tall fencing to completely enclose the garden. We left adequate space for the entry gate. Each post was set with concrete for a sturdy foundation.
Design and Layout
When I started drawing the layout for the garden interior, I thought about my desire to make the garden feel like an experience, a journey. Not just for me and my family, but also for our guests and loved ones. I envisioned a place where one could sit along the way. An area to read or have a glass of wine. Access to the plants from all sides was something that our past gardens lacked. Creating paths or walkways between raised beds throughout the entire space would allow for the function, access and experience I dreamed of.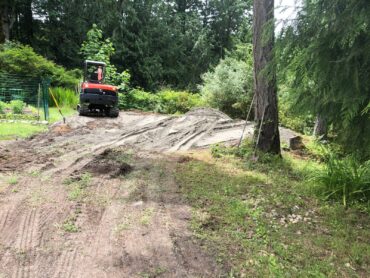 We spent months collecting design concepts for the raised garden beds. Originally, we planned on all wood construction, but longevity would become an issue, which we wanted to avoid. We also considered using terra cotta brick to tie in with the brick façade on our traditional home, but after mocking up this concept, we decided it looked too traditional and busier than we had envisioned. Then, after visiting a newly built local restaurant (Maynard's), I was greatly inspired by their use of concrete in their tiered landscape. That concept really spoke to me and I knew I wanted to incorporate the style into the design of our garden beds.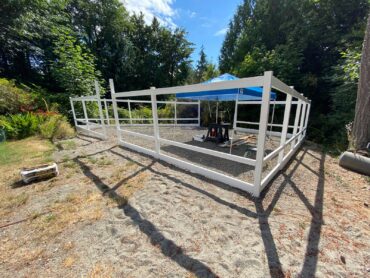 After reviewing a few different combinations, we decided natural wood caps created the best overall look for the space. Once we assessed the budget and the expense involved with pouring solid concrete, we decided to use hollow block, with the intention of applying mortar to the sides to achieve the poured concrete look.
It was important that the area be level and much preparation was required to do this properly. Before finishing the outsides of the beds, irrigation trenches were dug and hoses were supplied to each area with adapters, allowing for easy modification for sprayers or drip heads. After irrigation lines were set, we decided on a light gray color for the mortar and a smooth finish was applied. This was a time-consuming process; however, it gave us the overall look we wanted at a fraction of the cost. We captured Olivia's small handprint and year in the wet mortar, which has become one of our favorite details.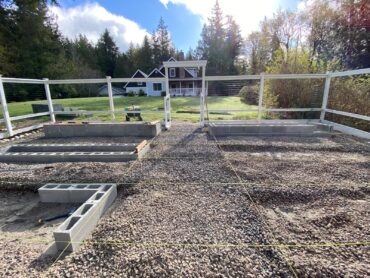 Lastly, we added solar lighting along the pathways, painted the wood on the outer perimeter white and stapled on green-coated metal grid fencing to keep out the critters. We finished the space by building a swinging entry gate with a gentle curved top. The gate design embraces an oval "the garden" sign made of clear cedar, which greets you as you approach. Each detail was thoughtfully created by the three of us.
Time to Grow
I truly believe that gardening is all about patience and trial and error. I start each new year with a written list of what I would like to grow. Mostly, what my family eats most of. For us, priority vegetables are lettuce, cucumbers, beans, tomatoes, broccoli, corn, zucchini and peas. Those are must-haves for our garden every year.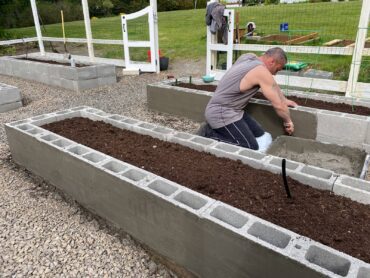 I also like to add in something new each year. This could be a variety of peppers, squash, onion, herbs or potatoes. I love to have an area dedicated to herbs like basil, oregano and mint. I keep a journal noting where things were planted and how they did in that location, allowing for improvements to be made the following year.
Adding flowers to your garden provides another layer of beauty and helps support the productivity of your plants that need attention from pollinating honeybees. Hanging flower baskets or potted flowers works well. Honeybees especially love lavender (which I do, too!).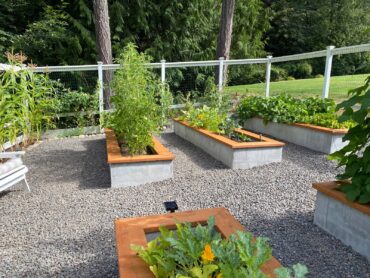 It's important to do research as to how much room each vegetable needs to flourish. Proper spacing, rich soil and plenty of sun and water are the path to a successful garden abundant with fresh veggies and joy. Plan to intervene when insects or pests appear. Neem oil was my savior last grow season. Reach out to other gardeners about what methods have worked for them.
Overall, gardens require ample seasonal attention and should be a consideration when planning your own garden. Discovering the love of gardening happened early in my life, but I truly think the passion can begin at any age. The nutrients and joy provided by a garden can be enjoyed by all. My life experiences revolving around gardening have created priceless memories that I deeply cherish.
---
Olivia's Zucchini Bread
Makes 2 loafs
Ingredients:
3 cups all-purpose flour
1 teaspoon baking soda
1 teaspoon baking powder
1 teaspoon salt
2 tablespoons ground cinnamon
3 eggs
1 cup vegetable oil
1 3/4 cup white sugar
1 cup brown sugar
4 teaspoons vanilla extract
2 cups grated zucchini (do not drain)
Optional: raisins or chopped walnuts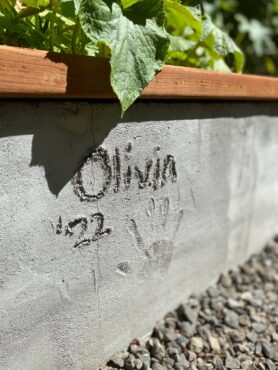 Instructions:
Preheat oven to 325 F. Grease two 8-by-4 loaf pans.
Stir together flour, baking soda, baking powder, salt and cinnamon in large mixing bowl.
In separate large bowl, mix beaten eggs, oil, white sugar, brown sugar and vanilla extract. Add in the flour mixture. Beat well.
Stir in the grated zucchini. Add walnuts or raisins if desired.
Pour 1/2 of the batter into each loaf pan. Bake in preheated oven for 40 minutes. Check every 5-7 minutes until a knife through the center comes out clean.