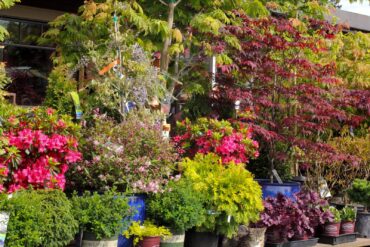 Spring is here, which means it's time to go on a journey around West Sound exploring our unique and wonderful garden nurseries — time to find the spring bloomers that lift the late-season garden.
Let me take you on a hop-and-shop journey into the nursery wilds of greenhouses and plant jungles around the area.
The first nursery on my itinerary is an hour away in Gig Harbor. A stop at the fantastic Cup & Muffin Espresso in Kingston for a morning chai latte is first, and then the journey begins.
One hour later, I arrive at Rosedale Gardens. I haven't been down here in many years, yet the buildings are just as I remember them. The nursery has evolved into a destination place. Across the many tables full of plants, I spot a sizeable Easter-Island style stone head that stands guard over the entrance to the art walk. Passing a mass of plants for sale, I whisper, "I will be back to look you over."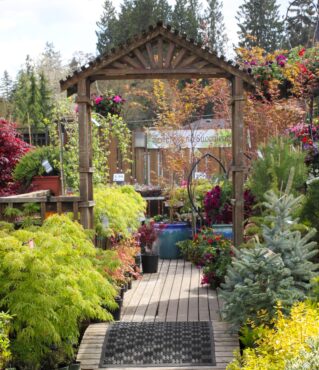 This landscaped place nestled in the woods will take some time to explore. As if a reminder that this is not a garden tour, containers of perennials, shrubs and trees are scattered throughout the grounds. There are nature trails and an art walk, or you can sit on benches and admire the gardens. The quaint gift shop is the grand finale with its creative displays of gifts and art.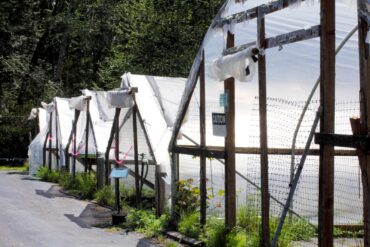 I drive away and head toward the waterfront. I spent too many hours here and realize my nursery hop-and-shop wouldn't finish in a day. I don't care; the next stop is lunch at the Tides Tavern, a few minutes away. If you aren't driving, I recommend that you order their specialty ice tea — a super treat on a hot day. The sun is peeking out, and I will enjoy sitting on the deck, watching the boats float in the inner harbor while Mount Rainier sits picturesquely to the southeast.
After lunch, I double back a few miles to visit the unpretentious Woodbrook Native Plant Nursery. With native trees, shrubs and perennials galore, don't expect a fancy gift shop or art. The nursery is the go-to place for its excellent native plant material.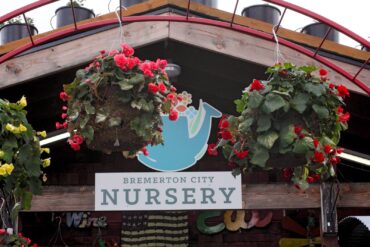 Bremerton City Nursery is next on the list. The small nursery is an oasis in the city of Bremerton. I notice large, black pots lined up along the building's roofline. By summer, plants will cascade down over the roofline, softening the edge in floral finery. The business is small, but artfully packed with plants. The Dreaney family business is back in full force, offering workshops and other events. They have an array of ornamental and edible garden plants. A lovely gift shop is filled with gifts, pottery, houseplants and garden art.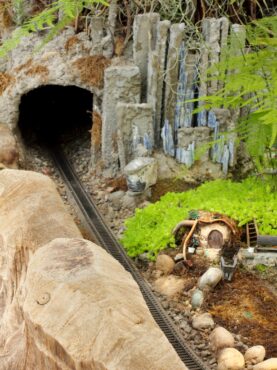 A week later, I'm nursery hopping again. I pull into The Brothers Greenhouses near the Bremerton airport. You might be confused when you realize two women own the business. The nursery was named after mountain peaks — The Brothers in Olympic National Park. Marilyn Davis and Cheryl Pelkey purchased the wholesale nursery in 1996 and turned it into a thriving retail operation.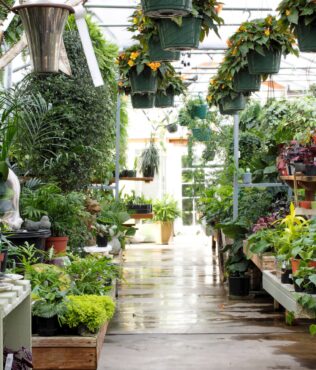 I walk through the greenhouses, past tall castle displays with fabulous succulents, tunnels with trains and shelves of fairy-size garden furnishings. I pass tables filled with annuals, edibles, perennials and ceilings obliterated by hanging baskets.
What's back behind the nursery is a destination — an authentic-to-the-Tolkien-story hobbit house. Many people from around the country visit the nursery to see this dwelling. It's not a façade. Go inside, sign the guest book and then shop. The hobbit house is always open during nursery business hours.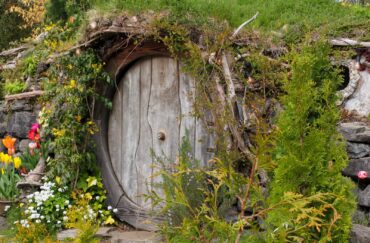 Cooleen Gardens (pronounced coo-oo-lean) is a nursery on a small lot in East Bremerton. Don't let small nurseries fool you. Inside the gates, the ground is packed with plant treasures for enthusiastic gardeners. One greenhouse filled with outdoor hanging baskets with exuberant plants spilling over the pots has tables holding bedding plants and enticing perennials. Outside, garden art is mixed playfully with shrubs and trees.
The first greenhouse has a gift shop filled with houseplants. Gift displays surround the tropical plants artistically and need exploring. One wall is a broad, waterfall-like line of hanging baskets mostly planted with the long-trailing string of bananas (Senecio radicans).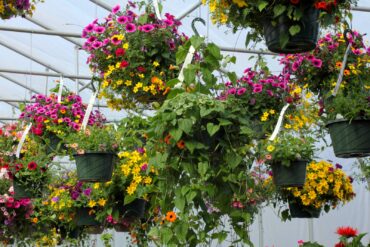 Owner Steve Johnson said, "We've always had houseplants but in a smaller area. But after the 2021 heat wave, the back half of the greenhouse was empty. We decided to fill it with more houseplants." With the uptrend of houseplant enthusiasts, it became a significant portion of sales last winter. The nursery carries some of the more unusual ones.
I have one more nursery to explore today. I reluctantly say goodbye and head north to Poulsbo.
Olmsted's Nursery is small yet home to many plants, pottery, a gift shop, fresh produce and specialty foods. It features plants, garden art and sculpture. Inside, the shop has more garden art, fun things for the garden and home, and distinctive gifts for someone special.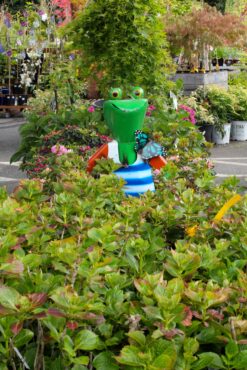 Outside, there seems to be a large contingency of dinosaurs hanging about the plants. Close to the road, there's a horse sculpture so tall, I point my camera up, and the animal appears to be jumping over the bright red water tower. Step to the edge of a large pond, and fascinating koi rush toward you, vying for the best spot to be fed.
My first stop on my third nursery hop-day is Valley Nursery in Poulsbo. Before the bridge at the entrance, Valnur, one of several resident trolls greets visitors. Fear not, for he's not under the bridge, and he will let you pass over it for free.
If you have a question or need help with a plant problem, a professional horticulturist stands by at the Answer Shack. This busy, full-service nursery has plenty of staff on hand to help. Two large greenhouses are full of perennials, annuals and shade plants, while houseplants fill a smaller greenhouse in the back. You can browse a vast selection of vines, shrubs and trees behind the greenhouses.
The last stop is at Bainbridge Island's Bay Hay and Feed. The business began in 1979 in a building that is now on the island's historic registry. It's not just a feed store; it also has a thriving nursery. Inside the historic building, you'll find everything from feed to fertilizers, live chicks (in season), clothing and tools.
Also in the same building is the Rolling Bay Post office and Carly's Rolling Bay Café — a place to grab a latte and a fresh local pastry before touring the nursery behind the historic building. Beautiful hanging baskets hang on the gazebo stands. A gift shop and houseplants reside in the newer building around the corner from the older one.
Nursery Hopping Suggestions
Shopping for treasures is hard work. While you are nursery hopping, it's always fun to take in a local restaurant for lunch or a snack. Here are a few favorites along the way.
Cup & Muffin
10969 NE State Hwy 104, Kingston • 360-297-3364 • cupandmuffin.com
The Kingston Ale House
11225 NE State Hwy 104, Kingston • 360-881-0412 • thekingstonalehouse.business.site
Grub Hut
11130 NE State Hwy 104, Kingston • 360-881-0147 • peaceloveandgrub.com

Outside to the right side of the greenhouses at Valley Nursery, grows a lovely tree specimen — a paper bark maple (Acer griseum).

Burrata Bistro & Paella Bar
19006 Front Street NE, Poulsbo • 360-930-8446 • burratabistro-paellabar.com

Molly Ward Gardens
27462 Big Valley Road NE, Poulsbo • 360-779-4471 • mollywardgardens.com
Tides Tavern
2925 Harborview Drive, Gig Harbor • 253-858-3982 • tidestavern.com
Devoted Kiss Café
8809 N Harborview Drive #203, Gig Harbor • 253-851-0055
Noah's Ark Restaurant
1516 6th Street, Bremerton • 360-377-8100 • noahsark-restaurant.com
Taqueria Los Cazadores
2805 Wheaton Way, Bremerton • 360-479-3230 • loscazadoresbremerton.com
Axe & Arrow Gastropub
232 4th Street, Bremerton • 360-813-1514 • axeandarrow.com
Boat Shed Restaurant
101 Shore Drive, Bremerton • 360-377-2600 • boatshedmenu.com
Streamliner Diner
397 Winslow Way E., Bainbridge Island • 206-842-8595 • streamlinerdinerbi.com
Jake's Pickup
406 High School Road NE, Bainbridge Island • 206-842-5595 • jakespickup.com
Carly's Rolling Bay Café
10355 NE Valley Road, Bainbridge Island • 206-780-6788