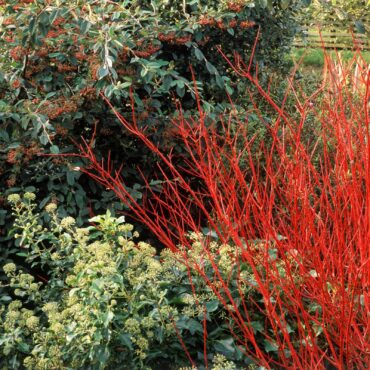 March and April are perfect months for selecting and planting woody shrubs and trees. This year, consider adding plants to feed and shelter wildlife, especially birds and pollinators. Choose from both evergreen and deciduous plants.
Evergreen plants provide shelter and nesting areas throughout the year. Deciduous plants satisfy that requirement but also visually add wonderful colors and textures. Remember to consider plants with berries to provide nourishment for wildlife. Both evergreen and deciduous plants offer seeds and pods for additional food sources.
How to Choose
Before beginning, consult two highly recommended books that were thoroughly researched and created by Russell Link, a retired wildlife biologist for the state of Washington. His first book, "Landscaping for Wildlife in the Pacific Northwest," is truly the most complete and best resource for selecting plants for this region. His second book, "Living with Wildlife in the Pacific Northwest," gives very helpful tips when gardeners are too successful in attracting wildlife. "Living with Wildlife" also helps gardeners live peacefully in regions surrounded by already established wild creatures.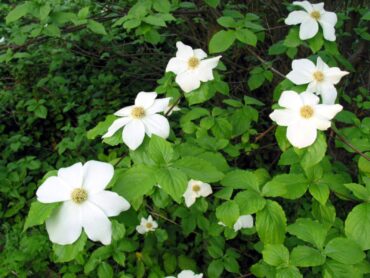 The Washington Native Plant Society has a complete website showing photos of native plants for this region. Each plant shown includes a list of how the plant was and can still be used, whether portions are edible and other habitat uses.
The National Audubon Society has a section where gardeners can insert their zip code to find a list of plants for attracting birds. Another great resource, Kitsap Audubon Society, meets on the second Thursday of each month from 7 to 9 p.m. in the meeting room at the Poulsbo Library on Lincoln Road.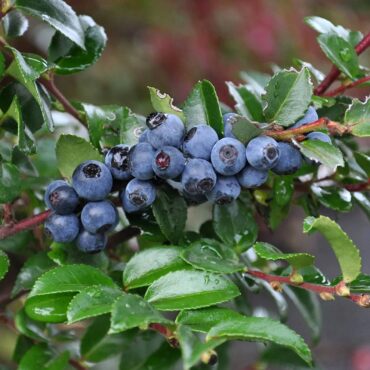 Remember that wildlife includes spiders, butterflies, moths, bees, wasps and other insects. Pollinators are becoming a necessity of human life. Native plants are especially good for attracting pollinators. In addition to birds and furry creatures, frogs, lizards and snakes also find homes in, underneath and near the plantings. Coincidentally these creatures, from the smallest to the largest, can also help reduce unwanted pests in cultivated and ornamental gardens.
Plant Choices
Local bird photographer and expert Janine Schutt says, "What I can't stress enough in the bird-friendly garden is the importance of native plants. The best plants for nesting are the ones familiar to our native birds, as they provide the most appropriate nesting locations. They are also the ones that are attractive to insects, thus providing necessary sustenance for parents to feed to their chicks."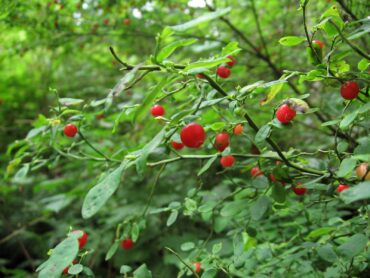 She further explains, "The best gardens for birds are the ones that are kept a little messy. Let perennials go to seed; don't rake up all the leaves and don't plant excessive amounts of lawn. Eliminating the use of chemical fertilizers, weed killers and pesticides is also necessary in the bird-friendly garden, as is providing some sort of water feature."
Schutt adds that dead trees are an overlooked necessity in the bird-friendly yard. This may not be very attractive to humans, but you have to think like the birds if you want to attract them.
"Snags are very appealing to birds, as they are filled with insects and cavity nesters depend on them," she says. "When there is concern about a threat to a structure, snags that are reduced to 20 feet in height are still very useful. Sometimes people who don't have a snag in their yard will go so far as to 'plant' one, paying someone to literally cement a cut tree trunk into the ground."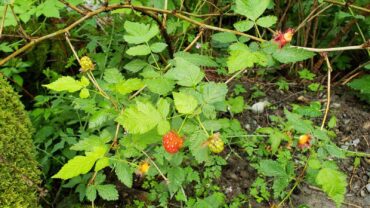 Local Resources for Plants
Most of West Sound's local nurseries carry a selection of native plants. Ask nursery staff for recommendations for native and nonnative plants that attract wildlife.
Often, garden clubs and the WSU Kitsap Extension Master Gardener plant sales also have a section of native plants for purchase.
The following are just a few of the plants to attract wildlife and add interest to local gardens. Remember to provide regular irrigation for at least the first year until the plants are established.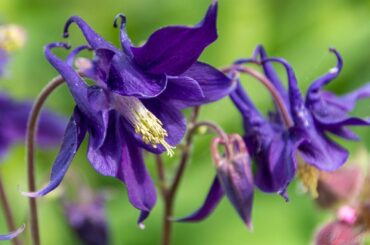 Native shrubs:
Evergreen huckleberry (Vaccinium ovatum) — evergreen foliage, pink flowers in early spring, small blue edible berries; can also be pruned into hedges and small bushes; likes full sun but grows well in partial shade too.
Red huckleberry (Vaccinium parvifolium) — deciduous foliage (bright green leaves turn to yellow in fall), tiny pink bell-shaped blooms, red berries; grows best in full sun.
Red elderberry (Sambucus racemose) — can grow fairly tall; deciduous, clusters of white blooms turn into clusters of red berries; note that this is not the plant that yields elderberry wine.
Red flowering currant (Ribes sanguineum) — deciduous, dark green leaves; clusters of dark pink flowers turn into dark blue berries.
Indian plum (Oemleria cerasiformis) — deciduous; one of the first native plants to bloom in early spring (sometimes as early as February); white flowers often appear before bright green leaves emerge; oval fruits are pale orange.

Trumpet honeysuckle vine

Salmonberry (Rubus spectabilis) — deciduous; five petaled blooms in shades of hot pink produce raspberry-shaped, light orange fruit; hummingbirds are often seen exploring the flowers.

Snowberry (Symphocarpos alba) — dark green leaves on reddish stems; often used on edges of raingardens and in parking strip landscaping; tiny pink blooms, clusters of white berries; shrub spreads out by rhizomes.
Oregon grape (Mahonia nervosa and Mahonia aquifolium are two varieties) — evergreen; clusters of yellow blossoms, followed by clusters of frosty dark blue berries; leaves resemble holly leaves but is not invasive like holly.
Red twig dogwood (Cornus sericea and Cornus alba) — there are many varieties of this plant from which to choose; red stems are the dynamic feature; blooms are white, leaves are usually dark green; the red stems are the main feature of this plant but birds like the berries.
Serviceberry (Amalanchier alnifolia) — often sold as a shrub but is also available as a charming tree; one of the first shrubs and flowering trees to bloom in the spring, festooned with small white blossoms; berries are deep-dark blue; fall foliage in shades of yellow and orange.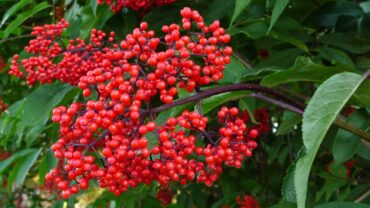 Deciduous native trees:
Cascara (Frangula purshiana) — in the buckeye family.
Pacific crabapple (Malus fusca) — year-round foliage interest; lovely blooms changing to clusters of quite small red apple shaped fruit in the fall.
Pacific dogwood (Cornus nuttallii) — dark green leaves, six petaled flowers with green centers that turn to orange as petals drop and fall color appears.
Western mountain ash (Sorbus sitchensis) — clusters of white flowers turning into clusters of orange berries; good fall color.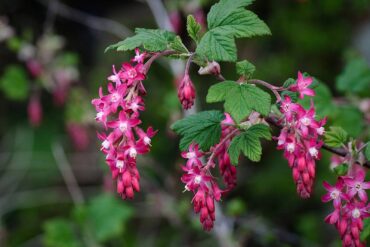 Perennials:
Columbine (Aquilegia) — purple flowers but other cultivars come in a wide variety of colors.
Penstemon — wide variety of colors available.
Honeysuckle (Lonicera periclymenum).
Paintbrush (Castilleja) — known for vibrant red blooms.
Fuchsia — hardy and annual varieties to choose from; hummingbird magnets; many hardy varieties will grow into a nice size shrub.