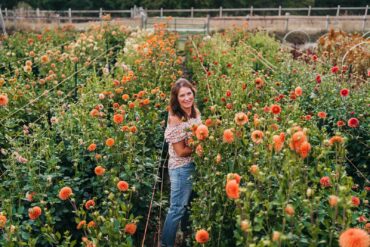 When Carolyn Thompson worked in an office nearly a decade ago, doing data entry day after day was tedious. She yearned for something different — and found inspiration in a magazine article about two women who grew flowers in England.
This inspired Thompson. Flowers were something she loved. "I'd always been a gardener," she says. In hopes of finding work that she could enjoy, she decided to pursue this dream and start a flower farm. Thus, the Willow and Mabel Garden Co. was born. Four years later, thanks to her business' success, she was able to quit her office job.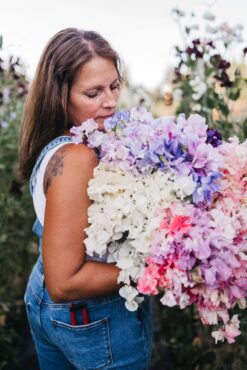 Thompson grows her flowers on "just over an acre" of land, maintaining two flower fields on it. One is filled with dahlias, and the other is home to approximately 40 breeds of annual flowers.
After getting her flower farm started, one of her first business moves was with Keyport Mercantile. There, she began selling flowers. Then, five years ago, she became a vendor for Central Market and for Town and Country, where she is the now the "biggest supplier of locally grown flowers to those two stores," she says.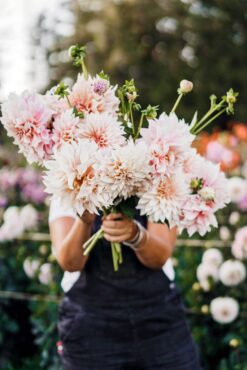 Being local is a critical part of Thompson's business philosophy. "I'm always on my soapbox about locally grown flowers," she says. "I think the main thing is teaching people about locally grown flowers and supporting local businesses and being aware of where their flowers are coming from," she says. She believes that "when you buy local, you're supporting somebody's dream."
In addition to selling flowers, the Willow and Mabel Garden Co. provides events and services. Thompson utilizes her property for weddings. "I do a select amount of weddings every year," she says. Her 2022 calendar is already fully booked, and she is beginning to schedule for 2023.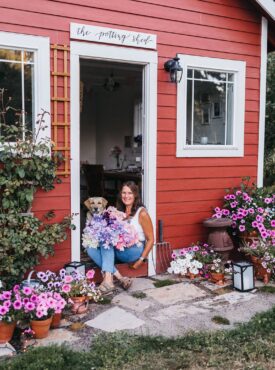 Throughout the year, Thompson creates several events as well. Some are workshops that she does in collaboration with Kelly Welk from Ciderpress Lane. These include a Christmas wreath workshop and a spring workshop.
At the company's 2022 summer workshop, Flowers from the Field, Thompson planned for participants "to go out into the fields and cut whatever flowers they want." Her goal was to teach them how to make a floral arrangement in a vase, and then they would have a traditional English cream tea with scones.
Thompson also uses Willow and Mabel Garden Co. to support charities. She works with Scarlet Road, a charity that aids abused women. She donates bouquets and offers a small workshop as a prize for the organization's charity auction. "I want to show (those women) there's still good in the world," Thompson says. Providing beautiful flowers is her way of doing just that.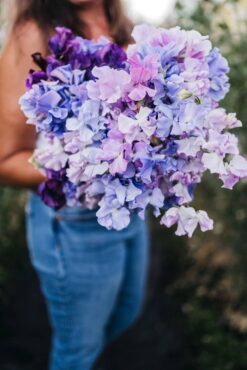 One of Thompson's favorite parts of running her business is the way that flowers make her and others feel. "Mother Nature blows me away," she says.
She loves the wide range of flowers that nature provides. While picking a favorite is "like picking a favorite child," she admits that sweet peas are likely at the top of her list. She loves the smell, and especially produces her sweet peas for the scent.
Similarly, flowers bring others happiness, too. Thompson says that she loves it when customers pick a bouquet of flowers from her "and it makes them so happy."
"It's so nice just to bring some joy," she says. With the fulfilled dream of having her own flower company, Thompson brings joy to both herself and those around her.