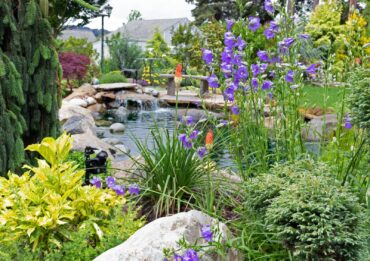 Barbara and Graham Wilson of Poulsbo took their dismal, barren property and transformed it into a garden paradise. After moving to their current home eight years ago, the Wilsons came to a realization. Their property "was in bad shape," Graham Wilson asserts. Barbara Wilson describes the lawn at the time as "just a piece of barren grass." Therefore, six years later, they set out to renovate their land.
Originally, "we were just going to do a little patio," Barbara Wilson explains. The couple planned to do a simple, self-done renovation.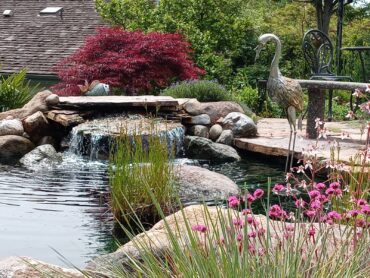 However, those plans quickly changed. Their property was an "awkward shape of land," as Barbara describes it. That made drawing up plans for the property difficult. Graham Wilson agrees that designing the renovations was challenging, especially when accounting for the septic system in the middle of the property.
The couple found that they needed to bring in professional help and hired Nisan Pollack from Green Thumb Solutions. He was a vital part of transforming their property. Pollack's motto is "anything's possible," according to Barbara Wilson. Nothing was too big to add.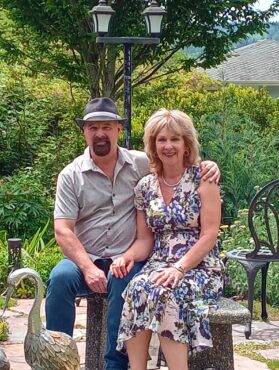 What began as the simple addition of a patio evolved into a zen garden with a fountain, a coy pond, a shaded patio, a secondary patio for a swing chair and a beautiful flower-edged lawn. Even the lawn itself was changed. It was originally a slope, but they decided to level it for usability.
While most of the property renovation was done through Pollack, the Wilsons made several purchases for their yard themselves. The plants came from The Home Depot, Valley Nursery and The Brothers Greenhouses. Pollack also transplanted several existing plants on their property. The couple purchased the screened patio at Costco. The fountain bowl in the zen garden, along with the concrete bench next to the coy pond, came from Ornamental Stone Inc. in Allyn.
Now, everyone wants to use the Wilsons' property. "Everybody wants to come here and enjoy it," Barbara shares. Recently, her pickle ball group made use of the lawn, which is perfect for outdoor games. In addition, they always open their property for a Fourth of July party with friends and family.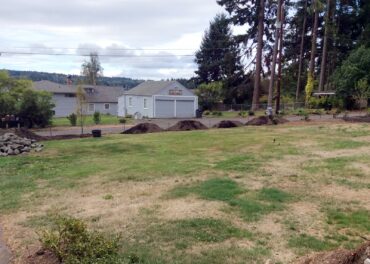 The Wilsons' renovated yard attracts more than just human visitors. "We have a lot of wildlife," Barbara explains. Birds and squirrels come in far higher quantities now than they did before the lawn was redone. Even a blue heron has been attracted to the garden. However, its only interest is the fish in the coy pond, so the Wilsons installed a motion-sensor sprinkler to spritz away the fish-eater.
In addition, another unusual visitor of the animal variety came to visit the garden once. A small bear made its way onto the property one day, while Barbara was outside. It gave her quite a fright. Thankfully, no mishaps occurred, and the bear went merrily on its way.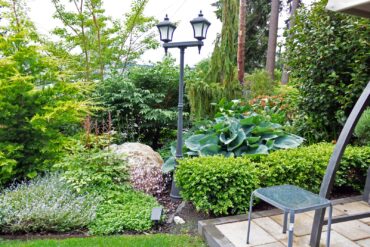 The Wilsons offer a few pieces of advice for anyone looking to perform a large-scale renovation on their property. "Definitely hire someone who has some imagination," Barbara Wilson asserts. It's vital to look for someone with vision, skill and aptitude. The couple agree that they never would have been able to accomplish their property feats without their contractor, Pollack.
Yet, it's still vital to be involved in the remodeling process. "You have to put some thought into it," Barbara Wilson emphasizes. The design is up to the homeowners, not the contractor alone. Graham Wilson shares that they went through about eight designs before settling on their current layout. Long, hard thought is vital to creating a beautiful, outdoor space.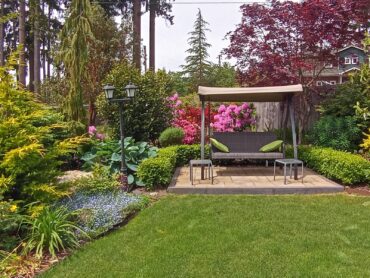 He also recommends for homeowners to "think big" — and means this quite literally. It's easy to not use all the available space, yet you must fill up the whole property.
Lastly, Barbara recommends, "I think it's important to have lots of different areas to sit in." In their own yard, they have their shaded patio, a swing chair, a bench by the coy pond and a couple of small tables with chairs.
All these elements require a fair amount of work and financial investment. However, the Wilsons believe that it is totally worth it. "I think it was worth every penny," Graham says. A beautiful property and garden have intrinsic value. "It makes you feel good," he adds, while his wife shares that "it's fun" to have a beautiful garden.
After their hard work and dedication over the past couple years, Barbara Wilson believes that "everything now is going to start growing and flourishing." They have provided the foundation for their renovated property — and now the garden can grow into its full potential.