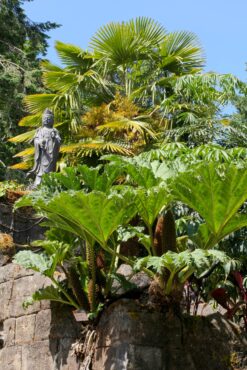 On the other side of the Point Defiance Zoo & Aquarium entry gates, you step into another world of exotic plants and animals. Or should it be said you step into many parts of the world in one location? For people who love plants, the place is mostly about the gardens. Inside a botanical wonderland, you marvel at the unusual plants and wonder how many of them look like they belong more in the desert thousands of miles south of our rainy climate. The zoo and aquarium may be the only place where you can view some of the rare plant collection — many threatened with extinction.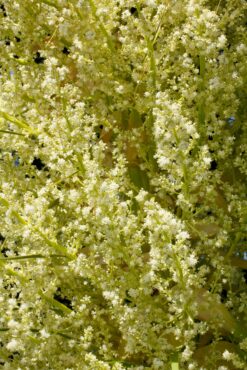 The botanical garden story begins early in the new century. In May 2005, horticulturist Bryon Jones became a team member at Point Defiance Zoo & Aquarium. In his first few years, he had the task of envisioning and improving the zoo's habitats for animals. Jones added other plants that animals could interact with, such as planting more bamboo species in the Asian Forest Sanctuary.
Outside the animal habitats, Jones had more liberty in the gardens. "I began putting in plants that had stories to be told," Jones said. "My passion was and continues to be sharing about the interconnectedness of plants and animals and helping our community understand how they can connect with them, learn how to be successful with them, and preserve and protect these natural habitats.
"On one of our tours, it is about the stories of living fossils; those plants that date back in the fossil record tell us that plants were here long before many other things."
One conifer in the garden — Wollemi pine (Wollemia nobilis) — has quite a story. The plant was long thought to be extinct, but in 1994, an Australian bushwalker rediscovered it growing in the wild. Fossils of the pine trees date back to the early Jurassic period, 200 million years ago. Today, only a handful of them still exist in the wild. Australia is protecting and propagating them to ensure they don't become extinct. Five trees now grow in various gardens around the zoo grounds.
"When the Wollemi pine was scientifically studied, they discovered that this tree found in the eastern part of Australia dates back to the Jurassic era," Jones said. "This was a population of plants unknown and stumbled upon, as the story goes. There was an ability to propagate it at one point. A limited amount of these trees ended up, generally, in botanical gardens, like the zoo or other places around the world, that had climate conducive to growth."
The tallest Wollemi pine specimen at the zoo is 18 feet. Mature trees can reach over 80 feet. The efforts made to protect the trees and share them with other gardens mean people can come and view the rare trees when they visit.
"Back when Australia had severe fires a year or two ago, they made an effort to preserve what I believe was approximately 100 mature trees," Jones said. "Here we are at Point Defiance Zoo & Aquarium, able to show and share about plants like this tree and others in our botanical gardens. People may never be able to see them anywhere else."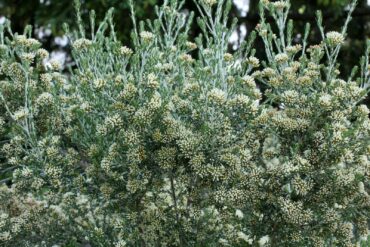 Many plants in the gardens look like they come from the desert or tropical areas and wouldn't be hardy in the Northwest. Jones shows how some palms, cacti and cycads are perfectly hardy if given the right conditions.
"When I'm looking for plants to be successful, I either grow them personally or talk to other experts who understand how the plants are doing," Jones said. "If I am introducing an agave or other succulent, or some rare cycad to the botanical garden, I need to know whether it has any chance. I generally look for plants that can tell stories, and I look for plants often found on the International Union for Conservation of Nature's Red List of Threatened Species. You will find the monkey puzzle trees (Araucaria araucana), the Wollemi pine or some other plants and Echium from the Canary Islands. Plants like Agaves may be on state lists of threatened species. Those plants are in our botanical gardens to tell stories."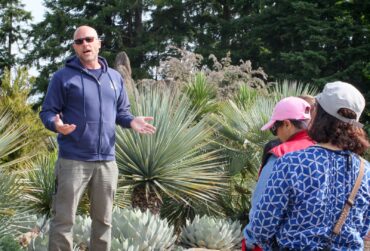 Jones selects some plants based on what he thinks will help people understand the challenges plants face and animals that utilize them for shelter, food or pollination.
Even if a person is not a plant geek, Jones chooses unique plants to capture people's attention. He prefers people to see plants and ask what is that plant and why is it here.
Jones will choose a plant native to high altitudes in hotter regions, where the air is cold, even wet, for hardiness. Some plants from higher altitudes are suitable for growing in our climate.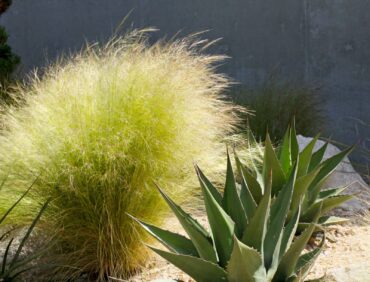 "It's the difference between a plant living in the lower elevation of a desert ecosystem versus living in high altitude areas of places like Arizona, New Mexico or down into the mountain areas of Mexico," he said.
Even though many of the plants look like they belong on a hot desert valley floor where Gila monsters scramble across a dry wash and don't look like they could survive our cold, wet winters, Jones says some desert-type plants grow well here if planted in the right place. Sometimes the soil composition needs to be altered to drain quicker, but the plants will grow here.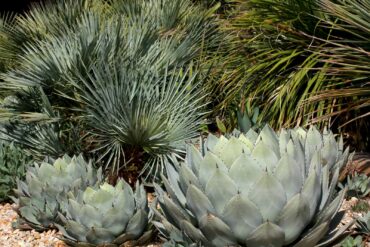 This year, a play garden is an exciting new area for the zoo. The Little Explorers Nature Play Garden opened in April 2022. The play area was developed with more natural elements to play on that are fun and beneficial, giving children much interaction and appreciation for nature.
"They (children) will be able to balance along a log walkway and interact with a large, human-size bird's nest," Jones said. "The elements (in the play garden) are surrounded by a vast array of pollinator plants that attract bees, butterflies, hummingbirds and flies."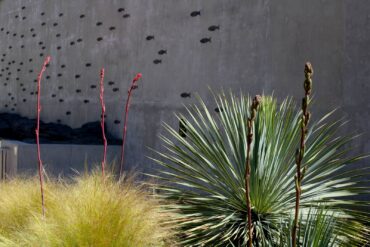 Planting the previous year gave the plants time to mature by the time the play area opened this year. The space is buzzing with delighted insects that make the zoo their hangout of choice. Adults and children will see gardens teaming with life.
Kiwi is grown that produces copious amounts (over 500 pounds) of fresh, highly nutritious fruit. One female plant is thought to have produced approximately 4,500 kiwi fruits. The fruit is picked and then ripened off the vine, then distributed to each zoo area and given to the animals. There is even enough to share with the sister zoo, Northwest Trek.
A stroll through the beautiful gardens at the Point Defiance Zoo & Aquarium is a testimony to the unique plant selection and the exceptional stories they tell.