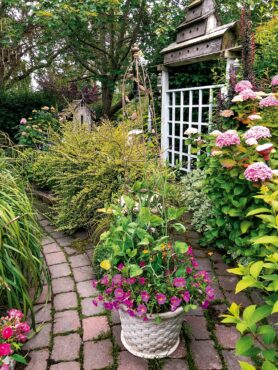 Borders usually run along a pathway, a wall, a hedge or a lawn edge. My favorite plants for borders are very fragrant, including evening-scented varieties.
I love strolling pathways in the moonlight and smelling the gorgeous mood-settling aromas from wall flowers, stock, tobacco plants, primroses, lilacs, jasmine, roses, alliums, dianthus and datura.
Lavender is always welcome in my garden. There are so many varieties and I especially like to see them overflowing onto the pathway to soften the gravel or stones used for walking. Roses are essential for any aromatherapy garden. Rose oil is still the most important component for perfumery products such as soaps, lotions and candles. Pure and romantic!
Layer these plants, tallest in back, to medium and then shortest height closest to the pathway. Here are some plant suggestions:
Spring: hyacinths, carnations, pinks, forget-me-nots, lilies of the valley
Summer: roses, sweet peas, peonies, jasmines, wall flowers, petunias, mock oranges, lilies, honeysuckles and nasturtiums
Herbs: lemon balm, curry, French tarragon, peppermint, hops for arbors or fencing, blue hyssop, sweet basil, rose geranium
Border gardens should also be planted in some regular form such as groups or in rows along the edge of a garden pathway, combining multiples of the same plant to maximize the aroma. Include a chair or two along the way to sit and enjoy the fragrance. The birds and bees will love it, too. Scents are great for pollinators.
Happy gardening!