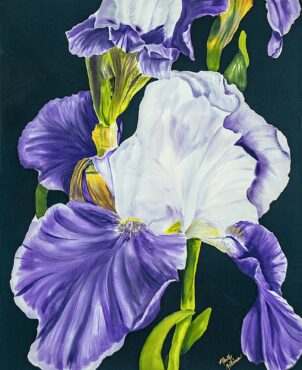 We could say these gardens have "come out of dormancy" after a two-year hiatus due to COVID-19 restrictions. But actually, the gardens and the gardeners themselves have been anything but dormant during their at-home time the last two gardening seasons.
As with the general populace, gardeners found they enjoyed the flexibility of working at home. What a perfect situation: Lunch break could mean extra time to putter in the garden. Leaving work early in the evening meant just walking out the back door. The extra time and stress saved by not having to commute to work was put into making their gardens better than ever. Retired gardeners were rarely bored because they filled their time with gardening projects that they'd meant to do for years.
New and innovative design schemes, reworked flower beds and upgraded garden art and furniture have made the 2022 Gig Harbor Garden Tour gardens better than ever. From elegant English-style greenhouses to lovely backyard gardens with water views, to community raised-beds bursting with herbs, fruits and vegetables — there is something for every taste in the 2022 garden offerings.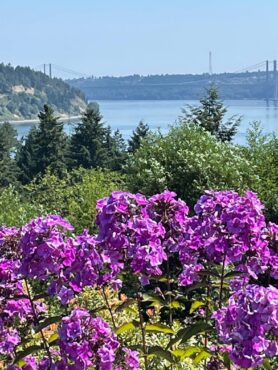 The 23rd annual tour includes three new gardens on Fox Island, celebrating the fact that the first Gig Harbor tour began with four Fox Island gardens in 1998. Three of the original founders of the tour were Fox Island residents.
Perched on a ridge on the east side of Fox Island, the garden of Robin and Donna Fall has a long view of the Tacoma Narrows Bridge. This is a large garden, with a stunning 50-by-50-foot vegetable garden in the parterre style and a lovely traditional English greenhouse designed and built by Robin Fall. An extensive water feature includes a pond that wraps from the front of the house and cascades along the side to a hot tub and the deck of a beautiful swimming pool. Completing the picture, an island bed in knot garden form is filled with David Austen roses.
Sean Scanlon of Island Rock and Water worked with the Falls to make their vision a reality. Fall re-creates that vision every spring with perennial and annual flowers, most of which she grows from seed in the greenhouse.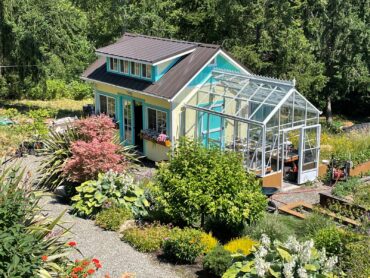 "English Garden Designer" has a double meaning when applied to Sally Cross. She is English and a garden designer. She brings that style into her own garden, which is a delight of colorful ornamental trees, shrubs and flowers that attract the birds, butterflies and bees. A working beehive ensures that these pollinators stick around. Bob Cross does all the "grunt" work while Sally does the plantings.
In a Northwest setting, the Crosses have created the ambiance of a lovely country garden where patterns and colors are repeated in abundance. This is a garden where one can linger, stroll and relax in comfort, surrounded by the sounds and scents of flowers and herbs.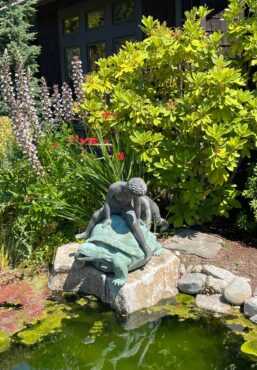 "Gardens are personal, so plant what you enjoy the most. The golden foliage throughout this yard brightens up even the dullest, winter gray days," Sally Cross says.
Scot Silver and Holli McDonald's lovely spot is the third Fox Island garden on the tour. Their garden is an island getaway paradise looking across Hale Passage and Tanglewood Island. Built into a hillside, the garden has a beautiful, natural waterfall and a stream that runs beside the terrace. The water source is a decades-old artesian spring that was terribly overgrown when Silver bought the property and took on the restoration project.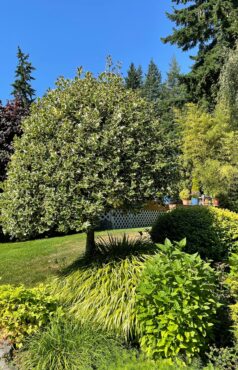 With the help of Sean Scanlan of Island Rock and Water, it's now a beautiful water feature. "We couldn't be more pleased with the end result," Silver says.
On the other side of the rippling stream ending in a fern-bordered pond is a lawn edged with beds and containers that abound with plants living happily in their maritime environment. A low hedge keeps the water view open. A gate leads across the road to the boathouse — a great location for visiting with friends and family.
Back on mainland Gig Harbor, revisit Tom and Donna Torrens, whose garden has been on the tour in the past but in a very different venue. The Torrenses have downsized from a 3-acre garden in the Artondale area to a quarter-acre urban lot on Peacock Hill. And the bonus? They gained a peekaboo view of the Harbor and Mount Rainier.
Topiaries, a vegetable garden in a narrow, vertical space, and lots of Tom Torrens' well-known sculptures are the major attractions.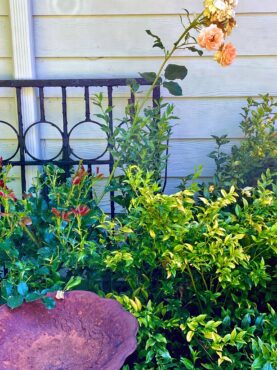 Here are all sorts of ideas about how to downsize: eliminate the lawn and choose sustainable hardscape and plants that lend themselves to low maintenance. Tough plants include Donna's favorite hobby — bonsai — as well as other dwarf conifers, espaliered fruit trees and raised beds. This is a good example of an "aging-in-place" garden.
A high-tech, attached greenhouse creates a place for wintertime plant lust and puttering in the dreary months.
And finally, the tour organizers are thrilled to return to Gig Harbor's wonderful Community Garden at Wilkinson Park Farm: 48 plots abounding in fruits, vegetables, herbs and flowers. All are tended by local gardeners who grow produce not only for their own families but also for the local Fish Food Bank and other food banks in the area. Eight of the plots are designated exclusively for growing food that will be donated. Volunteers maintain these plots.
Many changes have occurred since the community garden was featured on the tour more than 10 years ago. The Gig Harbor Rotary donated and built a new greenhouse and fencing. There's also a new orchard of pear, apple and plum trees; a High School Garden Club plot; and an area where children are taught garden basics. Organic gardening classes are provided throughout the growing season.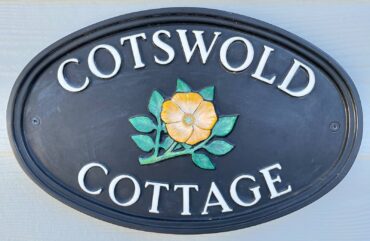 All of these delights come to you as a gift from local garden enthusiasts who put their time and efforts into raising funds for their cause: literacy. Every year, grant requests are awarded to worthy recipients so that the joy of reading can be enhanced in our community. The last tour, in 2019, provided $25,250 to purchase books and sponsor programs aimed at improving literacy to schools, medical offices, book fairs and museums.
Garden tour board chair Jan Reeder sends this message: "[We are] anxious to get back to raising money to support literacy needs in our community. At the beginning of the pandemic, we dipped into our rainy-day funds to support a few of the emergency needs of our grantees, such as equipment to support virtual learning, but were unable to provide any support in 2021. Literacy needs of elementary schools we have helped in the past have now increased significantly. Projects we supported that were suspended during the pandemic are now much in demand. We will be accepting grant applications after the tour and will distribute tour proceeds as quickly as possible. Applications are available at gigharborgardentour.org."
When you buy a ticket to the Gig Harbor Garden Tour, you're becoming a part of this giving process. The grants can make a big impact in a small way in the Gig Harbor and Key Peninsula community.
To say enthusiasm is high for this year's Gig Harbor Garden Tour is an understatement. You're invited to join in the fun and excitement and celebrate the "Return of the Tour" on June 25 and 26. Tickets are available beginning Memorial Day, May 30, at the outlets listed below. You can also buy tickets online.