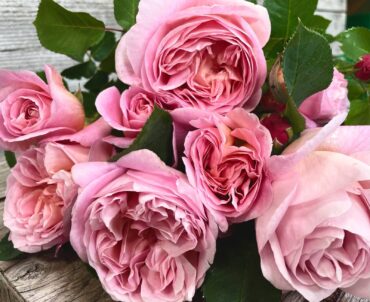 Stacy Marshall of Petal and Pitchfork loves flowers. She likes them so much that, in 2022, she transitioned her 15-acre farm from vegetable production to flowers. Marshall and her husband, Kelsey, are the community-minded owners of local coffee marketer Grounds for Change. The couple, together with Marshall's sidekick (and mother) Janet Chalupa, have worked hard since the purchase of the historic farm in 2016 to build healthy, productive beds for what started as a subscription CSA (community supported agriculture). Now, however, Marshall wants to try something a bit different — focus on flowers. And she wants to share the joy.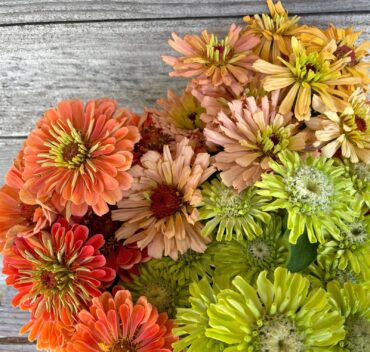 The new venture will be a flower-growing cooperative. In Petal and Pitchfork's years of u-pick, on-site volunteers and community outreach, Marshall met women who shared her affinity for all things floral. Three women in particular were interested in growing flowers in quantity, but found the endeavor daunting due to lack of space or experience. Marshall took the leap, offering each of the women prime flower-growing beds to cultivate. At no charge.
"Many people don't have access to land to farm," Marshall says. "I wanted this to be a model for farmers working together for everyone's benefit."
Petal and Pitchfork now partners with Jesi Munson, florist; Twozdai Hulse, producer of fresh flowers, seeds and dahlia tubers; and Karen Becker, Poulsbo's ambassador of blooms. Although the three grow flowers for different purposes, they find common ground when it comes to the opportunity provided them by the Marshalls. A typical Thursday morning in March finds them gathered in a greenhouse, planting flats of flower seeds.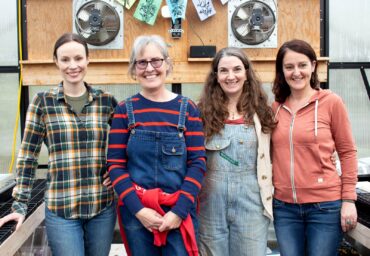 "To have Stacy and these women as a resource is wonderful," Munson says. "It's a huge help with the learning curve."
Munson and the others recognize the value of working an established farm with premade beds, greenhouses, a barn, walk-in flower cooler, water, power and a flower shed to process the crop. Marshall even shares her garden tools so her fellow farmers needn't pack shovels wherever they go. The beds are a gardener's dream — mounded, fertile and wrapped in black weed barrier with spaced planting holes.
Hulse admires the farm's regenerative practices. "The soil is disturbed as little as possible; there's no tilling once the beds are made, and last year's plants are left over winter so the roots can break down into the soil," she says.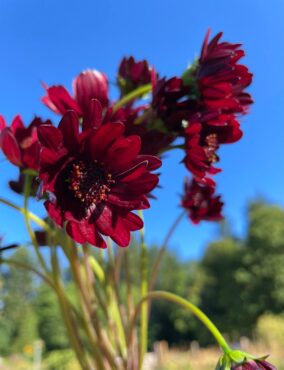 The Ambassador of Blooms
Becker is an enthusiastic new gardener. Living in Poulsbo Place, with little room to garden, she is excited to have space to grow. She met Marshall through Kitsap Fresh, an online farmers market. The day her order included Petal and Pitchfork snapdragons and zinnias, Becker was hooked. After attending a u-pick event at the farm, she became a volunteer and before long was appointed an "ambassador of joy," given bundles of flowers to share with her community.
In addition to gifting small bouquets to neighbors, shopkeepers and people on the street in Poulsbo, Becker created and maintains "Ross' Little Library" on Poulsbo's corner of 4th and Iverson. A memorial to her son, the corner offers a bench and seasonal plantings, along with the books.
Thanks to Marshall, this year Becker will be growing her own annuals to brighten the corner. Shirley poppies, cosmos, bachelor's buttons and marigolds are just a few of the seeds Becker has tucked into her flats.
"This is an amazing opportunity Stacy is giving us," Becker acknowledges.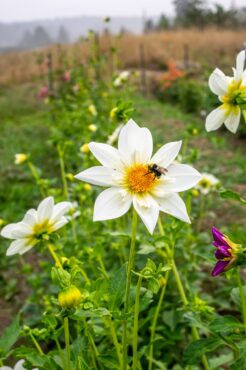 The Designer
For Munson's rambling and romantic floral designs, she now has the opportunity to grow flowers too delicate for shipping or often in short supply. Experienced in bouquets for events and weddings, the Bainbridge florist and owner of Flowerfolk Design is still experimenting with growing flowers from seed. Munson, along with her three fellow floriculturists, all completed the online, multimonth workshop in professional flower farming from Floret of Skagit Valley. The women praise the extensive course and are now excited to put theory into practice.
"You can do the research, but there's no substitute for getting your hands in the dirt," Munson says with a smile.
The Propagator
Hulse's gateway flower was the dahlia. She grows more than 1,500 varieties through her Lunaseed Farm in Port Townsend, selling the blooms and tubers. She also raises crops for seed. At Petal and Pitchfork, she's adding flowers such as sweet peas, larkspur, zinnias, calla lilies, gladiolus and many odd and interesting varieties to her trusty dahlias.
Hulse is seeding 34 kinds of cut flowers for the coming season. She will be offering bouquets via subscription, delivered once a week on Fridays, for three six-week seasons: spring, midsummer and late summer. Her flowers will also be available as DIY flower buckets.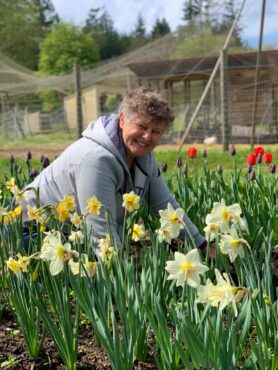 She feels the romance of gardening. "You listen to the land and learn as you go," Hulse says. "And you learn to take disappointment with grace."
Sunflowers and Joy
Marshall, too, will be offering bouquets and bunches throughout the season at days and times announced in the farm's email newsletters, which one can be sign up for on the Petal and Pitchfork website. The site also announces farm events and openings. Marshall's cheery flower buckets overflow with snapdragons, stock, rudbeckia, phlox and much more. At the height of summer, her bundles are likely to include her beloved "sunnies."
"Sunflowers are resilient, humble, unassuming, and paint the perfect picture of pure joy," Marshall explains.
With the help of her comrades in the farm, Marshall will be spreading the joy and preserving a heritage property as she and her friends learn and grow together.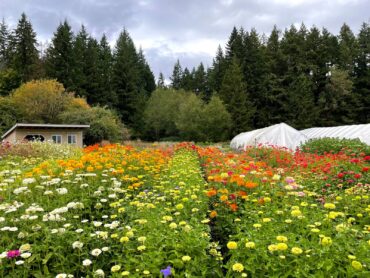 "This flower grower's cooperative is aligned perfectly with our family's original intentions when we purchased this farm: community building, cooperation and conservation. At the forefront of all of the choices we make here is the preservation of the woodlands and farmland that are a part of these 15 acres," Marshall says. "To share this land with these women who I have the upmost respect for is a dream come true. There is so much beauty, as well as trust, inherent to this nonconventional framework. I am humbled by each of their efforts and the intensity, strength and grace with which they are pursuing their passion."