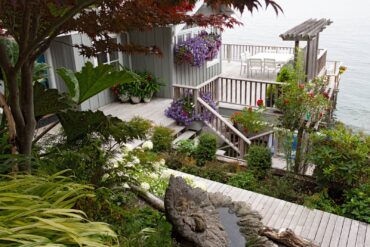 One of the joys of West Sound living is the availability of so many beachfront properties. With all the islands, inlets, coves and harbors, there are miles and miles of beachfront.
Smart ecology demands that a large part of water-side property be left for natural areas and parks. In the past, many developers have harmed the ecosystem by removing too much vegetation too close to shorelines and banks, causing dangerous erosion of beaches and cliffs, as well as loss of habitat for wildlife. This article is not about them. New awareness of the benefits of leaving native plants undisturbed along coastlines and the increased threats posed by climate change can help to remedy the erosion problem.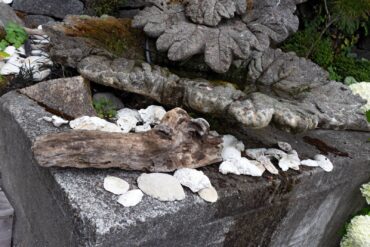 Three homeowners lucky enough to have found a bit of precious beachfront on Bainbridge Island have enhanced their properties with intelligently planned gardens.
It takes a certain amount of research into the types of vegetation that thrives in an environment of salty air and seaside breezes. The first step is to note the native plants that grow naturally on the property and leave them in place, especially in areas adjoining beaches and banks. Secondly, there are many resources for advice on nonnative plants that can adapt to a seaside environment. The third step is to make sure that introduced plants have the proper soil and protection from severe elements.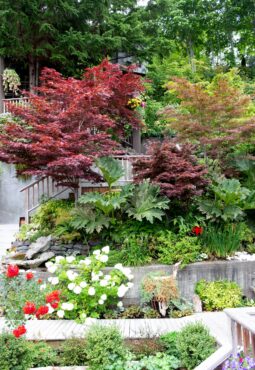 Tristan Voget
Tristan Voget lives in a historic 1907 house that was the home of Gertrude L. Johnson, Bainbridge Island's first woman state representative (1943) and senator (1944). The approach to the house from the road above descends down a series of weathered wooden stairs and boardwalks through lush plantings of mixed natives and colorful exotics such as hydrangea, gunnera, podophyllum and shade-loving plants with good roots to hold the soil in place on the hillside. The railings along the walk support huge containers of lavender petunias and hanging baskets of hardy fuchsia. A trellis on one side of the boardwalk is made of weathered branches and supports prolific, climbing white hydrangea.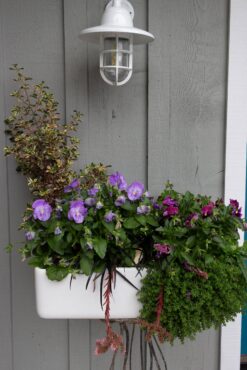 A large deck surrounds the upper level of the house and extends out over the water with a view to the east from Mount Baker to Seattle. The angled walls of the house provide wind protection for groupings of containers filled with agapanthus, seasonal bulbs, colorful geraniums and other annuals.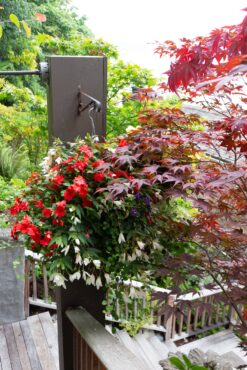 The stairs and the garden continue down to the lower level and pier. Since the container plants have been so successful on the upper deck, Voget plans to create a dramatically large planter box on the pier next summer.
Though the garden comes right down to the bulkhead and high tide can come within inches, the Irish moss garden planted on the edge of the bulkhead does fine. Heather also grows well there. Three hyper-tufa fountains shaped from gunnera leaf forms adorn the bulkhead and are enhanced with shells and driftwood for a full seaside effect.
The Oestreichs
Taryn and Ron Oestreich's garden surrounds their house on a high bank with an unobstructed view to the north. They love how the view changes according to the seasons, the clouds, the weather and the tides.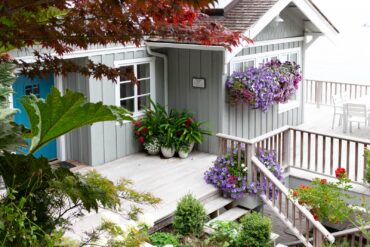 Their deck and the broad stairs descending to a lower patio are full of containers overflowing with flowering plants. The verdant beds below continue the feeling of abundance.
Cedar siding masks the deck and visually creates a low wall on the upper side of the patio, providing a backdrop for yet more colorful containers of flowering perennials and annuals. Some of Taryn Oestreich's favorite container plants include heuchera and senecio 'Angel Wings.'
Drifts and clumps of the same plants fill the garden; stone paths meander through the beds. Roses, lavatera, heather, dahlias, senecio and hydrangeas are edged with mounds of sedum 'Autumn Joy,' creating an ever-changing palette of color. Established hedges provide a frame for the garden while doing double duty as a wind break. Many native plants, including salal and Oregon grape, were left in place.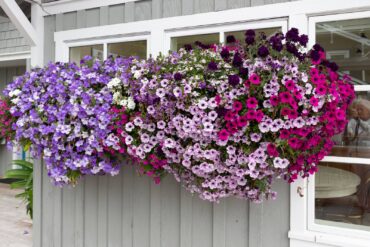 The garden décor is strictly nautical, with much use of natural materials. There are many birdhouses (enhanced with shells and driftwood) throughout the garden and an ethereal, watery-blue glass bowl acts as a birdbath. It's perched atop a tree stump and seems to float in a sea of 'Autumn Joy' sedum.
Many plants were chosen especially to attract birds, butterflies and bees. Rabbits sometimes visit the garden and deer once did — until a deer fence was added around the edges of the garden. Hedges and attractive cedar fencing camouflage the deer fence.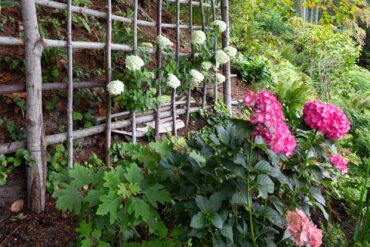 Laura Marie
"I love listening to the waves and the birds while the ocean breeze blows through my hair while I work in the gardens," says Laura Marie. She and her husband, Brian, have 200 feet of low-bank waterfront with many "vignettes" of gardens within 10 feet of the water's edge at high tide. They have lived here for 10 years and have never seen the tides as high as they were in late December last year and early January this year.
Native salal, firs, beach grasses and Nootka roses grow here. Large and hardy fuchsias, roses, rhododendrons, hydrangeas, fatsia, Japanese maples and lilies also thrive in this environment. Many grasses, including Japanese forest grass and miscanthus, enhance the garden with constant movement in the ocean breezes.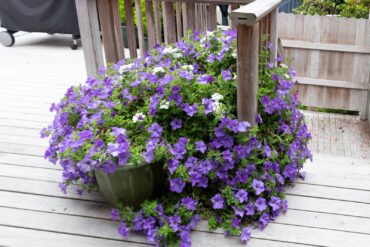 Every spring, fish compost helps reduce weeds and adds extra nutrition for the plants. Containers of perennials are used in summer for additional color and variety; the following spring, those perennials are transplanted into the garden.
An outstanding feature is the mosaic work that Laura Marie has created. Paths and large circles and octagons, painstakingly created by her, wind through the garden. Made of beach stones, pebbles and shells, the paths lie perfectly smooth and entice you to visit. At the edge of the lush lawn, a beach-pebbled, driftwood-edged path leads you to the beach.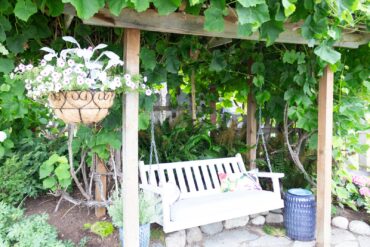 Seaside Garden Decor
Themes for decoration abound for seaside gardeners. There are so many natural elements that lend themselves to a garden environment. All three of these gardens make use of driftwood and shells.
Laura Marie, with her artful mastery of objects from the natural world, makes wonderful windchimes (that she calls "dangles") with shells, glass bubbles and small pieces of driftwood. The Ostreichs use large pieces of driftwood, including one upright as a very handsome support for a birdhouse and feeder; Tristan Voget uses shells to make an attractive mulch for her containers.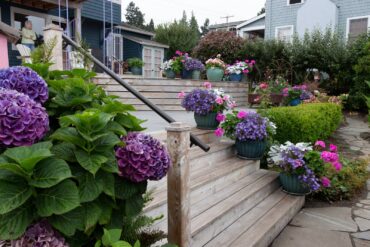 Seaside garden sculpture tends to be of materials that can take the salt air and look good when rusted or weathered. Most depict seabirds such as herons, hawks and eagles. Large pinwheel sculptures add whimsey and movement to these breezy gardens. Rustic wooden benches, swings and Adirondack chairs provide restful spots to sit and enjoy the views of sky and sea.
Visiting a beachfront garden is a delightful experience. And even more so for those blessed enough to be living, playing, gardening and caring for the environment "by the beautiful sea."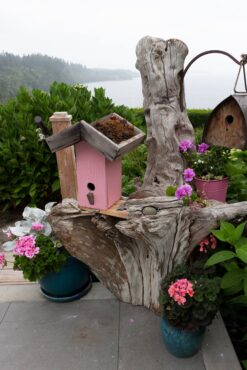 Some Suggested Plants for Beachfront Gardens
Any plants with "sea" in their name:
Sea holly (Eryngium)
Sea kale (Crambe maritima)
Sea lavender (Limonium)
Sea thrift (Armeria maritima)
Natives:
Cedar
Fir
Madrona
Mahonia (Oregon grape)
Nootka rose
Pines
Salal
Shrubs:
Barberry
Buddleia (butterfly bush)
Ceanothus
Fuchsia
Heather and heath
Lavender
Rosemary
Roses
Grasses:
Mexican feather grass
Phormium (flax)
Acorus 'Ogon'
Blue oat grass
Miscanthus (maiden grass)
Hakonechloa (Japanese forest grass)
Succulents:
Agave
Ice plant
Portulaca (moss rose)
Sedums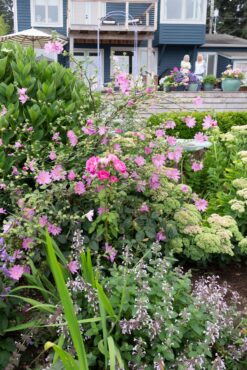 Perennials:
Achillea (yarrow)
Agapanthus
Artemisia
Aspidistra
Aster
California poppy
Cardoon
Coreopsis
Euphorbia
Fatsia
Gunnera
Hardy geranium
Heuchera
Hydrangea (mophead)
Lantana
Lavatera
Lily
Monarda (bee balm)
Shasta daisy
Thyme
Annuals:
Dahlia
Hollyhock
Lobelia
Nasturtium
Pansy
Pelargonium (geranium)
Petunia
Sweet pea