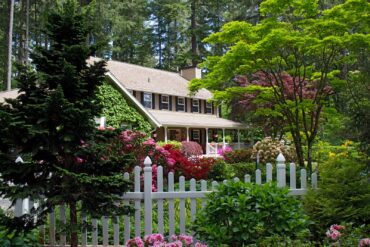 Two "gentlemen gardeners" maintain a delightful garden at their home on Bainbridge Island. Jim Stokes and Roland Mitlohner didn't become active gardeners until after retirement, although they both had gardening in their blood from an early age.
Mitlohner, who grew up in Czechoslovakia and Bavaria, wanted to be a professional gardener when he was young, but his mother convinced him there was "no future in it" and encouraged him to take a professional course as a chef in Switzerland. That started him on a lifelong career that eventually brought him to Chicago in 1966, sponsored by a Swiss friend.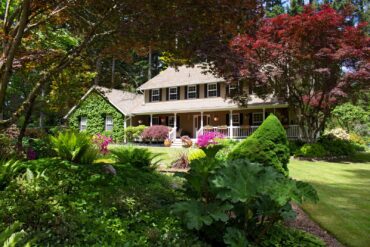 He worked for Fred Harvey restaurants and later went to Glendale, California, to become a partner in Churchills. He finally settled in Palm Springs, California, and opened his own restaurant, Rovi, which was a popular place for many of the celebrities who owned homes and vacationed there.
Stokes' path took him from his birthplace in the Texas panhandle to a 27-year career in the U.S. Navy. "Join the Navy and see the world" was the reality for Stokes; over the years, he was stationed in ports all around the Pacific Rim — from California to Japan, the Philippines and Alaska.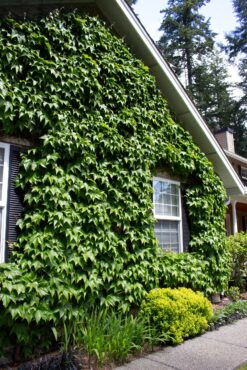 On the East Coast, he lived in Florida; North and South Carolina; and New London, Connecticut. The Navy sent him to the University of South Carolina for a bachelor's degree and to DePaul University in Chicago for a master's. His final port was Bremerton.
"As soon as I started buying houses, I started gardens in every one," he says. He credits his mother for being his main influence in the gardening arts.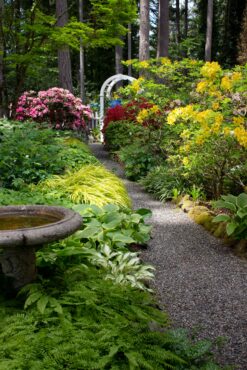 After retirement, Stokes visited friends in Palm Springs and met restauranteur Mitlohner. They soon discovered their common interest in gardening. Mitlohner also owned a home in Monument, Colorado, but was not thrilled by the gardening prospects there.
Twenty-four years ago, the two decided to sell the house in Monument and build a home together on Bainbridge Island. That's when they started what is now a showplace garden on a wooded acre and a half. Both were fulfilling the gardening dreams they had as young men. In 2000, they sold the restaurant, but kept the Palm Springs house, where they still spend their winters.
Two Personalities, One Garden
Though Stokes and Mitlohner arrived at gardening from two different points of view, the garden reflects both of their personalities. The property is large enough to let them each do their own thing.
Stokes is more interested in cottage or country gardening. The traditional style of the house, with its gracious veranda that wraps around from the front to the side, lends itself to the cottage and country look. Beds in front of the house overflow with colorful shrubs and perennials. The white picket fence and arched arbor frame a huge shade bed, divided by gravel paths for easy viewing and access.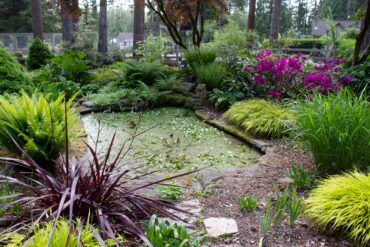 Roses climb on the fence and arbor. In the broad beds, among rhododendrons and deciduous azaleas, are the shade lovers: ferns, hostas, epimediums, acanthus and Japanese forest grass.
Mitlohner prefers a wilder, wooded sort of garden. In a section divided from the house by a broad lawn, a laurel hedge with an arched opening entices you to enter into a very different, less formal, sort of garden.
Equipment was brought in to clear the unruly tangle of vines and undergrowth and carve out winding paths through what is now a lovely walk through a forest of native plants but also flowering camellias, iris, calla lilies, heather and cyclamen. Paths here are covered by bark; the silence is peaceful and relaxing.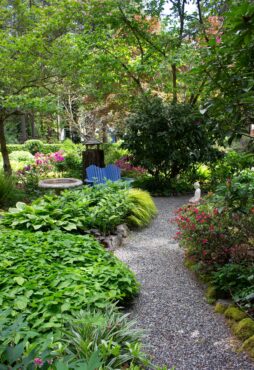 Mitlohner also makes use of this area for "heeling in" plants that he is dividing or new plants that he bought but hasn't decided where they will go. A collector of hydrangeas, he starts many of them from cuttings. He has a separate garden near the driveway that is designated exclusively for hydrangeas. The variety and colors are amazing.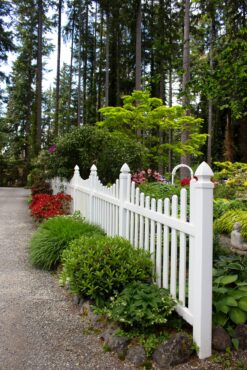 Their shared interests include planning and maintaining the long borders on the private access road that goes through an edge of their property. They have planted all along the neighbor's fence and the front side of the picket fence that delineates one side of the perennial shade garden. The neighbors who use this road get the benefit of passing through these lovely plantings on a daily basis.
There's also a large, circular bed of perennials in the center of the lawn, above the septic tank. Next to the shade beds, there is a pond that used to have koi before the herons ate them all. Stokes' advice on growing water hyacinth in ponds: "Don't! It is too invasive. Stick to water lilies."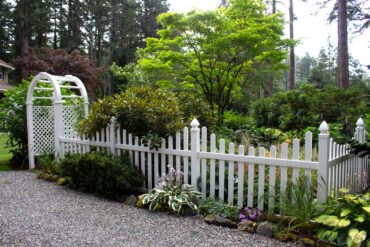 Over the years, they have moved a lot of the perennials that were growing under trees into containers. There was too much competition from tree roots, Stokes explains, and the plants are now much happier in good soil.
Most of the large trees have been limbed up to provide high shade, creating a great environment for the smaller, understory trees and shrubs that both gardeners love. The garden abounds in specimen trees including catalpa, small magnolias, Korean dogwood, birch, barberry and beauty berry. They have a wide variety of Japanese maples such as 'Coral Bark,' 'Oshio Beni' and 'Bloodgood.'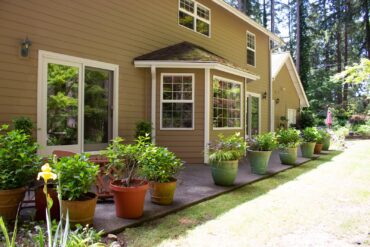 A favorite tree is a magnificent witch hazel that fills the view from the dining room window with its golden fall color. Other standouts are the white lilac and the gorgeous double-file viburnum.
Watering is done mostly by hand, but some beds have soaker hoses. Stokes takes care of the lawn; he says he actually enjoys mowing. The rocks that edge the beds and borders were all dug up on the property when the beds were created. All of these gardening chores are great exercise and it shows: Both octogenarians are slim, trim and fit.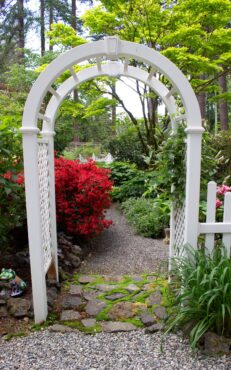 Local nurseries including Valley Nursery, Bay Hay & Feed and Bainbridge Island Nursery are the source of most of the plants in this garden. But many plants come from swapping with friends. There are always lots of plants potted up and ready to trade or gift when other gardeners come to visit.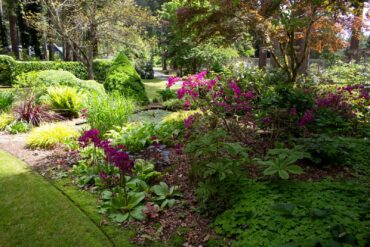 In the fall, the process of putting the garden to bed for the winter begins. All of the perennials are cut back and composted along with the fallen leaves. Tender plants such as begonias and other container plants are moved into the garage to go dormant.
Mitlohner collects annual seed heads and geranium cuttings to propagate in Palm Springs. He brings all his annual seedlings, resurrected geraniums and house plants back to Bainbridge in the spring. Gardener Lupe Marques helps with the cleanup process and takes care of the garden during the winter, although Stokes comes back for the month of February to check on things. Twice a year, Marques also prunes the laurel hedge and the lush Virginia creeper that grows on the garage wall.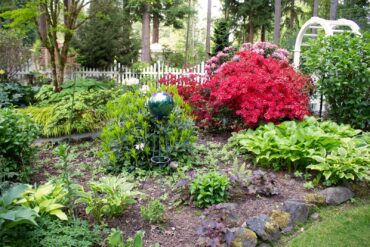 This is a garden of exceptional seasonal beauty that comes back to life in the spring when the "gentlemen gardeners" return from their winter escape. They love to entertain and are anxious to check in with their Bainbridge friends.
"They have beautiful dinner parties. Roland is an excellent cook, of course," says Teri Cole, a friend of many years. "Appetizers and cocktails are usually served on the porch and there is always a walk around the garden to see what is happening."
A beautiful garden, wonderful food and good friends. What better reward for a long and productive life could there be?