Bloedel Reserve, a botanical garden on Bainbridge Island, has been open to the public since 1988. Over its approximately 140 acres are several varied garden types, including a moss garden and a nationally recognized Japanese garden. One featured area visitors encounter soon after starting out on Bloedel Reserve's nearly 2 miles of trails is the Buxton Bird Marsh and Meadow, featuring a large pond with islands and surrounded by woods and a pollinator meadow.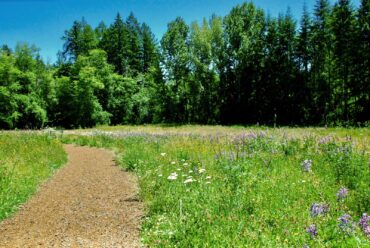 As a garden area, the Buxton Bird Marsh and Meadow significantly predates the public opening of Bloedel Reserve and has seen many changes. Prior to its function as a bird refuge, it was originally used as an irrigation pond for the gardens. Famed landscape architect Richard Haag, known for Gasworks Park in Seattle and instrumental in other Bloedel Reserve garden areas, expanded the open pond to include islands with alder snags and other features for birds.
Since the time of Haag, however, the bird marsh has evolved, and not necessarily for the better. Ed Moydell, Bloedel Reserve's president and CEO, explains, "Originally implemented in the 1970s, the bird marsh's intent was as a resting sanctuary for migratory birds. Over the next 40-plus years, the habitat has changed and plants were lost. In the last 10 years, visitation has increased dramatically and the habitat has degraded."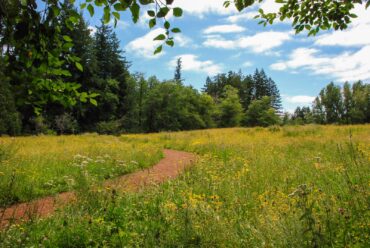 The Restoration Begins
With the need to restore the bird marsh evident, in 2015, a bird marsh task force was assembled with members from Bloedel staff, the board of trustees and community experts (one was the landscape architect behind the Magnuson Park sandy wetland project). The Fischer Bouma Partnership, a landscape design firm, was contracted and began making designs in late 2016. Working with them, Bloedel Reserve Director of Horticulture Andy Navage brought life to the project with his vision and skill at converting designs into real-life landscapes.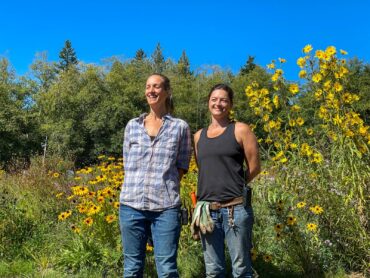 Early on, it was apparent that such a habitat project would be a huge undertaking. Bloedel Reserve received $850,000 in community donations to support the project, many made in the name of the late Frank Buxton, whom friends describe as a "bird-obsessed" man. In his honor, the space was officially renamed the Buxton Bird Marsh and Meadow. It's fitting that the habitat be named after such a bird lover, as the donations made the restoration work possible.
To create a welcoming habitat for birds, the renovation would require rerouting trails, adding new boardwalks, planting and installing of a pollinator meadow with hedgerows. For ecological advice, Navage contacted the Bainbridge Island Land Trust and the Sierra Club. Their recommendations guided design and plant selection, but for long-term success, the bird marsh would require a qualified staff member.
Bloedel Reserve hired Dave Jacobs in 2018 to lead installation and maintenance of the bird marsh. With education and experience in plant community surveys and ecological restoration, Jacobs was well qualified to take on the challenges of reviving the bird marsh and to add an experienced voice to the design.
One major change was the rerouting of the trails around the area. To create a more bird-friendly environment, portions of the original trail that hugged the pond edge were moved away. Bloedel Reserve's trail crew headed by Don McKinney moved trails and created a new trail up through the meadow, as recommended by the Fischer Bouma Partnership. After leaving the vicinity of the bird marsh, the trail ascends lightly to the ridge of the meadow hill, where visitors can pause at a viewpoint and sit on stone benches with a view of the pond.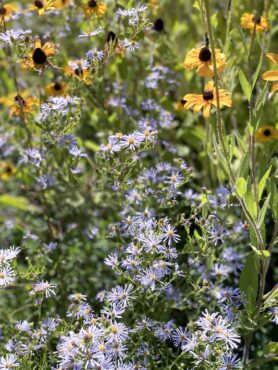 Creating a Pollinator Meadow
The original meadow, then known as Coleman field, was all pasture grass. Converting it to a pollinator meadow was the biggest challenge of the project. With 3 acres to cover, multiple methods were required to begin the conversion process.
Close mowing and overplanting with wildflower seeds was an early effort in 2019. Plugs of live plants were planted the following spring. There are too many plant species to mention them all. The lupines probably garner most of the attention, but at least 75 different plant species have been included in the meadow so far.
Pasture grasses are stubborn, however, so the conversion was not instant. Even today, they are still present, but slowly, year after year, there are fewer grasses and more and more wildflowers. As wildflower numbers increase, so will numbers of pollinating insects and, hopefully, birds will be attracted to the insects as a food source.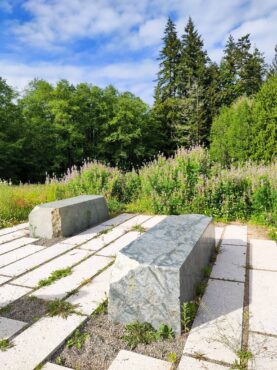 Hedge rows were also planted, consisting largely of Oregon ash (Fraxinus latifolia), red twig dogwood (Cornus sericea), hardhack (Spiraea douglasii), oceanspray (Holodiscus discolor), red flowering currant (Ribes sanguineum) and mock orange (Philadelphus lewisii). These species will provide ample bushy thickets for birds to build nests in and escape predators, as well as attract some pollinating insects.
After the initial renovation work, Jacobs continued on in 2020 to another position in ecological restoration in the East Sound, and Bloedel Reserve staff member Haley Wiggins took over his role. Wiggins had originally been hired to assist Jacobs and herself has degrees in forestry and ecological restoration and is a Washington State Nursery & Landscape Association certified horticulturist.
Another Bloedel Reserve staffer, Erin Hill, who has a master's degree in landscape architecture and is a former educator with the New York Botanical Garden, splits her time between assisting Wiggins and serving as Bloedel Reserve's in-house landscape designer. Together, Wiggins and Hill comprise a bird marsh dream team, covering all the bases of ecologically minded horticulture and design.
Various Habitats
Wiggins describes the restored Buxton Bird Marsh and Meadow as having four distinct habitats. In addition to the hedgerows and pollinator meadows already mentioned, two more, forest and wetlands, were also part of Jacobs and Navage's original plans. Wiggins is bringing her expertise to those areas as well.
Three sides of the garden are bordered by forest habitat consisting mostly of red alder (Alnus rubra) and a few cottonwood (Populus trichocarpa). Farther from the bird marsh banks are Douglas fir and western red cedar. Alders are a preferred nesting tree for pileated woodpeckers that create cavities for their little ones. In later years, wood ducks may use those same cavities for their own nests.
The pond and its shores and islands comprise the wetland habitat. The native cattails (Typha latifolia), red twig dogwood (Cornus sericea), slough-sedge (Carex obnupta) and scouring rushes and horsetails (Equisetum spp.) are encouraged, as well as other Washington species not locally native but otherwise well behaved, including wapato (Sagittaria latifolia).
Wiggins and Hill examined the bird marsh area with experts from the Bainbridge Island Land Trust regarding improvements of the wetland habitat. In addition to protecting existing alder snags as bird and insect habitat, more aquatic plants will be added to help populations of birds and amphibians. Hundreds and hundreds of plugs have been ordered. More coniferous evergreen trees will be added as well. Overall, Wiggins is trying to balance aesthetics for visitors with ecological function to create a haven for wildlife.
The wetlands also have two new boardwalks installed by Navage and Jacobs with assistance from Fairbank Construction. One is a bridge over a low wet area that became necessary as the trail was rerouted away from the bird marsh. The other is designed as a viewing platform surrounded by aquatic vegetation with a view into the pond and islands. Visitors can watch birds and look for frogs as they pause on their stroll through Bloedel Reserve.
The pollinator meadow is a habitat in progress. Before the process of converting to a pollinator-friendly habitat, it was completely covered with pasture grasses. These grasses do not go willingly. It will take years to fully convert to a meadow of wildflowers. Wiggins and Hill are continuing the process begun by Jacobs and Navage.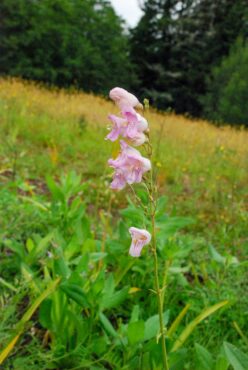 In the future, Wiggins will apply for a burn permit from the Bainbridge Island Fire Department to conduct annual small burns in the pollinator meadow. Prescribed, controlled burns may help reduce weedy grasses, control encroaching woody plants and encourage wildflower seed germination. Such burns are a very common practice in prairie management and restoration in our area. If things go as planned, approximately a third of the pollinator meadow will be burned each year.
Another tactic Wiggins will employ to combat the pesky pasture grasses is the introduction of Roemer's fescue (Festuca roemeri). This species, native to West Coast states, is a well behaved meadow grass that may compete with the other weedier grasses while playing nice with the desirable wildflowers.
Although about 75 species of wildflowers have been planted or seeded into the meadow, more will be added in the coming years, both previously planted species and new ones. The species chosen don't have to be native as long as they are attractive to pollinators and are not noxious weeds.
Current plant species in the pollinator meadow lean heavily toward spring and early-summer bloomers. Wiggins is working on adding late-season bloomers and annuals. Annuals tend to have longer blooming times compared to perennials but may have to be replanted every year. The goal is to extend the period during which insects and birds are supported by the meadow.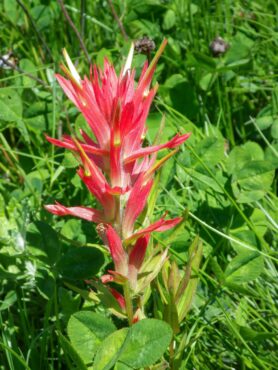 Volunteers Needed
Work in the bird marsh, as with the rest of Bloedel Reserve, relies on volunteers. A small group of volunteers with birding expertise comes through weekly to track what species are inhabiting the revived bird marsh. Bloedel Reserve hopes to use their experience to gauge how well the restoration is proceeding and to see if more changes are needed.
More than just bird experts are needed, however. Wiggins and Hill have the massive task of continuing habitat improvement work, as well as maintaining what has already been implemented. Volunteers who love working outside in nature for a good ecological cause are needed. Normal volunteer times at the Bird Marsh and Meadow are Wednesdays and Fridays in the afternoon. Other areas of Bloedel Reserve also take volunteers on different days and times. Those interested are encouraged to visit Bloedel Reserve's website for more information (bloedelreserve.org).
The evolution of the Buxton Bird Marsh and Meadow over the coming years should be a joy to experience as the pollinator meadow shifts toward fewer grasses and more pollinator-friendly flowers and the wetlands increase in species diversity. And hopefully, more birds and wildlife will begin to call the area home. Be sure to schedule a visit to escape modern life and wander, relaxed, through nature.