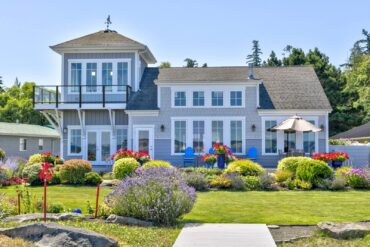 Chris Brinton knows gardening. For 16 years, she has tended her lovely beachside beds just down the shore from the Hansville lighthouse with a passion that has caused her home to be a frequent feature of the Hansville Garden Tour. Brinton knows how to grow a tapestry of color that changes throughout the year. She knows that gardening accepts nature as a partner, for better or worse. She also knows that life, like gardening, has its seasons.
In 2008, three years after Brinton and her husband, Mike, moved into their newly built waterfront home, she suddenly found herself in the hospital, fighting for her life. It was leukemia, and with that, the couple's sunny skies turned gray.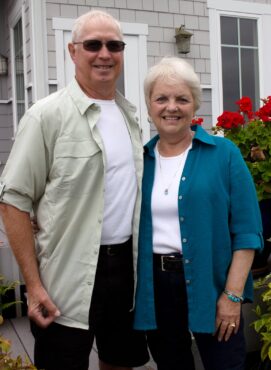 "In 2009, they told me I had only days left," recalls Brinton. "I needed a bone marrow transplant."
A match was hard to find. Then, a miracle from an unexpected place: A donor was found in Germany. The marrow was flown to Seattle and Brinton's life was saved. It was the start of an enduring friendship with the man who donated the marrow. Two years later, although technically still in recovery, Brinton was doing well. But just as the sun began to break through, she had a bitter blow. Her husband was killed in a car accident.
Waiting for Spring
Recovery, like the creation of a cherished garden, is a slow, difficult process. Brinton immersed herself in painting, flower arranging and — of course — gardening. Years passed. Seasons came and went. Then one day, spring came again. It came in the form of retired firefighter Don Thomsen. In 2019, Brinton and Thomsen were married. Brinton's marrow donor walked her down the aisle.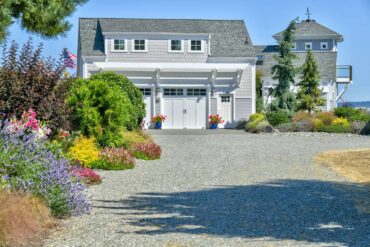 Thomsen joined his bride in the garden, which is fortunate because there's always lots to do. Back in 2005, the Brintons had the landscape professionally installed. In the process, they discovered that the ground is almost entirely sand, so they brought in topsoil. The amending continues to this day, with 15 yards of compost spread over the beds annually. All that remains of the original plantings are the venerable pines and 13 big rhododendrons that screen the property from the road. The rhodies alone take the couple four days to prune and deadhead.
The professional installation was just a starting point for Brinton. In the intervening years, she's redesigned and replaced about 80 percent of the plant material. In 2020 and 2021 alone, she replaced approximately a third of the plants in a quarantine-fueled, stay-at-home overhaul that resulted in what she thinks of as her "pandemic garden." Some of the plants she replaced are those that sulk in the salt-rich air of Point No Point, including red Japanese maples, hebes and certain tea roses (although it's not clear if the roses' decline is due more to the air or snacking deer).
Northwest Eclectic Landscape
Brinton and Thomsen term their creation a "Northwest eclectic landscape." Brinton likens it to a Monet painting of many colors. Her painter's eye sees the garden as a landscape painting in which she strives to create depth, texture, color and year-round vistas. The beds are filled with perennials, shrubs and trees, as well as more than a hundred varieties of daffodil, narcissus and allium in spring. In summer, only three annuals are invited in: geranium (pelargonium), petunia and dusty miller.
"It's not so much a planned garden. I go by what I like," Brinton explains. "When at a nursery, I ask, do I like it? Will it work?"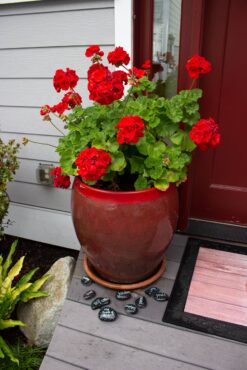 Her husband has only one question when accompanying Brinton plant shopping: "Do you have a spot to put it in?"
When cataloging the couple's plant collection, it would be easier to list what they don't have. A few of the garden's celebrities include regal Stipa gigantia, cheerful 'Joseph's Coat' climbing roses, fragrant lilies, drought-tolerant lavender, species peonies with decorative seed pods and bee-magnet 'Hot Lips' salvia. There are tightly pruned gingkoes, hakonechloa grass for movement and crocosmia 'Lucifer' for its vertical form. Ground covers include sedum 'Bertram Anderson' and low-growing persicaria. There are ferns, hydrangeas, chartreuse-leaved spirea and a constellation of bright dahlias. Brinton, it seems, has tried every possible plant at least once.
There are also fruits and vegetables. A side yard, fully enclosed to keep out the many four-legged marauders, holds raised veggie beds, berries and a tower of sweet peas that ruffle like a crinoline petticoat. Additional strawberry and blueberry beds, located outside this safe zone, are encased in wire and net "deer forts."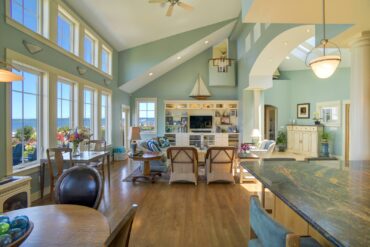 As for tomatoes, Brinton's greenhouse is full to bursting with handsome plants grown in pots and mulched with shredded paper, which reflects light, retains moisture and keeps disease-producing water from splashing onto the plants. Brinton pollinates her tomatoes (which need vibration to release pollen) with a paintbrush and a lot of humming.
Something for Everyone
Brinton uses the greenhouse early in the year for starting seeds such as vegetables and sweet peas. She also uses it to start cuttings including roses and geranium. The geranium in question began with a single red-blooming plant that Brinton purchased eight years ago. Over the years, she's propagated it into abundant tubs of floral Americana from which she strikes 50 or more cuttings each year. The resulting new geraniums refresh the following year's tubs, and the leftovers join a couple hundred other cuttings, divisions and seedlings that Brinton and Thomsen donate to Hansville Helping Hands and the Flotsam and Jetsam Garden Club sale each summer.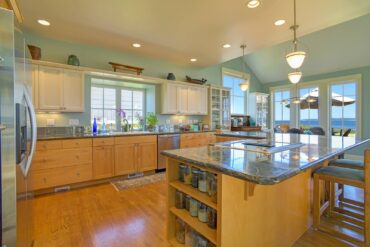 Charitable foundations aren't the only beneficiaries of Brinton's green thumb. The lush landscape is a haven for deer; rabbits; moles and even otters, who — it turns out — are problem solvers. The otters' problem is eagles stealing their flounder. The otters' solution was to carry their catch up the shore, along the beachwalk, around the house and into the courtyard water feature, where the canny animals could eat their meal in peace — unfazed by mere humans walking by on the bridge.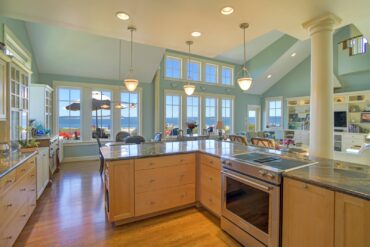 Over the course of several weeks, the whole otter family regularly came to dine — sometimes father, sometimes mom with the pups. The experience would have been charming were it not for the fish guts reeking beneath the bridge. Eventually, the pond was drained for three months to discourage the pesky piscivores.
Brinton knows well the life lessons that come from a garden. She knows that both take planning and careful cultivation. She's learned that hard work pays off, but, when things are beyond one's control, sometimes all that's left is patience.
She certainly understands — as she pedals her bicycle down the street with a basket of flowers for a neighbor — that you reap what you sow. And she knows that in life, as in the garden, perfect moments can be had, but not preserved, except in memory.