Nothing enhances home and garden quite like well-grown trees. They provide an anchor for the landscape and shelter for birds. Trees outlive their owners and see generations of people pass under their boughs. Gardens come and go, yet a tree remains as a legacy to the ones who planted them.
With so many trees to choose from, finding the right ones is a daunting task. The best trees provide seasons of interest and become an integral part of the landscape. Since a tree will last for many years, it's essential to choose an appropriate one and position it to reach its full-size potential.
The trees on this list are suitable as street ones in a planting strip or landscape. Select shorter trees when there are power lines — taller ones become a tangled problem in the lines.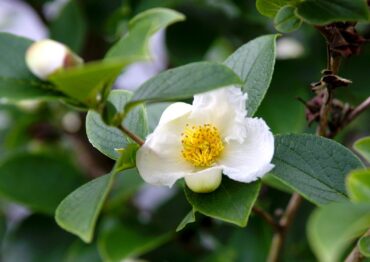 Stewartia Pseudocamellia
A favorite tree for low-maintenance and beauty, the Japanese stewartia is a four-season performer. The bark of the Japanese stewartia is a bit of a flake. When the trunk reaches 2 to 3 inches in diameter, it exfoliates in great patchwork strips of gray, red-brown, pink and orange-hued bark.
The fragrant, camellia-like, white blossoms with yellow-orange anthers break open around the summer solstice. A flower of this caliber during the solstice should give you a reason to celebrate the longest day of the year. In autumn, the deep green leaves turn rich hues of red, orange and burgundy.
Stewartia x 'Scarlet Sentinel' is genuinely magnificent. Discovered as a chance seedling of Stewartia ovata 'Grandiflora' and Stewartia pseudocamellia, it's a hard tree to find, but for plant geeks is well worth the hunt. The tree has the same attributes as S. pseudocamellia. However, the blossoms are more prominent and the anthers are red.
Plant the tree in slightly acidic, loamy, well-drained soil and mulch with compost. Hide the pruners because trimming can destroy this tree's structure. With little to no need to prune, this stewartia naturally grows striking, branching patterns.
Japanese stewartia is not drought tolerant and needs deep watering every week during the drought season.
Pronunciation: stew-AR-ti-a soo-doh-ka-MEEL-ee-a
Type: Deciduous tree
Growth habit: Pyramidal
Height: 15-30 feet
Width: 20-25 feet
Exposure: Full to partial sun
Flowers: Summer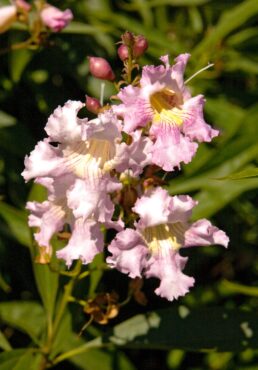 xChitalpa tashkentensis 'Pink Dawn'
Imagine a street lined with the xChitalpa tree. When the fragrant, exotic flowers make their debut at the end of spring, you might believe you transported to a tropical island. 'Pink Dawn' is perfectly hardy in the local Mediterranean-type climate and prefers dry summers.
In 1964, Nikolai Rusanov introduced some of the first bigeneric crosses between Chilopsis and Catalpa trees, which resulted in an incredible deciduous tree. The bigeneric hybrid's large, exotic flowers give the impression that this plant originated from a South Sea island; however, Rusanov bred the trees in Uzbekistan.
One of its parents, Catalpa x galleana, passed down the prominent flower attributes to its progeny. The other parent, Chilopsis linearis, contributed its desert plant toughness and the light-pink-and-white blossoms. The sterile flowers are the result of a bigeneric cross.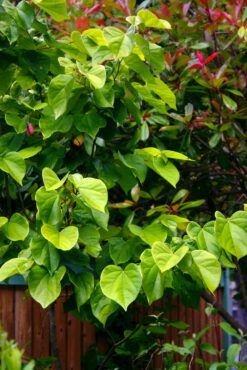 Plant an xChitalpa 'Pink Dawn' as a specimen, accent or wildlife tree. Hummingbirds and many flying insects stake a claim on this long-season flowering tree.
The tree flowers from late spring to fall, so plant it where a constant rain of petals will not be a problem.
It's perfect for a dry xeriscape, so grow this low-maintenance tree on the dry side with good drainage, with only an occasional watering once established.
Pronunciation: chi-TAL-pa tash-ken-TEN-sis
Type: Deciduous tree
Height: 30 feet
Width: 30 feet
Exposure: Full sun
Flowers: June — September
Street tree: Planting strips 4- to 6-feet wide, with high power lines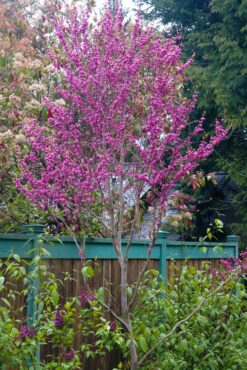 Cercis chinensis 'Avondale'
When an Avondale Chinese redbud tree blooms, the neighborhood takes notice. April is when the dark fuchsia-pink flower buds burst open to pink flowers all along the trunk, stems and branches, covering the tree with a flowering exuberance. When the blossoms fade, heart-shaped leaves take center stage.
Pollarding the tree causes larger, heart-shaped leaves that many gardeners find attractive. Unfortunately, pollarding causes the loss of many flowers produced on old wood.
Grow 'Avondale' in containers as a focal point in the courtyard. Overall, this tree is an excellent specimen for a small garden or a border in a large garden.
This cultivar is more compact than the species, with the additional benefit of flowering at an earlier age. Some consider this one the showiest of all the redbuds, with the most abundant blooms.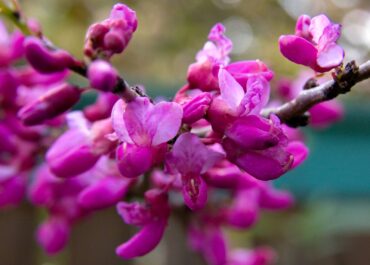 The tree tolerates dry conditions, making it a good candidate for a street tree.
Pronounced: SER-sis chi-NEN-sis
Type: Deciduous tree
Height: 20 feet
Width: 15 feet
Exposure: Full sun to partial sun
Flowers: April — May
Street tree: Planting strips 4- to 6-feet wide, with high power lines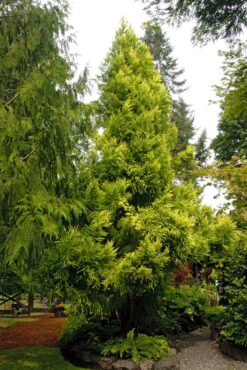 Cryptomeria japonica 'Sekkan'
Cryptomeria, the national tree of Japan, has many unique cultivars and species. One appealing cultivar is the Sekkan sugi Japanese cedar, an old variety in Japan that did not debut here until the 1970s.
Sekkan means yellow, a tribute to its new growth of pale-yellow needles that contrast beautifully with the older, green foliage. A naturally narrow shape, the evergreen conifer takes well to pruning to keep it short, can take coppicing, and is suitable as a bonsai subject. The reddish-brown bark peels off in long, vertical strips.
The conifer is easy to grow and thrives in deep, rich soil, with occasional supplemental water during drought. The foliage turns bronze hues in winter.
The tree name often sold as Cryptomeria 'Sekkan-sugi' is not correct. According to the American Conifer Society, sugi is a redundant term attached to 'Sekkan' and incorrectly registered in the RHS data.
Pronunciation: krip-toe-MARE-ee-ah jah-PON-ih-kah
Height: 50 feet
Width: 15 feet
Exposure: Full sun to partial shade
Street tree: Planting strip 4- to 6-feet wide, with no overhead power lines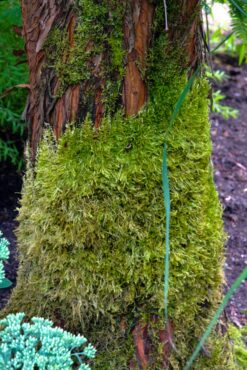 Metasequoia glyptostroboides 'Gold Rush'
Plant a piece of ancient history with the dawn redwood tree (Metasequoia glyptostroboides). Once thought extinct, it was discovered alive and thriving in 1941. Soon after, million-year-old Metasequoia fossils were found in Japan. This tree grew on the North American continent over 15 million years ago. Now, it's once again growing on this continent.
Metasequoia 'Gold Rush' was found as a seedling in Japan and named 'Golden Ogi,' which means the golden mantle. Dutch horticulturalist Peter Zweinburg brought it to Europe and changed the name to the current one.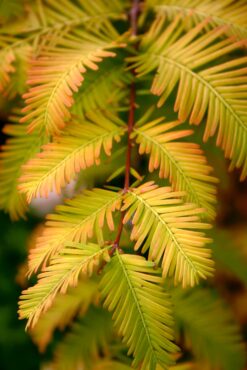 A relative to the coast redwood, the deciduous conifer grows tall yet only widens to 30 feet. Amazingly, Portland, Oregon, recommends it as a street tree with no power lines overhead.
If someone doesn't know that dawn redwoods shed their half-inch-long, slightly curved foliage in the fall, it can be disconcerting when the needles turn color and drop. The striking fall color is worth the annual shedding.
Pronunciation: met-a-see-KWOY-ah glip-toe-stroe-BOY-deez
Height: 75 feet
Width: 30 feet
Exposure: Full sun to partial shade
Street tree: Planting strip 6- to 8-feet wide, with no overhead power lines