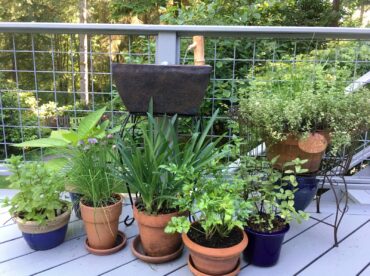 Growing culinary herbs gives you a little bit of everything you garden for: beauty, scent, a pantry filled with your own fine seasonings and a connection to the history of gardening. Throughout history, people all over the world knew the value of herbs for health and delight. Cooks through the ages also found that herbs could aid in the flavor and preservation of foods.
There's nothing better on a summer day than picking or buying fresh produce and then choosing the perfect herbal complement right from your own herb garden — or harvesting and preserving herbs for a winter stash.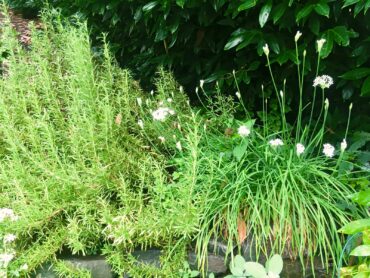 Planning the Herb Garden
If you have the room and the inclination, a formal herb garden laid out in a traditional pattern with gravel, brick or flagstone paths can be a centerpiece of beauty in your garden. But secluding herbs to their own private plot isn't necessary. The latest trend in gardening is the French potager or kitchen garden, where herbs are intermingled with vegetables and edible flowers.
You can mix herb plants within the pattern of an already existing garden. Just be sure to plant herbs with like needs of soil, light and water with perennials and annuals that thrive on the same conditions. For example, basil needs sun or partial shade, rich soil and a good deal of water, whereas lavender craves full sun and can handle dry, lean soil.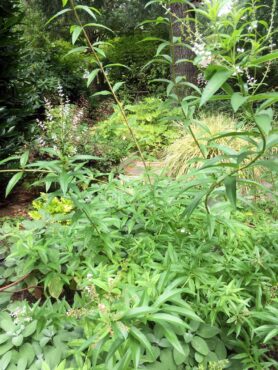 The next step is to determine height and breadth of the mature herb, as well as its form and leaf structure. Tarragon can grow up to 3 feet tall in midsummer and tends to flop. It would be a good candidate near a fence or in the center of a bed where it can be staked or supported with a tomato tepee.
Thyme is a wonderful low plant for the front of the garden; the height of its various cultivars can range from a ground-clinging 1 inch to a shrubby mound 10 to 12 inches high.
Once you've got the proper home ground for your herbs, think about their permanence or lack thereof. Lavender plants, especially the hardy 'Hidcote' or 'Munstead,' will live for years, needing only an annual harvesting of buds in July and a light haircut in early spring to maintain a mounding shape. They're prime candidates for a terraced rock garden where the winter rains can drain away.
Other perennial culinary herbs such as oregano, chives, garlic chives, sage and mints will need some pruning cleanup each spring, but benefit from constant clipping as you harvest through the summer. Mints are best in their own containers, which keeps their voracious roots in check.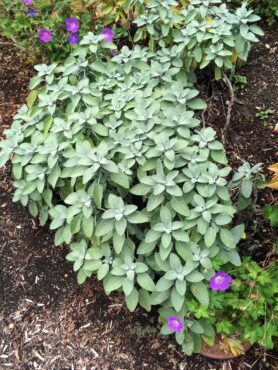 You'll have to replant most of your annual herbs, such as basil, every year. Parsley is tender, but usually makes it through our mild winters and often self-seeds if you leave some of the flowering heads in the late summer.
Other annual herbs such as dill, fennel and nasturtium will readily self-seed — not always where you like, but their sense of abandon gives the garden an established, natural look. If you would rather have a more meticulous, controlled look, volunteer seedlings are easy to snuff out in early spring if they pop up. Or you can carefully dig them out and replant where you want.
Lemon verbena, a favorite garden herb because of its luscious scent, makes it through the winter in the garden sometimes. Don't be surprised if a robust, woody lemon verbena lives through three winters and grows to 4 feet tall and wide.
Ideal Situations for Herbs
Most herbs are undemanding and thrive on fairly lean, dry soil. That makes them ideal for our droughty summers and eases the chore of a great deal of soil amending and fertilizing. Minimal soil amendments the first year and a light addition of compost in early spring are all these easy plants require.
If you wish to have a very low-water garden, plant the ones that do need extra water (such as basil) in a different spot or in a container near a water source.
Centerpieces for Herb Plots
A piece of sculpture or other garden art makes a good focal point for your culinary herb garden. Sundials, urns and birdbaths are traditional favorites, as are classical statues, birdhouses or bee skeps.
A tuteur (obelisk-shaped trellis) with a rose or clematis makes a great centerpiece. But any whimsical form that fits your style will do. A large pot of bay or rosemary would also make a good centerpiece and will thrive and overwinter as evergreens in our climate.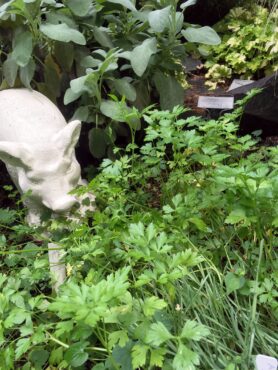 Fresh Herbs and Dried Herbs
Fresh-cut herbs are always on hand in the summer if you grow your own. Some, such as rosemary and sage, are still available for cutting even in the winter. In mild winters, parsley and chives usually keep on producing.
To have herbs available year-round, harvest often so they can keep producing new leaves. If container herbs outgrow their pots, transplant them into the garden. Or divide and put them into smaller pots for a windowsill kitchen garden in the winter.
After picking the herbs, rinse them in cool water and gently dry them by shaking and blotting. You can dry herbs by hanging them in small bunches or by spreading them on a wire-screen drying rack.
Leave them in a cool, dry place away from direct light. Don't wait too long or they'll get dusty. Crumble them as soon as they're crisp and store them in glass jars, never in plastic bags, as the oils in the plastic affect flavor. Bay leaves can be dried by pressing in a heavy book between sheets of paper.
Some prefer to dry herbs in the microwave because it's cleaner and they seem to keep a fresher, greener color. Arrange them in single layers on a paper towel and cover with another paper towel. Try one minute at a time on high, turning herbs halfway through.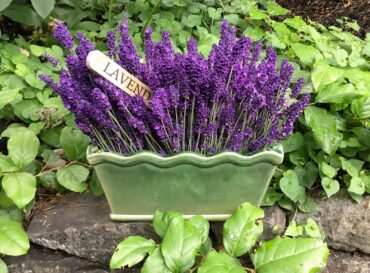 Do a small amount to start and see how various herbs react to the heat. Different microwaves have different powers, so experiment.
Herbs intensify in flavor when dried, so if a recipe calls for 1 tablespoon of fresh herbs, use just 1 teaspoon of dried. Throw away last year's dry herbs and replace them with a new batch each year.
Popular Herbs: Cultivation and Culinary Uses
Basil: Tender annual, sun or partial shade, moderately rich soil, moderate water. Use for tomato sauces, pesto, in salads and bruschetta.
Bay: Hardy perennial, sun, well-drained soil, so allow to dry out between waterings. Wonderful container plant for deck or patio. Use fresh or dried in soups and stews.
Chives and garlic chives: Very easy perennials, often self-sow, rich soil, sun to partial shade, moderate water. Great for dips, herb butters, salads or with omelets, deviled eggs, soup, cheese, fish and vegetable dishes.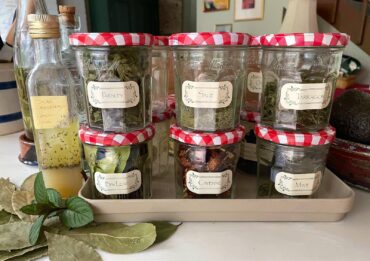 Dill: Self-sowing annual, sun, average well-drained soil, low to moderate water. Use in coleslaw, with fish, ham, vegetables, pickles, breads and rolls. Dries well.
French* tarragon: Perennial, sometimes dies out in wet winters. Good, well-drained soil; full sun; moderate water. Try in Bearnaise sauce, with fish, eggs, chicken, salads, soups. Dries well. (*Be sure to get French tarragon.)
Lavender: Perennial, self-sows a bit, full sun, very well drained soil. Trim the wands level with the foliage just before the buds open, usually in July. 'Hidcote' is the best variety for culinary use. Add the flower buds to cookies and cakes, shortbread, scones, fruit salads and herbes de Provence. Dries well.
Lemon verbena: Woody perennial in mild-winter years, sun, moderate water, heavenly scent. Good for cakes and other baked goods; use the dry leaves for tea.
Mints: Spreading perennial, best grown in pots, fairly moist soil, sun or partial shade. Great for tea, tabouli, mint juleps, garnish for iced tea, and mixed with butter to flavor English peas.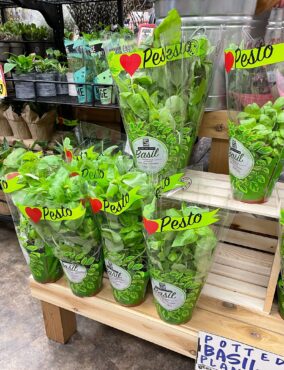 Greek* oregano: Spreading perennial, full sun, well-drained soil, low water. Add to tomato sauces, soups, pizza, salad dressing. (*Greek oregano has the best flavor.)
Parsley*: Biennial, curly or flat leafed Italian style, rich, well-drained soil, sun or partial shade, moderate water, benefits from being cut often. Adds flavor to soups, stews, tabouli, salads, vegetables and meats; or use as a garnish. (*Encourage people to eat the garnish for the high vitamin content, especially A and C.)
Rosemary: Shrubby perennial, well-drained soil, let dry out between waterings, sun, gently groom in early spring, 'Arp' is the hardiest variety. Ideal for stews, soups, beans, breads.
Sage: Woody perennial, well-drained soil, full sun, low water, gently groom in early spring. Many varieties but 'Berggarten' is the best sage for culinary purposes. Use for stuffing in poultry or pork, soups, stews, breads.
Thyme: Spreading perennial, sometimes dies out in very wet winters, full sun to partial shade, low water. Many varieties but French or English are best for culinary use. Best for meats, soups, stews, sauces, salads.
There's a good reason herbs have been called "the useful plants." You'll enjoy your herb garden for years to come — and you'll become a more adventurous cook because of the ready availability of fresh herbs in summer. Dry herbs in winter are an added bonus.
---
Mint Juleps
Ingredients:
8 mint leaves, bruised
1/2 ounce (1 tablespoon) simple syrup*
2 ounces (1/4 cup) bourbon
Mint sprig for garnish
Instructions:
In a silver, pewter or copper mug, muddle the mint leaves in the simple syrup. Stir in the bourbon. Pack the mug with crushed ice and stir until the outside of the mug becomes frosty. Top off with more ice and garnish with mint sprig.
* Simple syrup: Stir together half cup water and half cup sugar and bring to a boil. Make ahead and refrigerate to chill.
---
Italian Seasoning
For tomato sauces, pizza, salad dressing*, omelets, soups
Ingredients:
3 tablespoons oregano
3 tablespoons basil
3 tablespoons rosemary
1 tablespoon sage
1 tablespoons thyme
1 tablespoon garlic powder
Instructions:
Store in glass jar.
Sprinkle to taste in sauces, omelets or soups.
* For salad dressing, shake 1 tablespoon mix with 1 teaspoon salt, half cup olive oil and half cup cider vinegar.
---
Lemon Verbena Cake
To make lemon verbena sugar: Bury about 10 lemon verbena leaves in a box of confectioners sugar and put in a tightly closed container. Let sit at least overnight.
Cake ingredients:
3 tablespoons fresh lemon verbena leaves, finely chopped
1 cup milk
2 sticks butter
2 cups sugar
4 eggs, separated
3 cups flour
2 teaspoons baking powder
1 teaspoon vanilla extract
Cake Instructions:
Put the lemon verbena in a heavy saucepan with the milk and heat to scalding point. Remove from heat and let steep until cool. Strain the leaves or leave them in to add green flecks to the cake.
Preheat oven to 350 degrees. Grease two 9-inch cake pans and line with parchment.
Cream the butter. Gradually mix in the sugar and beat until light and fluffy. Add the egg yolks, one at a time, beating well. Add the dry ingredients alternately with the milk.
Beat the egg whites until stiff but not dry. Fold 1/3 into batter. Then carefully add the remainder.
Pour into the pans and bake for 25 minutes, checking for doneness with toothpick.
Cool slightly before removing from pan.
Frosting ingredients:
1/4 cup milk
2 tablespoons fresh lemon verbena, chopped
1 stick butter
1 box (3 and 3/4 cups lemon verbena sugar)
Juice of half lemon
Juice of half lime
Sprigs of lemon verbena, lemon thyme for garnish
Frosting Instructions:
Cream the butter. Gradually add the flavored sugar, along with the milk and lemon and lime juices. Beat well. The frosting should be light and fluffy. If necessary, add a bit more milk.
Frost the cake and decorate with lemon verbena and lemon thyme.