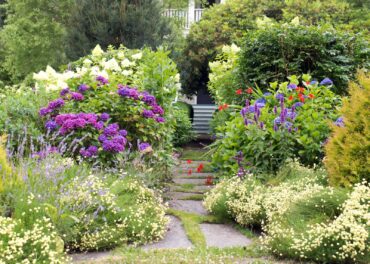 In the remoteness of a Bainbridge Island neighborhood lies a retreat in an English-inspired garden. Native apple, plum and pear trees that line the street create privacy, and tall grasses encompass the garden that Lori McFarlin has come to call her sanctuary.
This 2-acre property has a 100-year-old house with a 100-year-old birch tree that stands tall behind it.
"I have made this house a sanctuary and it is very incredible inside. I wanted to extend that feeling out into a yard, where I could create an outdoor area that fits my soul," McFarlin said. "I'm not one to do the gardening — never have, never will. My grandmother was brilliant [gardener], but it did not pass on to me."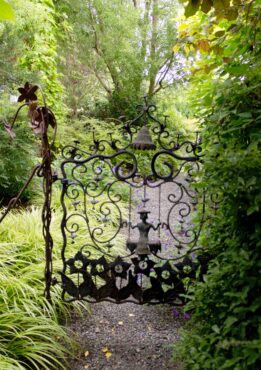 Extending the peacefulness from the house to the yard was her main goal of this new garden, in addition to having dinner parties under the trees or just enjoying being outside among the plants.
It all started as a blank canvas. The only plant life on the property was the huge birch tree and a few cedar trees that lined the back of the property. "We lost those in the big snow storm a couple of years ago," she said.
The previous property owners laid the groundwork for a beautiful property. Being on a slope, her lot receives all the "liquid sunshine" that runs downhill. The previous owners installed drainage designed to run into a pond that is host to a variety of small wildlife. McFarlin hired close friend Teri Cole to design this beautiful space.
"Nothing was here; it was just an empty palette waiting for the right artist to come along and start painting," McFarlin said. "That is what Teri did. She literally brought a can of spray paint and painted up my yard showing where the walkways were going to be and different flowers and plants that Teri had in mind."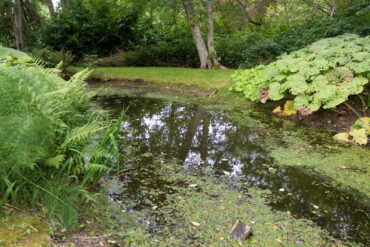 And that is exactly what happened. A stone patio feature sits neatly under a tree in the middle of the garden sanctuary. The scape is colored with the likes of rhododendrons, roses, hydrangeas and meadow flowers, to name a few. Newly planted grasses grow high for privacy and an enchanted world of color surrounds you as you enjoy the peace that is Bainbridge Island.
Beautiful arbors covered with green foliage serve as an entrance to the next area of the garden. Antique gates add loads of character to the space and a stone pathway guides you along the journey. Huge green leaves grow tall around a duck pond and a small swing set is nestled in the back for the grandkids. A rhododendron bush blooms in a magnificent shade of purple when May arrives.
"Every year, we look at what we want to change or add, what seeds do we want to put in this year for color, apart from those pieces that come up every year," McFarlin said. "So, every year, the garden changes a little bit." New colors, new flowers, new plants but the same oasis.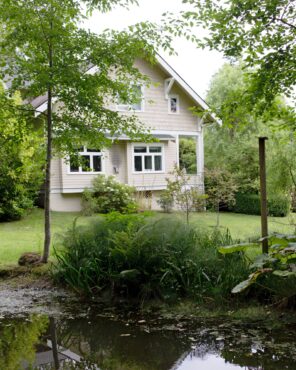 Distinctive gates, fences, bird baths and bird houses make this garden even more special. "Shopping with Teri to purchase accoutrements may have been a little too much fun," McFarlin said. "She's the best person in the world to go shopping with, because she knows all the right places and all the right vendors."
Cole's team installed the metal gates and fences, but local metalworker Dick Storm fabricated the posts. The rebar that he used for one of the gates dates back to the Civil War. It fits perfectly with the home's theme and the local history that surrounds it.
A great garden starts with good soil. "We brought several dump trucks full of beautiful, rich organic soil from Short's Farm located in the Chimacum Valley," Cole said. She calls it "magical soil" — because of the high organic nutrient content of Short's soil, plants do very well when they are planted in it. They brought in many plants and trees from Valley Nursery in Poulsbo and also used local products provided by Bay Hay & Feed on Bainbridge Island.
Lori McFarlin loves her garden — and spending time in it.
"I know the joy of being in the garden is beautiful," she said. "I know how I feel when I am in the garden, how if affects me, my outlook and my health."