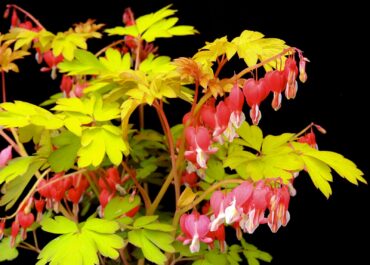 With the Northwest Flower & Garden Festival canceled for 2021, and with a few months left of rainy, cold winter to face, what's a passionate gardener to do? Get out your paper and sharpen your pencils because it's time to dream big. This year's new plant introductions will paint your garden in exciting flowers and foliage.
Last year, many people had more time to devote to gardening due to the COVID-19 restrictions. The garden industry had record sales, while garden tools and products flew off the nursery shelves. With a surge of new edible gardens, seeds were harder to come by.
Many new gardeners joined the seasoned ones in the quest for cool plants — and 2021 promises to be more of the same. Experienced gardeners know that gardening keeps them grounded in many ways. Here's the lineup for new, exciting plants for your garden.
Brassica Oleracea 'Purple Moon'
Kale brightens Northwest gray winters one leaf at a time. Tasty, nutritious and attractive — you can have it all with purple moon kale. This kale is so good-looking, you may kick the ornamental cabbages out of your containers and plant these for their purple, frilled and ruffled foliage interest and edibility. The foliage is especially impressive when teamed up with ornamental grasses.
Since cold weather brings out the best flavor in kale, you want to grow it for spring harvest or wait to sow seeds in August for fall and winter harvest of the most nutritious vegetable on earth. About 22 days after sowing seed, you can harvest the foliage for baby greens or let them grow 50 days for mature leaves.
Brassica oleracea 'Purple Moon' seed is a product of Renee's Garden and is sold at many local nurseries around Kitsap County.
Plant type: Annual
Height: 12 inches
Exposure: Full sun
Phaseolus Coccineus Hestia Runner Bean
Hestia runner bean is a stunning edible plant; you can eat the beans, bean pods or the flowers. These dwarfs take up little space, so that they can be grown in a container on a balcony.
Don't just confine them to the vegetable garden. Plant them in a window box or as an ornamental spiller in your containers. Hummingbirds adore the red-and-white flowers and will visit them frequently.
The spent flowers need to be deadheaded to prolong the bloom. If you can fend off the hummingbirds, pick fresh flowers for garnish or harvest young, tender pods for meals (like salads). Toward the end of the season, let the beans completely dry in their pods before you harvest them. You can store the dried beans for use in fall and winter for hearty soups and stews.
Wait until temperatures are consistently 55 degrees at night before you plant these outside. They can be germinated and started indoors a few weeks before planting out. For containers, use one that is at least 18 inches tall. Sow seed 3-4 inches apart.
Plant type: Annual
Height: 12-14 inches
Exposure: Full sun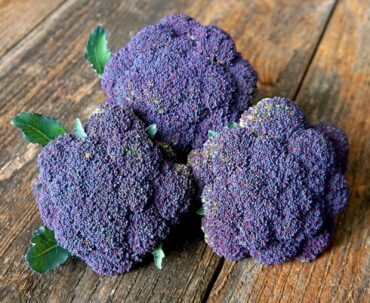 Brassica oleracea 'Jacaranda'
Vegetable breeders are always taking their vegetable progeny to new levels. Some are improving the plants for more ornamental value, too. Vegetable gardeners do not mind, as long as visual improvements do not interfere with the taste. The Jacaranda broccoli is short on neither flavor nor good looks.
This vivacious broccoli-and-cauliflower cross looks so good, it's tempting to grow it in the flower garden. Jacaranda broccoli produces full-size, vibrant purple, not green, heads. Blue-green leaves surround the purple curds. It looks like nature meets designer when it comes to choosing colors.
Jacaranda broccoli is destined to be a hit in specialty markets, as well as the home vegetable plot. Their great color and mildly sweet flavor might even entice presidential broccoli haters to fall in love with their vegetables again.
Plant type: Annual
Height: 18-30 inches
Width: 20-36 inches
Exposure: Full sun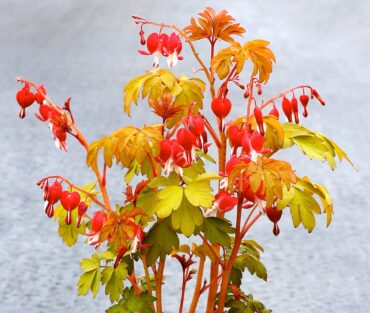 Dicentra Spectabilis 'Ruby Gold'
A Terra Nova Nurseries introduction, a few varieties of gold leaf bleeding hearts such as Dicentra 'Gold Heart' were produced by mutations. Bred purposely, with blossoms, much like Dicentra 'Valentine,' D. 'Ruby Gold' is the first gold foliage bleeding heart with red flowers.
Orange and peach on golden foliage create eye-popping color, coupled with arching, red stems that proudly hold the dangling, valentine-red, heart-shaped flowers. The plants may go dormant in summer if the soil becomes too dry, but they will return the following year.
Deer-resistant, yet not surprisingly, the red flowers attract hummingbirds. These perennials' natural habitat is shady woods.
Plant type: Perennial
Height: 26 inches
Width: 35 inches
Exposure: Part to full shade
Flowers: May, June, July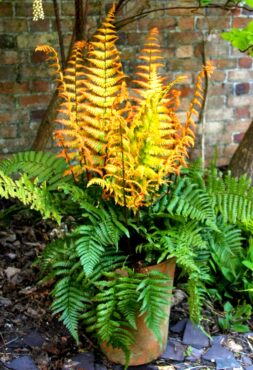 Dryopteris Wallichiana 'Hollasic'
With an alpine wood fern that has a tradename like Jurassic Gold, it makes you wonder if this is one of the leftovers from the dinosaur era. No, but this fern was discovered near the Jurassic Coast in the United Kingdom by Bob Hollister. The species (Dryopteris wallichiana), in its own right, is a regal fern standing tall in the garden.
Introduced by Concept Plants, D. 'Hollasic' will put some warm accents into the shade garden. The fern took second place in the 2020 People's Choice Awards at the Farwest Show in Portland, Oregon.
If you like the autumn fern (Dryopteris erythrosora 'Brilliance'), you'll fall in love with the golden alpine wood fern. The spring foliage is more extensive and richer in golden-orange to rose-gold hues than 'Brilliance.' Later, the new fern fades to bright golden-yellow to green shades.
This plant is great for container planting or shady areas of the garden; consider pairing it with Dicentra spectabilis 'Ruby Gold' for a spectacular spring show.
The fern is easy to grow and is great for beginning gardeners. Remove old and dead fronds in late winter to early spring.
Plant type: Fern
Height: 30 inches
Width: 25 inches
Exposure: Shade to part sun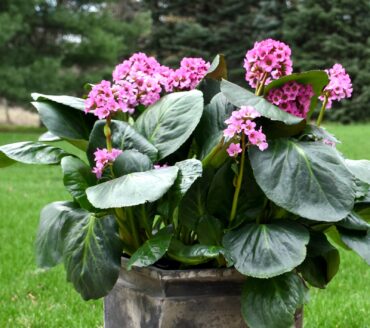 Bergenia Cordifolia 'Miss Piggy'
If you ever rubbed bergenia evergreen leaves together, you know why it has the common name heartleaf pigsqueak. This bergenia has an attitude and can only bring a smile to your face. Hybridized by Hans Hansen of Walter Gardens and introduced by Proven Winners, not only does 'Miss Piggy' have broader, evergreen leaves, her stunning displays of pink flowers stand above the outstanding foliage. This perennial would make its namesake swoon in full Miss Piggy fashion.
Deer and rabbit resistance is a bonus for this large-leaf plant — and for anyone challenged with these pests. Butterflies, bees and other pollinators visit the early-spring flowers.
Plant type: Perennial
Height: 16-18 inches
Width: 20-32 inches
Exposure: Partial to full shade
Flowers: Early spring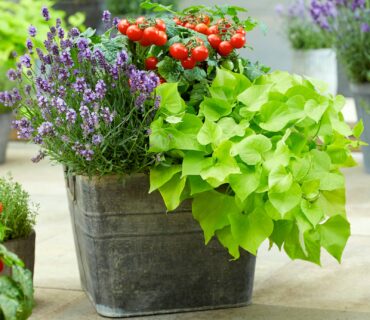 Ipomoea Batatas '17-527′
Bred by Louisiana State University (LSU) and introduced by Concept Plants, this is both an edible and an ornamental vine, sold under the tradename Treasure Island. Although on the Kitsap Peninsula, the garden may not be warm enough for the Makatea sweet potato vine to create enough tubers to eat, you can certainly enjoy this handsome, chartreuse, heart-shaped foliage cascading down one of your containers. Chartreuse foliage is incredibly stunning spilling down a cobalt-blue container.
The vine took first place in the 2020 People's Choice Awards at the Farwest Show.
Plant type: Vine
Height: 12-14 inches
Exposure: Sun to part shade
This selection of plants will add many new dimensions to your garden and hopefully get you excited about the garden season ahead. Sweet dreams!