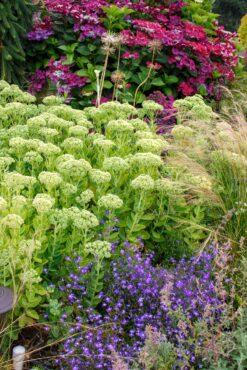 Gordon and Janet Knudsen don't have a lilac, but that's OK, because they have practically everything else. From astrantia to zinnias, the Knudsens' Poulsbo garden is a botanical who's who — and what's that? — of fabulous plants. However, the Knudsens' arboretum-esque property is more than just a feast for the human eye; it's a literal feast for a world of wild things.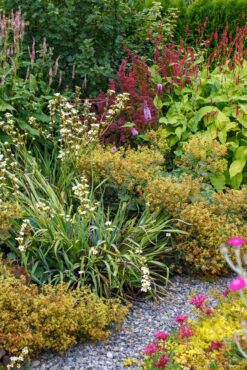 Birds, bees, butterflies and dragonflies, even snakes and lizards, find a pesticide-free habitat within the one-acre garden. The critters come for food, water and shelter, all thoughtfully and intentionally provided by their hosts.
On warm days, dragonflies patrol the pond, birds hunt bugs and berries, and the occasional garter snake suns itself atop a flat-topped arborvitae. In summer, when the deadheading is done, the Knudsens take to the patio to watch hummingbirds wage war over the 'Jacob Cline' monarda and squirrels steal the strawberries.
This is a pollinator garden, and bees are everywhere. Bumblebees, mason bees, honeybees — abuzz on blossoms of ball-shaped echinops, blue-flowered caryopteris, pumpkin-hued helenium and many other nectar-rich species. The pollinators pay back their hosts with bumper crops of squash and raspberries.
Gardening Legacy
Both Gordon and Janet Knudsen grew up in families that knew the value of a garden. Janet's family raised tomatoes and apples for market, while Gordon's mother was a devoted flower grower.
The couple's love of gardening has grown throughout their nearly 50-year marriage. Retirement and a new home with a view of Hood Canal and the Olympic Mountains — and very little shade — gave them a chance to experiment and refine their vision of the ideal garden.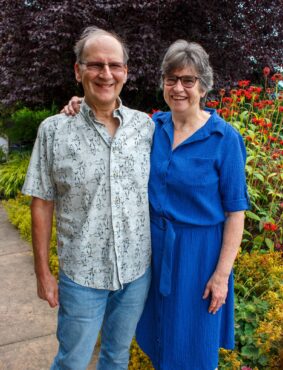 Twelve years ago, when the Knudsens purchased the house with the fjord-like western view, the grounds consisted of one huge lawn and four small shade trees. It was a perfect canvas on which to explore a type of landscape they'd always admired — a textural plant-scape in which the full lifecycle of the plants, sprouts to seed heads, is part of the charm. Most of the plants top out under 6 feet, keeping the site sunny and the view intact. Lawn is now entirely absent.
A Few Hundred Favorites
Perhaps "abundance" best describes this garden. The variety of plants is mind-boggling. Beds and pots are so lushly planted as to give the effect of a garden with a house, rather than the opposite.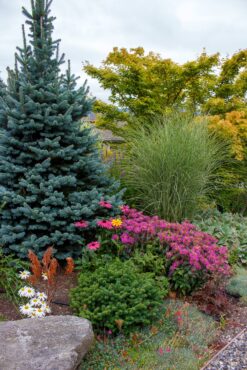 The cornucopia overflows with everything from backyard regulars to the rare and the rowdy. Daylilies in oranges, yellows and purples rub shoulders with 'Cappuccino' rudbeckia and electric pink 'Petite Delight' monarda. In addition to the familiar blue-flowered hydrangeas, red-bloomers include 'Ruby Slippers,' 'Lady in Red' and 'Strawberries and Cream.' Ornamental grasses such as carexes, pink muhly grass, 'Morning Light' miscanthus, 'Karl Foerster' feather reed grass and hakonechloa add interest over several seasons.
Among the Knudsens' many favorites are 'Gold Heart' bleeding heart, hummingbird beacon Lobelia tupa, bee-magnet catmint and 'May Night' salvia that blooms almost continuously spring through summer. Bamboos are either clumpers or contained in stock tanks, where they are uplighted after dark. 'Orange Rocket' barberries with eye-catching, rusty-ruby foliage are a repeating feature.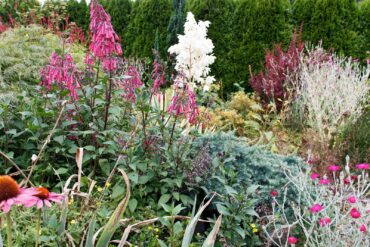 Amsonia, a.k.a. bluestar, is admired not only for its blue flowers but its ethereally gold fall foliage. Two espaliers, an apple and a pear, bring a touch of formality to the garden and — in the case of the apples — a snack for the deer. A Virginia creeper, a lovely vine turning scarlet in autumn, grows up a post then flows down in a smooth cascade, giving an impersonation of Cousin It.
In the planter boxes, purple Wave petunias carry the summer with indefatigable bloom. The Knudsens grow most of their other annuals and vegetables from seed, including the marigolds, zinnias and lobelia that beautifully blanket the septic tank.
Starting their tomatoes from seed allows the couple to focus on their favorites, such as 'Sun Gold' cherry tomatoes. Janet uses the various varieties of plum tomatoes to make 50 gallons of tomato sauce at summer's end.
A collection of Japanese maples — 42, to be exact — is scattered across the property. From tall and graceful to short and flowing, the maples provide year-round interest, with a crescendo of color in fall. Some prize specimens are 'Harp String' ('Koto-no-Ito'), 'Bijou,' 'Lion's Mane' ('Shishigashira'), 'Red Bamboo'('Beni otake'), 'Floating Clouds' ('Ukigumo'), 'Bloodgood' and 'Emperor I.' Many of the trees came from Poulsbo's Valley Nursery.
Garden Infrastructure
Gordon credits Janet for the layout of the garden. After she planned the design with a garden hose and a good eye, the Knudsens turned the job over to Dansons Landscaping of Silverdale to create gravel paths, install a pond and blow in truckloads of topsoil. They also tucked in birdbath boulders, rocks with natural concavities that hold rainwater.
The couple have always done all planting and maintenance themselves. Now that the garden is established, it requires mainly deadheading and general tidying up.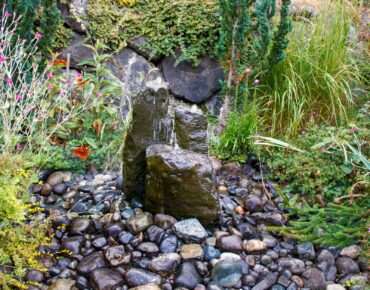 Happily, the Knudsens spend no time hauling hoses and sprinklers, thanks to Gordon's highly efficient irrigation system, which he developed with 20 individual circuits to cover the entire property, each section watered only four to eight minutes per day and containers twice a day. Whenever possible, the beds are topdressed in late winter with Oly Mountain Fish Compost from Tilz Soils of Bainbridge Island.
The Knudsens like to share their gardens with people as well as wildlife, so they have sponsored fundraisers such as a wine evening on the patio for Parkinson's. In creating their multihued mosaic of cracking good plants, the Knudsens have acquired a broad expertise through a lifetime of immersion. And the education continues. So far, they haven't met a plant they didn't like. Even lilac.