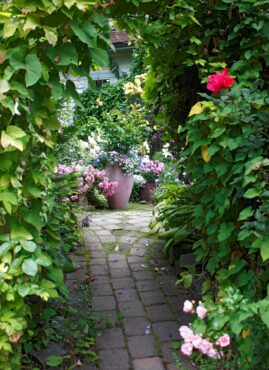 It's been said that you can tell a lot about a person by the garden she grows. In the case of Teri Cole of Bainbridge Island, her garden is an adventure of exuberance.
A riot of color, quirk and creativity, Cole's beds and borders have a combined personality almost too big to be contained in a single city lot. Whereas the square footage may be modest, the property is so densely planted, it's hard to tell if you're standing on a postage stamp or an estate. Like Stanley searching the jungle for Livingstone, you must wade in to examine the parameters — and then, you are deliciously lost.
It appears that Cole's rule of (green) thumb is "leave no spot unplanted." Unless, of course, it's to make way for one of the many boho-retro, ruffled and rusty objects she refers to as her garden "props."
Some of her props come from yard sales and repurposing shops such as Saltwater Vintage of Poulsbo. Other treasures she finds alongside the Bainbridge backroads with free signs attached; into the back of her pickup truck they go.
An Ornamental Garden
Cole wonders about the past lives of her pre-owned pieces. Did the old iron wheelbarrow once assist a Depression-era truck farmer? Were Cole's chippy concrete swans treasured gifts bestowed on an island hausfrau? Of course, not all of the garden's accoutrement are vintage: Take, for example, the concrete moon face on the path beneath the arbor, where it lies pondering the purple clematis above.
Urns, planters and birdbaths of cast iron, concrete, wood and wicker play peekaboo around every turn — often, a bloom spill of petunias or pentas nearly obscures a graceful tazza or campana-shaped container. Foliage is not forgotten, and Cole tends to container-plant, slug-susceptible specimens such as hosta and mayapple; potential invasives like variegated comfrey; and lovely little treats including mukdenia, which likely would be lost in the boisterous beds.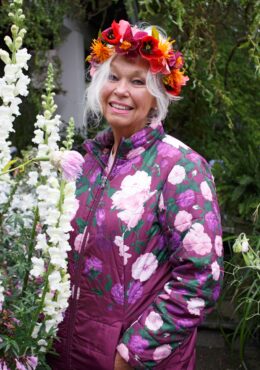 There are also plenty of adornments created personally by Cole, who confides that she always has a project in the works. Recently, she bent and tied a bouquet of twig hearts from just-pruned plum-tree suckers.
Birdhouses are a favorite, recalling — as they do — happy days when Cole's father would build them and Cole and her mother would decorate them. One especially confectionary example of avian lodgings is Cole's beachy birdhouse, tailored to the swankiest of birds with its shells and pearls and a second story.
The House on the Corner
For 13 years, Cole has inhabited this house on the corner of Rolling Bay. Prior to that, she lived just across the road, where she ran the dog and small-farm-animal rescue, Ferry Dog Mothers. She still has a soft spot for displaced pups and provides a comfy retirement home for several canine seniors. Cole's current home originally belonged to her colorful and generous neighbor, Jan Noble, a woman who enjoyed life, dabbled in oil painting and — upon admiring Cole's verdant plantings — implored Cole to design her own yard.
Design Cole did, and a few years later, the house became Cole's own home. Occupying a busy corner lot, the place had a fishbowl feel, so Cole redoubled her efforts to make the house disappear into the landscape. And she succeeded. Spectacularly. A great charm of the garden is the sense of being immersed in a grand game of I Spy. I spy with my little eye a purple penstemon. Where? Where?!
Many of Cole's plants are more conspicuous. In summer, a swath of sweet peas scents the air. Six-foot-tall, white snapdragons stand sentry to the soft, silvery, cabbage-sized leaves of senecio 'Angel Wings.' Hydrangeas are everywhere; various species flaunt their mopheads and panicles amidst the luminous layers of greenery.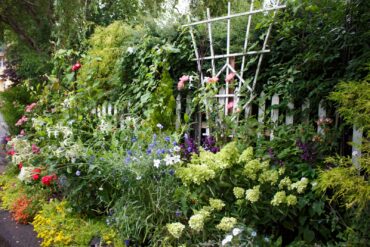 Cole knows very well that it doesn't always have to be about flowers, as proved by her dramatic towers of golden hops, scrambling 20 feet skyward on bamboo poles.
Feral to Flowery
So, what's the worst that can happen to a deep-rooted plant fanatic? Why, running out of room, of course.
Two years ago, Cole turned her eye to the final feral edge of the property, one that borders a bustling community road. Gradually she filled the space with flowing miscanthus, curly willow, 8-foot cardoons and a grape that she doesn't remember planting. At the peak of summer, Oriental lilies with heads the size of bull elephants fill the air with their spicy perfume.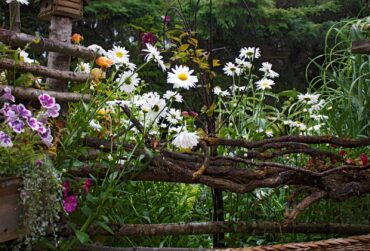 This now-cultivated — yet delightfully rampant — roadside garden is one of the special joys of Cole's landscape because it is shared with the many walkers, bicyclists and drivers who pass by each day. Cole's efforts have not gone unnoticed; appreciative passers-by occasionally leave thank-you notes on the garden gate, sometimes accompanied by a bar of rose-scented soap, a bottle of rosé or even champagne.
In the warmer months, Cole invites friends to join her for a glass of lemonade on the porch. From the comfort of well-worn and well-cushioned white-wicker furniture, visitors can admire Cole's idiosyncratic ornamentation.
Wall sconces are compositions of found objects including old light fixtures, perfume bottles and bud vases — all oversprayed in white. Outdoor dinner parties are hosted beneath a vintage box spring whose coils make a rustic chandelier when hung with candle-filled canning jars. Against the wall rests a grand, old screen door with enough gingerbread to grace a Mississippi riverboat.
Here is a garden of many faces — not so much something you look at as something you experience. You must walk through for the full effect. Every angle reveals a new vignette, each one beautiful.
Cole muses that this is what Mother Nature does — provides a positive focus that distracts from the complications of civilization. In Teri Cole's garden, Mother Nature has help.