Every garden needs a work area: a "behind the scenes" staging space where all the glories of the garden are dressed, groomed and rehearsed until they are ready to make their entrance. This can be a spot tucked away out of sight with a simple table, a bag of potting soil and a stash of tools.
But the greatest luxury for a gardener is a real garden shed.
More than just an outbuilding for storing tools, a garden shed can be a comfortable, year-round workspace when you add a potting bench, shelves, hanging racks and a sturdy container for mixing potting soils and propagating plants. When outfitted with a stool or chair and table, a shed can become a destination for perusing garden books and plotting plans for the coming year.
If creatively designed, the garden shed can become an integral part of the garden landscape, acting as a focal point for visiting and entertaining. Matching the décor of the house can add an extended living area to a deck or patio, especially when connected by stone, brick or gravel walks or a grassy path between planting beds.
Many sheds reflect the personalities and style of the gardener. Even if a potting shed is still just your pipe dream, put it very high on your wish list. Whether it's a customized work of art or a gussied-up pre-fab, you will get so much satisfaction out of planning it and enjoying it for years to come in your gardening life.
---
This handsome shed's design echoes the historic style of the owner's 1890s house. With its cedar shake siding, white trim and robin egg blue door, it even boasts a little front porch where the gardener can sit to contemplate and plan. The inside feels like a bit of garden history with its shelves of miniature pots, watering cans and a collection of antique "frogs" for flower arranging.
But beyond its visual charm, the design is practical and savvy. Many of the materials used to build the shed were salvaged from a home renovation.
Windows on two sides open to provide an airy workspace on a warm summer day when open or, when closed, a cozy spot to ride out the rainy season.
---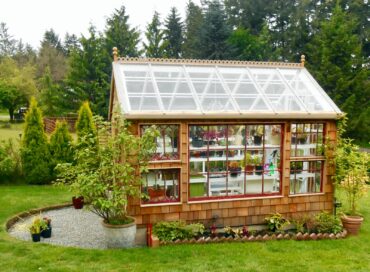 Another example of the use of cedar shakes and recycled materials is this artistic shed built by a retired contractor. He created the Victorian effect with vintage windows and the design of the roof's central ridge.
His wife calls it her "she shed" and uses it primarily for propagating plants and displaying garden-related objects collected over the years. The floor is brick on a packed sand base. It's a great place for transitioning seedlings before they are planted out in the adjoining raised vegetable beds.
---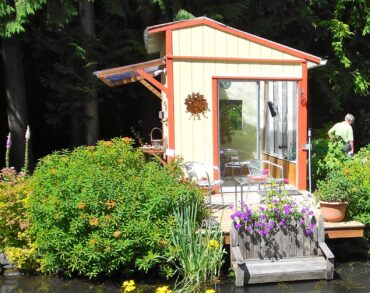 More of a destination spot and a refuge for reading or visiting with friends over a drink, this airy shed can be seen from the gardener's back patio across the pond.
It has a front porch seating area for viewing the profusion of dragonflies and hummingbirds that are permanent residents of this country garden.
---
At the end of a country lane, this magnificent garden shed sits across the path from the historic cabin that serves as the farmhouse. It was built with a combination of new and recycled materials and is surrounded by brick paths and lush flowerbeds. Nearby is a simple, covered potting table that served its time before the larger shed was built.
---
Tucked between the house and a hedge on the street side, this long, narrow shed has a "lawnmower lean-to" attached to the rear. A separate potting bench stands adjacent under the eaves of the house, where the potting tray can be moved outdoors in the summertime.
Mainly a tool storage and work area, it has shelves for gardening books and a stool for sitting and planning. The outside is fancied up with a window box and a decorative door.
---
Another elegant design placed on a small rise in the corner of an English-style garden, this shed does triple-duty as a focal point, a work space and a comfortable spot to sit and relax. Inside is part of the owner's collection of eclectic memorabilia, turning the space into a small museum evoking her love of history, family and gardening.
---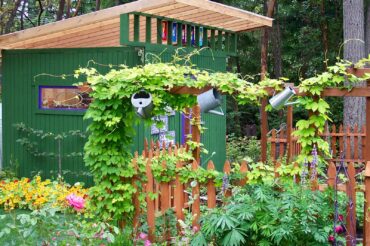 This shed's owner, an herb enthusiast, garden writer and designer, set the shed in the middle of the herb and vegetable garden. Surrounded by picket fences, packed earth pathways and raised beds, it has simple form and lush choice of color that provide a feast to the eye and a home for the herbs and vegetables she writes about in her books and garden articles.
---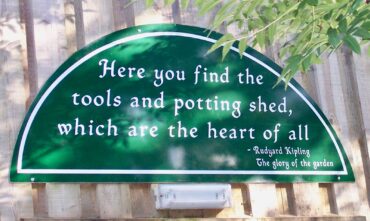 The author took this photo years ago at the entrance to The Museum of Gardening at Trevarno garden in Cornwall, England. The sign quotes a phrase from Kipling's "The Glory of the Garden" and suggests that a good potting shed is really a necessity as opposed to a luxury for every serious gardener.