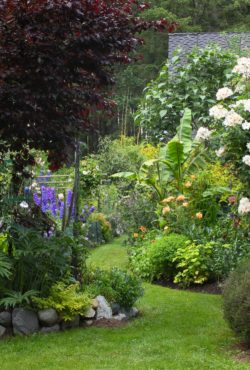 For an avid gardener like Jeanne Cronce, the garden is where she spends a good portion of her waking life. For 36 years, the 5 acres that surround Robin and Jeanne Cronce's log home has been a place for growing food, planting trees and nurturing a myriad of select shrubs, perennials, annuals and bulbs with care.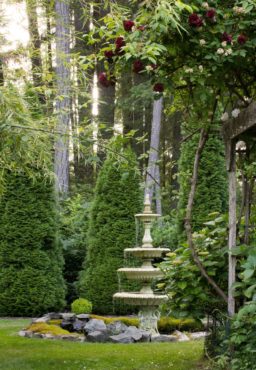 More importantly, Cronce calls her garden a sanctuary where she communes with nature, nurtures her plants and has moments of prayer. After a family tragedy, her garden became a space where she could heal.
"As I was troubled, I would go outside and work in the garden, talk to God and sing. It was so rewarding to just hear the birds sing," she said. "I don't know how to describe it — I would just be at peace. Nurturing is always healing.
"And gardening brings such healing in many ways. A place (the garden) where you can escape, draw closer to nature and listen to birds; a place where you can think, and share with people."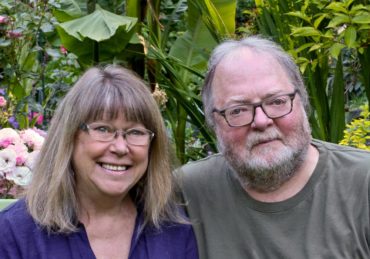 For most of her life, Cronce enjoyed an interest in plants. As a little girl growing up on 14 acres by Long Lake in Port Orchard, she spent her days learning about the flora in the woods. Although as a child she wasn't always successful, Cronce experimented with propagating native plants she found in the woods such as sword ferns (Polystichum munitum), Indian plum (Oemleria cerasiformis) and wild ginger (Asarum canadense). Regardless, she loved being in the presence of native plants under the canopy of big leaf maples (Acer macrophyllum) and conifers.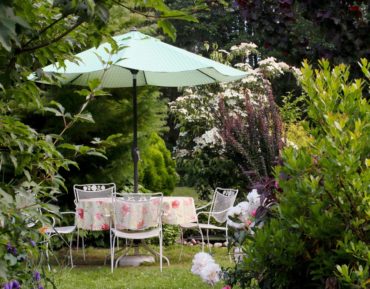 "Wild ginger I was always puzzled by, because I could never get it to move and live," she said. "I was always digging it up and moving it but it would always die. But native sword ferns, so fun, I still move them around to this day."
Cronce now successfully propagates many plants from cuttings and seeds. She sold them at the farmers market in the past. Today, she has a plant sale once or twice a year to find homes for her treasures.
Her mother, Shirley Dinesen, grew many types of vegetables and flowers, and passed her knowledge down to her daughter, giving Cronce a great foundation for gardening.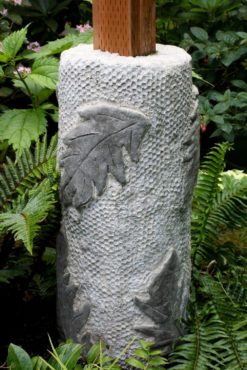 "She taught us how to make flower arrangements and bring them into the house, and how to grow them in the garden," Cronce said.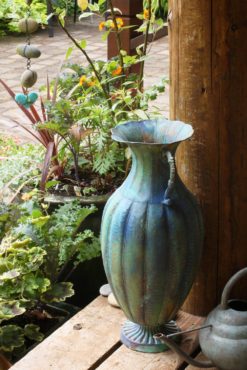 Before the couple married, Robin Cronce originally bought 2 1/2 acres, and after marriage, they built a log home from trees cleared from their land. Later they bought an additional 2 1/2 acres. Here, they raised their family. The gardens now reside over 3 1/2 acres. The rest of the land is meadow and native woodland.
Happily retired, husband Robin is an avid angler and spends as much time as he can on the water reeling the fish in. Although he never cared about gardening, he loves walking through the peaceful garden with his wife and their dog.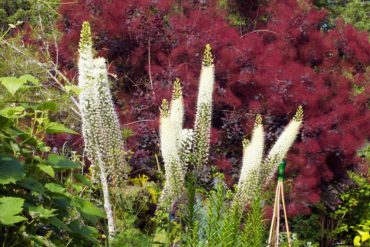 Have backhoe, a man will dig, and dig he does to help prepare new garden beds, or for anything else where the big equipment is needed. Robin Cronce is a major player in the big chores and also mows and edges the lawn, builds structures for the garden and hauls the heavy stuff.
"Whenever I have a new idea, my husband rolls his eyes," Cronce said with a chuckle. "Then he will ask, 'What do you want?'"
He builds many structures such as arbors for the vines that his wife sometimes embellishes with concrete.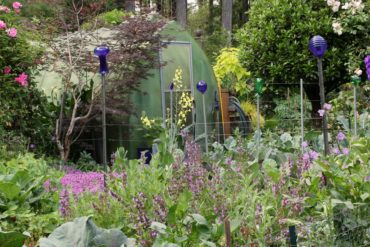 Cronce designed her gardens to have meandering paths that take you through the landscape, under trees and past well-grown perennials, shrubs and bamboo. Two greenhouses nestled in the garden help winter over tender plants and propagation.
Some of her favorite plants are viburnums, such as the high bush cranberry (Viburnum trilobum) and V. 'Dawn.' Also smitten by Kniphofias and lilies, Cronce grows many cultivars of each.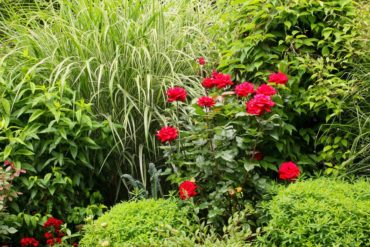 Originally the soil on the Cronce property was dead, orange-brown dirt. So, Cronce added fish compost, horse manure and other composts to build the soil up — "to make it nutrient rich," she said.
"You can't just put a plant in a hole in hard pan and expect it to grow. Soil is really the most important thing," Cronce said. "If you don't have good soil, the plants are not going to grow to their full potential. It's always good to work the soil up, add amendments if it's needed. And usually around here, it's needed."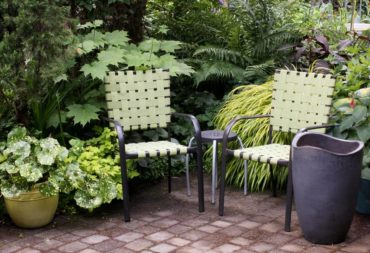 Cronce's philosophy for starting a garden is to plant trees first. They take the longest to grow. She knows. She planted many, and watched them grow to maturity. She still plants trees, and when she starts a new garden area, she anchors the design with a tree.
"You want to enjoy them when they get bigger," she said. "There are trees that I want now and I know I will never be able to see them in their full potential. When I do buy them, I think someone will hopefully enjoy them."
When told she could live to be 100 and see her newer trees mature, Cronce recalled a family friend from her childhood. The woman loved children and was always teaching them something.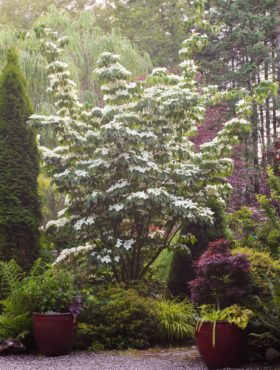 "I always wanted to be that little old lady; in fact, I knew one. Her name was Grandma Ivy. She used to be a family friend, and was 90-something years old," Cronce said. "She chopped her own firewood, she didn't have electricity, and she lived not too far out of Port Orchard.
"She had tons of beautiful roses. We would go into her house, and all along her windowsills, she had jars of rose petals. Her house smelled so good. I always thought, I hope I can be that way when I'm old."
Visitors to Cronce's garden would most likely agree that she may not be old, but she already embodies her mother's and Grandma Ivy's spirited outlook, and it comes through in her peaceful, sanctuary garden.