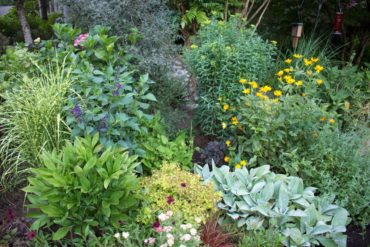 When Kathy Hawkins moved to this region after 40 years in Fairbanks, Alaska, where winters got to 60 degrees below, she threw herself into gardening, undeterred by deer.
With tremendous energy and commitment, Hawkins has involved herself in the many gardening resources the area has to offer. In the 15 years since she and her husband, Brian, bought their home in the McCormick Woods area of Port Orchard, Hawkins has taken classes at local nurseries and at Heronswood; became a Master Gardener; joined the Northwest Horticulture Society; and became a very active member of the Harbor Gardeners branch (Gig Harbor) of the Northwest Perennial Alliance, where she helps schedule speakers and organize their summer garden tours.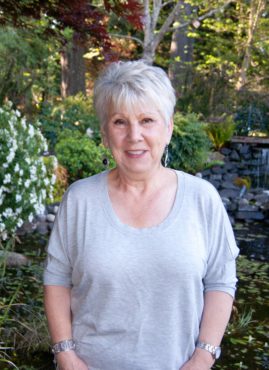 And she tours gardens at every opportunity.
"That's such an inspiring thing to do," she said.
She revels in the variety of plants that can grow here and loves going on plant shopping expeditions near and far. Locally, her favorite nurseries are Bay Hay & Feed on Bainbridge Island and Valley Nursery in Poulsbo.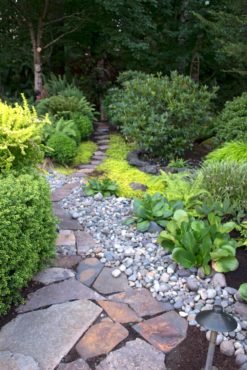 "I go the other way to Vassey in Puyallup, and McClendon on 6th Avenue in Tacoma," she said. "And I go up to Christianson's in Mount Vernon. A bunch of us Master Gardeners get together and go. Only about three or four people, so there's room for plants."
Dining Out
The result is a gem of a garden. Despite the hefty deer population.
"They're little buggers," Hawkins said. "And they come with their friends."
While she does focus mostly on plants distasteful to deer, she will not be deterred from planting some of her favorites, like lilies and hostas. The garden is lush, full of color and foliage variety, and designed for outdoor living and entertaining.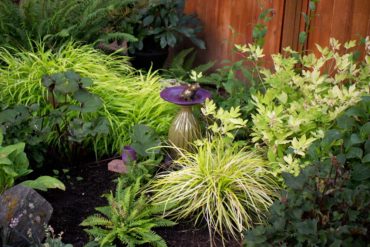 When the couple bought the nearly half-acre property 15 years ago, it was just forest. The builders totally cleared it.
"We chose this lot because of the sun," Hawkins said. "It gets a lot of afternoon sun."
They hired a professional landscaper, who installed all the hardscape, including a pond with a small waterfall, large rocks and gravel and a small fountain in front, and then brought in "tons of topsoil" for the beds. Aside from a few bigger trees planted by the landscaper, Hawkins has done the planning, planting and most of the maintenance of the garden.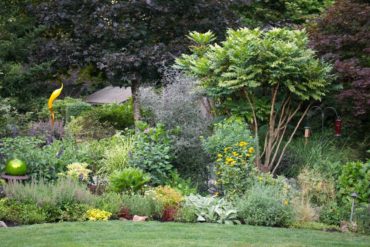 Asked what their goals for the garden were, Hawkins replied, "I think just pleasure. We just wanted to be able to enjoy, and be out in it, and have color. We wanted lots of color."
The couple spends time in the garden drinking coffee in the morning, eating lunch or dinner, and spending time with friends.
"My favorite things to do are shop for plants and shop for food, because I love to cook, and I love to have people for dinner," she said.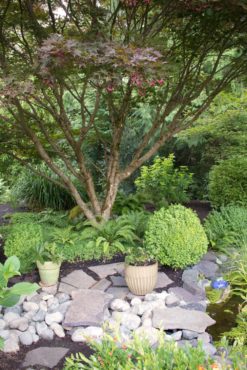 Just outside the back door, a concrete patio, attractively bordered with a curve of contrasting rectangular pavers, looks inviting with a table, chairs and umbrella. Large pots and hanging baskets spill over with color. At the back of the small lawn, by the edge of the pond, a small, red bistro table and a pair of matching chairs sit on a single, large slab of rock. It's a prime location to take in the soothing sounds of the waterfall and lush greenery.
"We'll also put tables out on the lawn," Hawkins said. "We just knew we wanted a place for small groups of people to have dinner."
Foliage and Flowers
Garden beds surround the lawn on three sides. A stand of mature Douglas fir backs up the property, creating a feeling of a very private, almost secret garden. A path of stepping stones leads enticingly around behind the pond, disappearing among the trees and reappearing on the opposite side of the pond.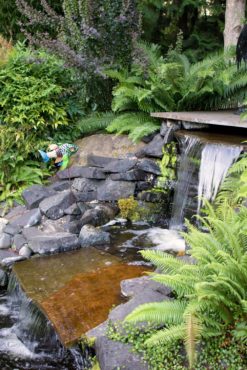 Water lilies and other water plants thrive on the pond. To one side, a grouping of plants in many shades of green surrounds a hummingbird feeder and a birdbath. This works enchantingly well because of the many shapes and sizes of foliage: large, fatsia-like variegated Fatshedera in a big pot; flowing, gold Japanese forest grass and upright striped grasses; elephant-eared bergenia; several varieties of ferns; and gold creeping jenny. A small pot holds only a gold moss, which fills it and spills over the edges like a mossy wig.
Close by, a big 'Sunglow' barberry adds a burst of bright gold foliage in front of the dark waters of the pond. Companions near it include purple-leaved, columnar Helmond's pillar barberry; some rhododendrons; small boxwoods; boxwood-like Ilex crenata convexa; and a small, round 'Golf ball' pittosporum.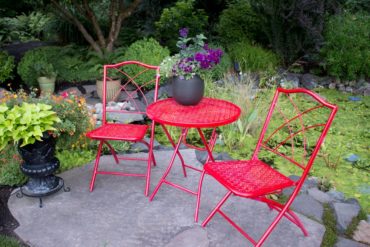 Along the sunniest side of the lawn, trees and shrubs anchor a deep perennial border. These include several different Japanese maples, a tall Mahonia, 'Wine and Roses' Weigela, spiraea and hydrangeas. There is also an unusually tall Corokia, noted for its very twisty branches and nearly invisible, tiny leaves.
In this bed, Hawkins grows several kinds of tall, blue salvias; sea holly (Eryngium); alliums; red beebalm; peonies; verbascum; catmint; Jerusalem sage (Phlomis fruticosa); a few lilies; yellow ox-eye sunflowers (Heliopsis); yarrow and silvery lamb's ears.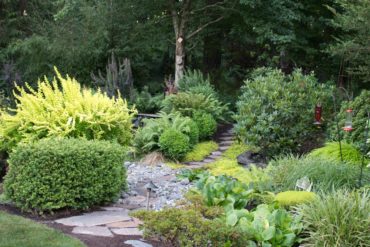 Hawkins adores peonies. She has so many that when they bloom, she cuts bouquets and delivers them in the neighborhood, since they're so short-lived.
"Everyone should enjoy them," she said.
A bed along the opposite side of the yard was planted for shade plants before an overgrown screen of Leyland cypress was removed recently. Ligularia, beesia, hosta, saxifrage, black mondo grass, gold bleeding heart, deer fern, gold Japanese forest grass, toad lilies and some primroses grow here.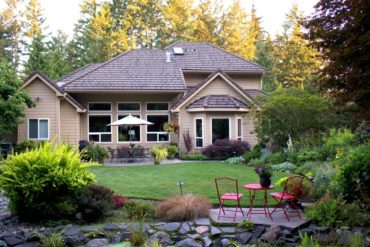 Hawkins is looking for a suitable columnar evergreen to use as a replacement screen along the fence — something that won't grow as fast or as big as the Leylands.
"And I want to get a couple of interesting rhodies with unusual foliage," she said.
The emphasis on foliage variety carries through in the front planting beds as well. Umbrella-leaved Darmera peltata grows beneath the dark purple leaves of a flowering plum tree. Conifers with blue, gold and green foliage play off against a purple smoke tree; barberries of different sizes and shapes with rose, purple, and red leaves; and several types of ferns.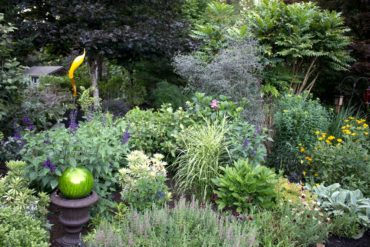 Ferns have fascinated Hawkins ever since she took a fern class with noted Northwest horticulturalist Richie Steffen. She now grows Alaska ferns, tassel ferns, deer ferns, autumn ferns, sword ferns, and recently royal fern.
And best of all, "the deer pretty much leave most of them alone," she said.
Challenges
Hawkins takes a multiprong approach to managing the deer problem. The first line of defense is selecting plants distasteful to deer. These include barberries, some ferns, peonies, all herbs including the beautiful blue-flowering salvias, beebalm and alliums. In her vegetable garden, she grows a lot of herbs for cooking, and finds that deer also don't eat garlic, zucchini or cucumbers.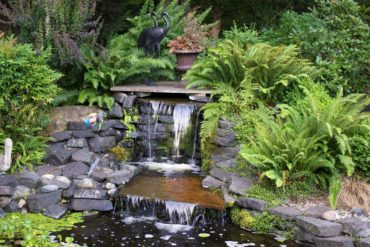 In addition, she uses deer-repellent sprays like Plant Skyd and Liquid Fence.
"I'm always out spraying," she said.
Does it work? "Sometimes; sometimes not," she admits.
She also uses some physical barriers.
"I'll net the lilies (with bird netting) and I keep moving the netting up as they grow. The lilies are kind of nestled in with the beebalm (not a deer favorite), so eventually, they're kind of hidden."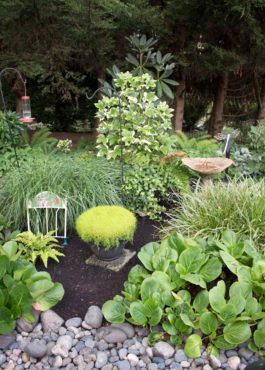 Hawkins and her next-door neighbor keep an eye on each other's yards.
"We'll chase the deer if we see them next door," she said.
Last February's extraordinary snowfall also dumped a heavy challenge on the garden. Hawkins said it was buried under more than 2 feet of snow that took three weeks to melt.
"It reminded me of where I grew up. It was hard on everything," she said.
Although it took longer this year, most plants rebounded. Except for those tall blue salvias. But Hawkins said she will plant them again, because they are beautiful — and deer-proof.