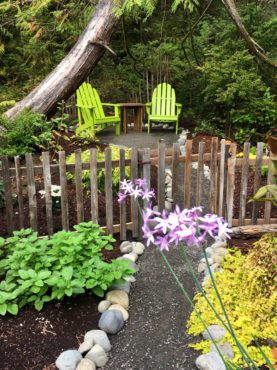 Gardeners seem to be some of the happiest and nicest people on Earth. There is something euphoric about getting one's hands in the soil, planting little sprouts and seeds, and watching them become beautiful, living things.
As if that weren't enough to make the happy endorphins emerge, gardening also produces a strange desire in the gardener to share this euphoria with others.
That tendency is definitely a great bonus for the Gig Harbor Garden Tour. Each year, there are so many wonderful gardeners who are more than willing to share their accomplishments with others. As Patty Pecchenino, whose garden has been on the tour four times during the last 20 years, says, "What is the good of having a garden if no one ever sees it but you?"
This year, the tour includes seven gardens whose creators want to share the fruits (and flowers) of their efforts with the general public. They range from city to country styles, eclectic to formal, and contemporary to traditional.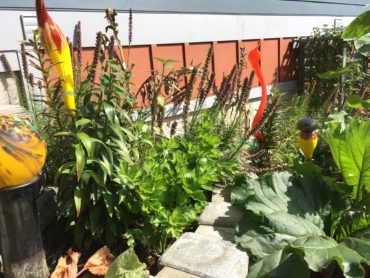 Geographically, the tour is extending a bit farther north, with four gardens in Olalla, because there are so many great gardens in that direction. The other three gardens are closer to central Gig Harbor, with one very close to downtown, one on the Carr Inlet side and one on the Narrows Passage side.
All have much to share, including new ideas in design; perfect plants for our area; innovative methods for water-wise gardening, maintenance and pest management; and amazing garden art.
Jane Poulsen's garden on the west side of Gig Harbor, looking over Lay Inlet and Raft Island, was on the tour in 2007. Her husband, Fred, died last year and Jane decided that opening her garden again would be a lovely homage to his memory. The Poulsens' daughter lives next door and lends a hand in tending her parents' garden, which abounds with colorfully planted beds and containers, comfortable places to sit and enjoy the water view, and charming bronze sculptures throughout.
On the other side of town, overlooking the Narrows with a view of Point Defiance, the Rutt garden is a study in how to use plants to soften the hardscape. Walls, walkways, trellises and pergolas provide excellent backdrops and frames for a variety of trailing, climbing and espaliered plants to delight the eye. The sloping lawn behind the house provides clear views across to the southern end of Vashon Island and the entry to Commencement Bay.
Close to downtown in the Finholm area at the end of the harbor, the Knapps' house perches on an irregular lot that lends itself to creative gardening. The warm colors of the plants and garden art reflect and contrast with the terra-cotta shades ("Smoked Salmon" and "Stormy Seas") and the very contemporary angles of the house's architecture.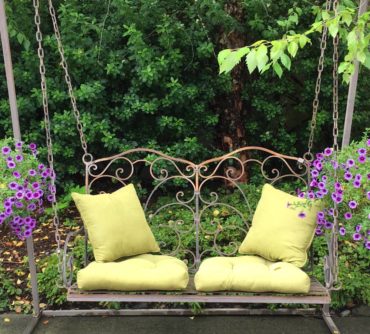 Galvanized watering troughs, acting as raised beds, are home to a mixture of vegetables, annuals and perennials. The touch of the artist is definitely on view in this colorful palette of a garden.
Folks coming from areas north of Gig Harbor will be glad to find that they can approach the following four gardens on their way to the gardens in town.
The Cox garden is just above the bridge on Olalla Bay. A Master Gardener, Paul Cox has created an amazing organic oasis: a lovely garden and a comfortable place for outdoor entertainment and enjoyment of perennials, annuals, flowering shrubs and fruit trees.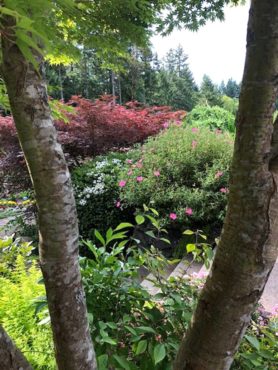 In this garden with ecology in mind, a major feature is the huge solar array that provides water for the entire property as well as the house. This is definitely a must-see place, along with the terraced vegetable and herb garden; it's the second garden on the tour that makes use of galvanized water troughs as raised beds. "For an in-depth read on the Cox garden, see the March/April issue of WestSound Magazine."
The Shoap/Stelmach garden could be described as "elegance in the woods." In a natural setting surrounded by native trees, these gardeners have carved out flowing borders and filled them with a colorful collection of favorite Northwest garden varieties as well as some rarely seen exotic plants.
A flowing stream ending in a small pond is cleverly designed to seem like a natural, bubbling creek. Nearby are comfortable places to sit and enjoy the scent of 13 varieties of roses. The front, unfenced gardens are an ongoing experiment in finding "deer-ly distasteful" plants.
Across the way from the Shoap/Stelmach garden, the McWhirters claim that this is the last in a series of gardens they have had in different houses over the years. In just two years, they have created a wonderful, comfortable and accessible garden.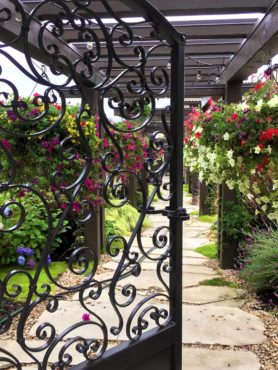 An English cottage garden comes to mind, including a gravel walkway and the incorporation of a variety of eclectic blooming plants with sustainable grasses, small trees and shrubs. A large, fenced garden protects vegetable and fruit trees and a restful garden "room" with colorful Adirondack chairs is hidden behind the house.
A large country garden is a surprise treat as one rounds the corner of the Manning house. A raised lawn behind the house looks out over perennial, conifer and vegetable gardens that tend to attract an abundance of birds, butterflies and bees.
In the far corner, there is a sizable pond surrounded by lush greenery, including a well-established gunnera. This prolific garden includes an orchard with apple, pear, cherry and plum trees. The garden shed is a restored railway cart with a living roof of sedums and succulents.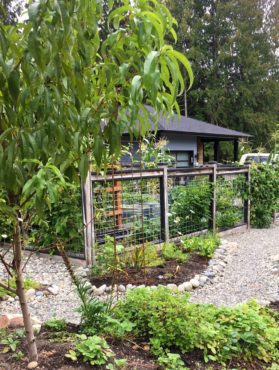 When you buy a ticket to the Gig Harbor Garden Tour, you don't just buy into a share of beauty and gardening expertise; you also invest in the joy of reading for a worthy child or adult. Proceeds from past Gig Harbor Garden Tours have provided literacy grants of over $20,000 a year to more than a dozen local schools and community groups.
Get Involved
To find out how to volunteer as a docent or greeter at one of the gardens, please go to gigharborgardentour.org and click on "participate."
Vendors
Vendors selling garden-related items and crafts will be located at some of the larger gardens. Items for sale include Kate Larsson's beautiful art, Nature's Lover Clay Works with lovely local pottery, and Blue Frog Nursery's great specialty plants such as Japanese maples.