The Roadhouse Nursery in Central Kitsap plays a distinctive role in the local gardening community. Owners Jan and George Bahr opened the retail nursery in 1985 and have operated it without employees for more than 30 years.
Their idea for a nursery began in the early 1980s, when their second child started kindergarten. At the time, George was employed as an engineer, and Jan began pondering what to do with the rest of her life.
Jan Bahr's interest in horticulture led her to complete a horticulture certificate program through Olympic College. With her training, she wanted to either start a landscape company or open a nursery. Bahr ultimately chose the nursery path because it was less physically demanding, required less equipment and was a business she could do by herself.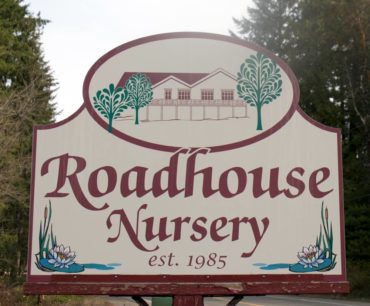 While she loved the design process that a landscaping business would provide, Bahr wanted to sell plants, work directly with customers and offer design advice.
"My focus has always been on helping people pick out the plants they need for their gardens," she says.
In 1984, the couple purchased several acres of horse pasture on Central Valley Road between Silverdale and Poulsbo. The permit process for starting a nursery required details such as where the plant beds would be located, how customers would access the plants and what buildings would be constructed on the property. The process took Bahr a year and a half to complete, as she carefully thought about how to fit her nursery onto the existing land.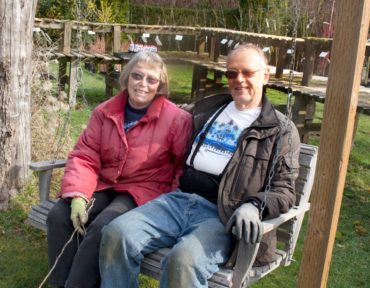 "I'm not the kind of person who wants to force Mother Nature into my blueprint," she says.
The property came with a house, some apple trees, a row of Lombardy poplar trees, an old barn and two ponds. The Bahrs reside in the house and enjoy sharing stories about its lively past as a 1920s dance hall, or roadhouse, known as the Pine Tree Inn.
One of Bahr's customers said that her parents would not let her go to dances there, while another had a grandfather who ran booze to the place during the Prohibition. With such a history and a prominent location by the nursery's entrance, it seemed fitting to name the new venture "Roadhouse Nursery" to preserve the building's heritage.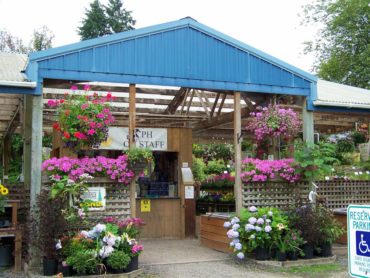 Finding a Niche with Water Plants
In its beginnings, the nursery had just a few beds of plants that Bahr planted under the poplar trees near the house. She also began selling hanging baskets filled with plants and kept them under a fiberglass roof in the space between the house and garage.
Shortly after opening the business, Bahr realized her nursery needed a niche. One day when down by the ponds, she was eyeing the water lilies a previous owner had planted.
"I kept looking at those water lilies," she says. "Coincidentally, when I was a kid in 4-H, in my early teens, I did a water garden as a 4-H project, and I had that (water garden) as a 4-H project for several years. So that seed was there years and years ago. At that time, nobody was doing water plants in this area, and it was before the first big water garden craze… before water gardening was really mainstream."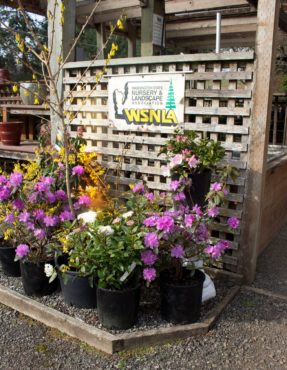 Bahr started selling plants out of her ponds, along with water-gardening hard goods such as pond liners and pumps, and before long, the nursery started booming. When customers wanted to purchase water plants, Bahr recalls she had to put on her hip boots to get plants out of the ponds, "pulling them up on the side of the pond and bringing them up the bank on a cart."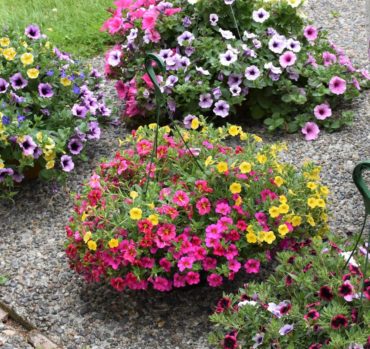 As a better solution, she asked George to build her some raised, rectangular ponds by the plant sale area with different depths of water in each. The ponds now grow water lilies, arrowhead, dwarf water bamboo, water iris, zebra rush, graceful cattail, marsh marigold, water hawthorn and other aquatic plants, and Bahr no longer has to go down the bank to retrieve pond plants for her customers.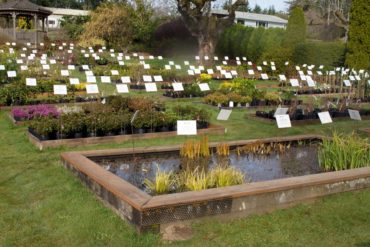 When it comes to knowledge of water gardening, Bahr is a master. She is a certified horticulture professional, and throughout the nursery, she demonstrates ways to incorporate water gardening into any size space, from half barrels to fountains to a 25-foot pond. The display garden she designed is a prominent part of the nursery.
"Since water gardening was, and still is, our niche market, I figured we needed to have some sort of a display area," Bahr says.
The display garden began with two streams that flow into a recirculating koi pond that holds the fish sold in the nursery. In keeping with her philosophy of fitting the design into the existing topography, Bahr later expanded the garden up the hillside by adding plants, rocks, a zigzag foot bridge and eventually an upper pond that showcases more than 25 water lilies.
Bahr's Specialties
Unlike the lower pond, the display garden's upper pond holds goldfish and does not recirculate.
"Goldfish you can do without filtration. Koi are too hard on the plants," Bahr says.
A wooden gazebo sits adjacent to the upper pond. Bahr purposely placed the gazebo at the center of that axis of the garden to overlook the rest of the nursery.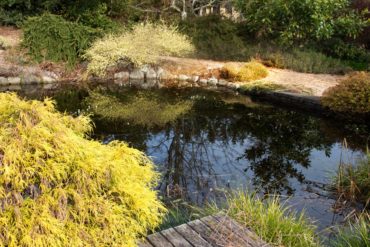 Throughout the nursery, customers can see other examples of garden design, including a swing and birdhouse attached to the remaining trunk of an apple tree, and a carefully designed hedge screen that borders one side of the property. Bahr is available to talk to customers about design elements in the nursery during open hours.
Pond plants are one of the most popular items sold at the nursery. One of Bahr's favorites is water hawthorn because it blooms all winter.
"I never met a water lily I didn't like," Bahr humorously adds.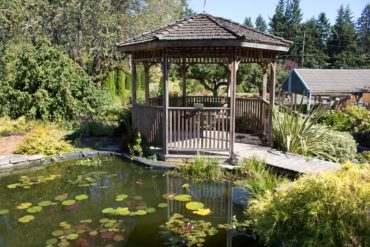 Her hanging baskets are another customer favorite. Initially, she purchased the nursery's hanging baskets from suppliers. Then, one year, a customer asked Bahr to provide planted baskets for the Port of Brownsville. That led to other people asking for her custom baskets, and now she fulfills about 1,000 orders for them every year.
Bahr's custom shade baskets mostly contain fuchsias, impatiens and bacopas, and her sun baskets include Picasso petunias, lime potato vines and purple verbenas.
"I've found that no matter what weird combination of flowers I come up with for a basket, somebody will like it," she says.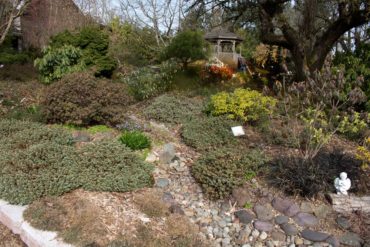 Bahr also continues to design hanging baskets for some of the local marinas. It is obvious that she enjoys helping customers and making a connection with them. Many of them come back year after year, some even remembering when they came there as children.
Along with pond plants and hanging baskets, the nursery also carries flowering shrubs, a selection of trees and a full line of annuals and perennials, including wave petunias, Calliope geraniums, calibrachoas, hellebores, hostas, peonies, primroses and ground covers. Berry shrubs, fruit trees, vegetable starts and herbs are also part of the inventory.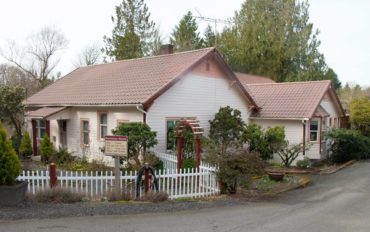 Although the nursery does sell a small selection of ceramic pots, fountains, fish and pond supplies, customers will not find craft items, books, bird supplies, garden decor or seeds here since Bahr's focus is on selling plants.
Adapting to Change
The Roadhouse Nursery has expanded over time to about one and a half acres. In the early years of the business, the Bahrs extended the parking lot, cut down the dying poplar trees that towered more than 100 feet over the house and moved plants from wetter areas to a drier spot uphill. They later erected the greenhouse and built an open-air pavilion for annuals and retail sales before adding the display garden.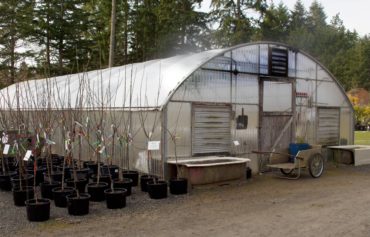 "Lots of times, Mother Nature dictated what we did," Bahr explains. "It just started developing. All along, I tried to take into account the natural lay of the land, how best to work with Mother Nature."
She said that adapting to change and looking for opportunities are key to running a business. The nursery's award-winning rain garden is a prime example of how Bahr made a change when opportunity knocked. She had wanted to divert storm runoff that was being carried into the ponds by a culvert running under the house. When she and her husband removed the aging poplar trees, it gave her a chance to change the grade of that part of the property to fix a drainage problem.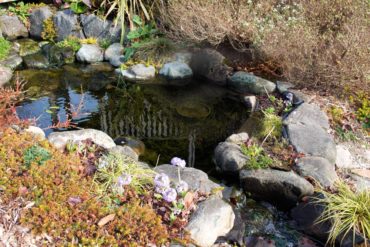 Using Washington State University's newly printed guide on how to install a rain garden, Bahr designed one for the nursery.
"That was an example of how information became available at a time when I was able to do something about it," she says.
In 2011, her knowledge and efforts earned her rain garden the Clean Water Partner Award from the Kitsap County Surface and Stormwater Management Program.
Community Partnerships
As local business owners, Jan and George Bahr look for opportunities to give back to the community. One of their major community-service projects is the annual Brownsville Elementary School PTSA fundraiser. Bahr sells plants to the school's PTSA at her cost, allowing the PTSA to keep the proceeds from sales to directly benefit the elementary school.
Bahr also volunteers as chairperson on the North Kitsap School District's Agriculture Education and Science advisory committee and is a member of the Washington State Nursery & Landscape Association Scholarship and Research Charitable Fund that assists aspiring gardeners and designers with entering the horticulture field.
The Nursery's Future
George Bahr joined his wife in operating the nursery in the early 1990s.
"At some point, we decided we would keep the nursery at a level where George and I could do it ourselves, just what the two of us could do," Bahr says.
Recently, she asked him if he thinks they will be doing this when they're 80.
"Without hesitation, he said, 'Yes,'" Bahr says. "We have decided as long as we retain our health, we will continue to do this, but we are going to give ourselves permission to do some of the things that we wouldn't have done years ago. The business is still evolving, and (we're) trying to meet our customers' needs, but meet our own needs as well."