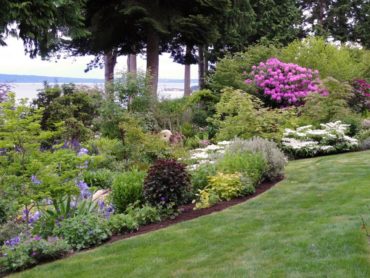 When Don and Lenore Lynch moved to Kitsap County from Pasco, Eastern Washington, about 10 years ago, they each began a gardening love affair. Lenore, with a strong design background, was swept away by the wondrously greater plant palette of foliage and flower, color and texture that thrives here. Don, a scientist, embraced the coastal native plants as the logical choice for the challenging terrain at the back of their new property.
"We knew that this was kind of like a plant paradise," Lenore Lynch said. "We looked forward to less heat and less extreme cold."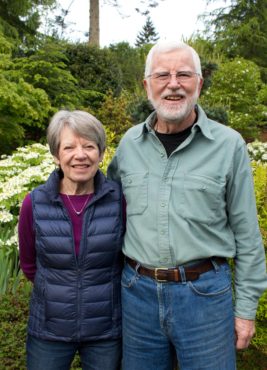 The couple's half-acre property backs up to a steep bluff overlooking Puget Sound and the Cascade Mountains. Before they built their home, "it looked very woodsy,"Lenore Lynch said, with lots of big-leaf maples and conifers." Today, the garden is a richly colored tapestry that weaves together both of their loves.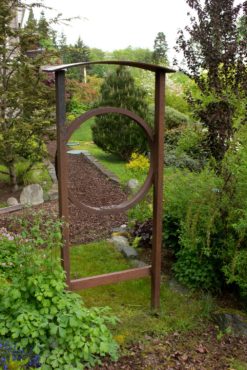 Much of the site is either somewhat level or gently sloping where the house and gardens are. Toward the back, it drops sharply to a shelf, which acts as a buffer zone protecting against erosion before plummeting down to the shoreline through Douglas fir, red alder, maple, nootka rose and other native plants.
In planning the garden, the Lynches made several key decisions. They would not install an underground irrigation system. There would be no lawn to mow in the front, and only a small lawn near the house in the back "to set off the beds."
In order to best deal with the gradual slope in the back, planting beds would be laid out side-to-side across the slope, with switch-backing paths between them. And there would be a transition from native plants near the bluff to "domesticated" garden plants nearer the house. "The closer you get to the house, the less native stuff you find," Don Lynch said.
The Front Garden
After a short, steep bank down from the street, the front garden is relatively level. Old Douglas firs on county property beside the street cast afternoon shade across the southern part of the front and the south side garden. On the bank itself, the Lynches planted vine maples, Japanese maples, rhododendrons, ferns and groundcovers to hold the soil, create seasonal color and, eventually, add more shade.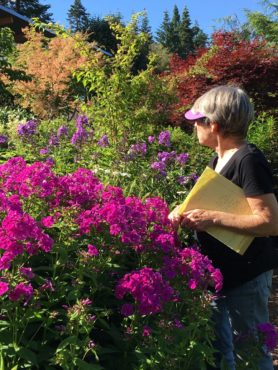 Lenore Lynch's design skills show in the interplay of color, form and texture throughout the garden. Deep-purple smoke trees (Cotinus coggygria) play off against vibrant, gold-leaf spiraea and a gold Japanese maple. The texture of a lacy, spring-green fern contrasts with dense, dark needles of dwarf mugo pines.
In May, a low hedge of Mexican orange (Choisya ternata) greets visitors with a profusion of sweet-scented, white flowers. Variegated redtwig dogwoods (Cornus alba 'Ivory Halo') echo the green-and-white motif, as do double-file viburnum (Viburnum plicatum f. tomentosum 'Mariesii') with their twin rows of dense, white blossoms.
Anchoring one end of the front garden, a tall dove tree (Davidia involucrata) spreads its limbs like sheltering wings over a clutch of part-shade-loving plants. White rhododendrons, oak-leaf and lacecap hydrangeas, fragrant Magnolia sieboldii, strongly variegated Daphne odora, Lonicera nitida 'Lemon Beauty' with tiny and cream-edged leaves, white-edged hosta and red-veined Chinese impatiens all thrive here.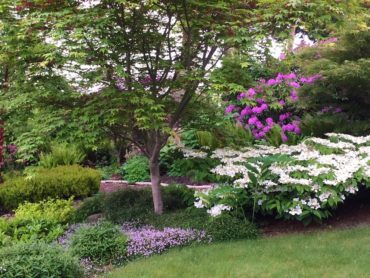 Under the dove tree's branches, in large pots, there are several young Japanese maples of various colors.
"This is where we put some maples that like shade; they get tucked in here," Lenore Lynch said.
Plant Mementos
Woven through the garden are plants that hold memories of places where the couple have traveled, of people and of their former garden in Pasco.
A shore pine (Pinus contorta) punctuates the end of the Choisya hedge.
"We bought it in Oregon, outside of Portland. It's fun to think about all the different places where we acquired plants in the Northwest," she said. "Sometimes we'd go plant shopping with my sister, who lives in Corvalis. That was a fun thing to do together."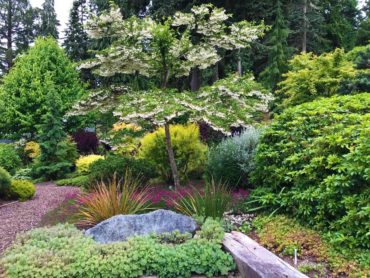 A slender Hinoki cypress (Chamaecyparis obtusa 'Gracilis') in the front garden holds a special memory.
"That was one of the first plants we bought," she said, adding that when they look out the front door, "it's the first tree that really catches your eye."
A Japanese snowbell tree (Styrax japonica), another early acquisition, was purchased on a tour of a private garden in Portland. In spring, its small, white bells dangle above a vivid carpet of pinks (Dianthus 'Tiny Rubies').
A patch of blue-eyed grass (Sisyrinchium bellum), with its sweet little blue flowers, especially pleases Lynch.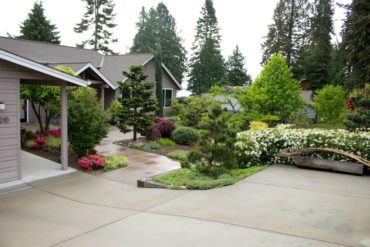 "I saw it on a hike that I took with my mom in the Santa Cruz Mountains," she said.
She bought some locally and now has her own blue-eyed grass.
"It brings back a memory of doing something with my mom that we both enjoyed," Lynch said.
A fragrant, winter-blooming viburnum (Viburnum bodnantense 'New Dawn'), next to the front-entry path, was a gift to commemorate a family member who passed away.
The South Side Garden
An orangebark stewartia (Stewartia monadelpha) is another souvenir of nursery exploring in Oregon. The Lynches love its namesake peeling bark; small, white flowers in July and vibrant-red fall color.
Just beyond the Stewartia, a path leads along the south side of the house, past a part-shade border garden with a blue, gold and white theme. Luxuriant cascades of gold-striped Japanese forest grass (Hakonechloa macra 'Aureola') line one side of the path, intermixed with blue 'Rozanne' hardy geraniums.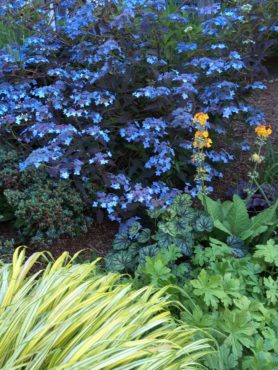 The couple had grown the forest grass in their Pasco garden, where "it limped along" because it was too hot. Among the 100-or-so small pots of things Lynch brought from their old garden were some pieces of the forest grass.
"Now I have huge mounds of it," she said.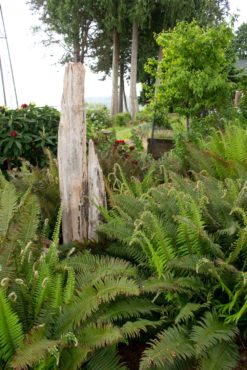 Behind the forest grass, there are large-leaved hostas and several varieties of blue-flowered hydrangeas. A small dogwood tree in a pot has leaves that are nearly white. And their neighbor's hydrangea, a bit of "borrowed landscape," also has variegated green-and-white leaves.
The Back Garden — Transitions
The backyard is host to transitions — from native to cultivated, and from spring to autumn.
In planning the layout of the garden beds in back, early on the couple had found a very long nurse log lying almost parallel to the upper-bluff edge and about 15 feet back from it. It nearly spanned the width of the property. With deciduous huckleberry and moss growing on it, and ferns and salmonberry around it, the nurse log made a natural dividing line between native and nonnative plants.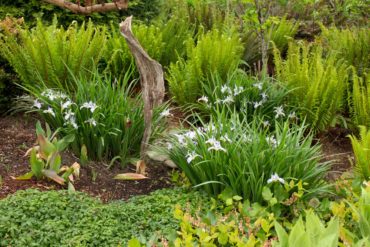 From the nurse log to the bluff, they have planted only drought-tolerant, low-maintenance natives.
"We want plants here that have good root systems, because we're near the bank," Don Lynch said.
They planted salal, flowering red currant, mock orange, twinberry, oceanspray, redtwig dogwood, thimbleberry, ninebark, Oregon grape, false Solomon's seal, wild ginger, snowberry, Indian plum, more salmonberry and lots of sword ferns.
Some plants were happier choices than others.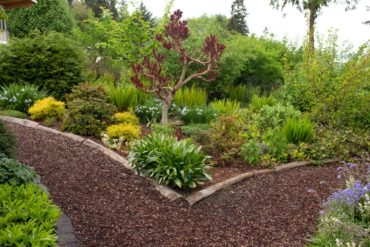 "Sometimes you learn in time that you don't want to bump into something like Oregon grape. It's pokey," Lenore Lynch said. "And the native rose is beautiful, but it's very, very thorny."
On the other side of the nurse log, there is a transition bed, anchored by a western red cedar. Originally, the cedar had three trunks. Two were removed to improve the view, leaving one trunk and a massive, tall stump. Here, huckleberry, ferns, Oregon grape and dark-leaved cultivars of ninebark mingle with epimedium, saxifrage, hellebore, phlox, lilies, red-leaf Japanese maple, deutzia and gold-leaf escallonia.
At about the midpoint in the backyard is Lenore Lynch's dahlia bed. When they are blooming, she said, "it's a big punch of color right in the middle."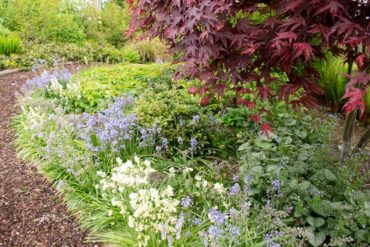 In the beds and borders surrounding the small lawn nearer the house, color, form and texture all combine for dynamic plant combinations. Gold heather plays off against the coppery bark of a paperbark maple. Blue-leaved hostas and silvery brunnera underlay red Japanese maples. Fine-textured blue foliage of alpine plum yew (Podocarpus alpinus 'Blue Gem') alternates in a border with low-growing Mount Vernon laurel's shiny green leaves.
But even in this part of the garden, a few evergreen huckleberries and sword ferns blend well with exotics like southern African Kaffir lily (Schizostylis coccinea), Korean lilac and Lobelia tupa (native to Chile).
Seasonal Transitions
Through the seasons, numerous Japanese maples with varied leaf color and form, purple smoke trees, evergreen and deciduous shrubs and perennials provide a wealth of color and texture. In spring, soft colors predominate — lavender-blue, white, pale pink and yellow of iris, lilac, columbine, peonies and rhododendron.
Vibrant dahlias, phlox, bee balm, helenium and lilies heat up the color palette in summer. And autumn is on fire with the maples and smoke trees.
"I'm really noticing the progression of plant bloom this year and enjoying it so much," Lenore Lynch recently said.
The Lynch garden certainly is a plant paradise.