Welcome to the dark side.
Almost every new gardener wants a garden full of flowers. Usually the flowers on their wish list come from plants that need full sun. And tomatoes — almost everyone wants to grow tomatoes. Yet it is going to be impossible to grow a decent tomato in a shady garden. Sorry.
Even a property basking in full sun has some shaded areas. Every landscape will have various shades of light, from dappled to deep shade. Culprits of the dark side include the north side of buildings, under a tree canopy, under a tall deck or inside an intentional shade house. In the shadowy dark, fantastic possibilities lurk for an extraordinary shade garden that includes fabulous plants and interesting features.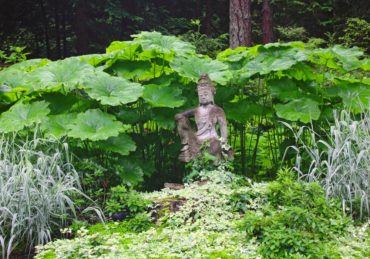 Do not let the dark side get you down. Not all shadows are alike. Some areas are easier than others for growing plants. The hardest area to grow plants is under large conifers, where the roots suck away every drop of moisture. The easiest shade areas are those that have morning sun/afternoon shade or dappled shade, and the north side of buildings that are open to the sky.
If all you have growing in the dark, dry, acidic soil around your conifers such as Douglas firs (Pseudotsuga menziesii) are sword ferns (Polystichum munitum), salal (Gaultheria shallon), low Oregon grape (Mahonia nervosa), don't give up. Lucky you. Don't rip them out just yet, if at all.
You can introduce plants into the fray without ripping everything out and turning the area into a Siberian landscape. Appreciate the beauty of established native ferns other people outside the Northwest wish they could grow.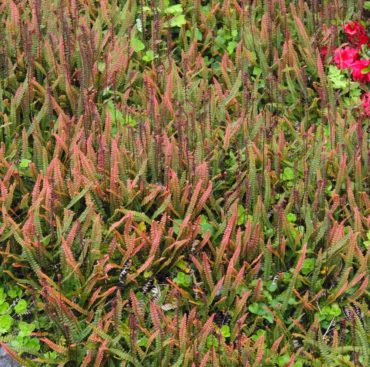 Tuck in a beautiful pot as a focal point, add a splendid bench and enjoy the simple pleasure. Some good ground covers to include are bishop's flower (Epimediums) and inside-out flower (Vancouveria), and native sedums (Sedum oreganum and S. spathulifolium) in the brighter shade areas. Carpet box or Japanese spurge (Pachysandra terminalis) and lily-of-the-valley (Convallaria majalis) will work too.
Add honeysuckle shrubs (Lonicera), red and evergreen huckleberry (Vaccinium parvifolium and V. ovatum), and native elderberry (Sambucus racemosa). When they are in competition with tree roots, planting in the fall helps them establish their roots better. Keep new plants watered the following year until established. Planting farther away from the tree roots opens up other possibilities.
For more color, add a large container to the garden and fill it with begonias, impatiens and other shade-tolerant flowers. Keep the container from touching the ground so the tree roots don't invade the pot. A container sitting in contact with the ground invites the roots to follow the moisture up into the pot, which then destroys any advantage you had.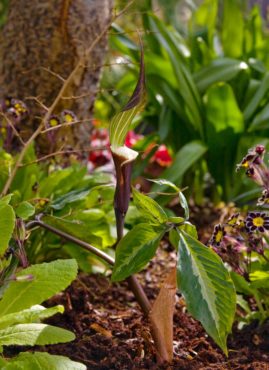 Consider leaving the skirts on your majestic Western red cedar trees (Thuja plicata) to hide the area where it is a difficult place for most plants to grow.
Moving on to other shade conditions, there are many outstanding foliage plants to throw into your mix of shade lovers. More accurately, they are considered shade tolerant. However, shade lover sounds more romantic. The glimmering, evergreen leaves of Beesia deltophylla are an excellent choice for the dark side. The bees will enjoy the small, white flowers in summer. Now toss in some moss, a few ferns and even a mayapple (Podophyllum 'Spotty Dotty'), and you have a party made for shade.
Underneath it all, you can plant two ground-covering plants for the darker shade. Include the semi-evergreen, creeping forget-me-not (Omphalodes verna). When planted in drifts, in late February and March, they form a sea of blue, forget-me-not-like flowers, for which it is named. The other ground cover is a 6-inch-tall charmer — three-leaf cardamine (Cardamine trifolia), an evergreen ground cover that the bees love when its white flowers bloom in spring.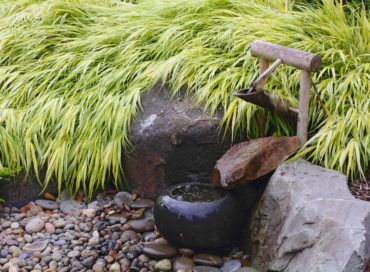 A few choice plants embrace the dry, dark side. An evergreen Solomon's seal (Disporopsis pernyi) forms colonies with arching stems that reach 16 inches tall. White, bell-shaped flowers tipped in green dangle down underneath the stems and emit a light, lemon fragrance for your enjoyment.
Around the edges of a colony of Solomon's seal, plant Cyclamen coum (a winter bloomer) and C. hederifolium (a fall bloomer). Both are fantastic plants for a winter presence in the shade. Their flowers are smaller than florists' cyclamens but their hardiness makes them popular ground covers for fall, winter and spring. When the heat and drought return, the plants go dormant, hiding out underground. Many have interesting leaf patterns, from silver to green markings.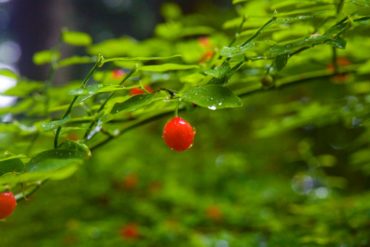 If you have a place in the garden with moister soil, where you water regularly, your plant palette opens up to include astilbe for their plume-shaped racemes filled with tiny flowers. They will look right at home rubbing elbows with the large-leaf hostas and the graceful Western maidenhair ferns (Adiantum aleuticum).
Next, throw in a few Arisaema bulbs for their unusual flowers. Arisaema consanguineum has a tropical flair to its leaves. In addition, there is always the quirky Arisaema triphyllum 'Black Jack' – a jack-in-the-pulpit with a varietal name that sounds like it belongs in a casino and looks like a bird spreading its wings.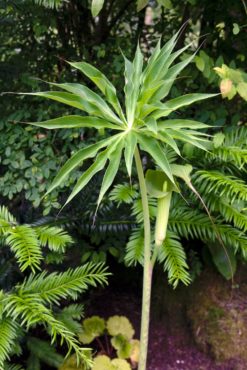 To light up the shade, Brunnera macrophylla 'Jack Frost' is considered one of the best Siberian bugloss with silver foliage and forget-me-not-like blue flowers.
Hakonechloa 'Aurea' is the Japanese forest grass that glows in the shade. A large drift of these on a hill visually reminds you of flowing water.
To furnish a shady garden, add bright colors to your furnishings. A cheerful, red bistro set or multicolor cushions add some zest in an otherwise quiet garden. A large mirror reflects the surroundings and bounces light into the shadows. A door-size one positioned shrewdly in front of a path adds another dimension. Surrounded by plant life, the mirror will look like an opening into a garden behind it, cleverly enlarging the space visually — a size boost for a small garden.
Pay attention to textures and marry large-leaf plants such as a rodgersia or Astilboides tabularis with the small leaf of the ground cover fern Blechnum penna-marina. Its fresh fern leaves echo the spotting in the mayapple (Podophyllum 'Spotty Dotty') foliage.
Don't let the dark side of your garden discourage you. Embrace it, plan for it and plant it with stunning shade lovers. You will find it becomes your favorite place in the garden.