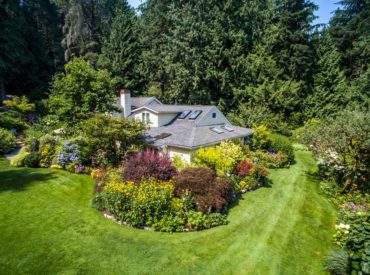 The garden of Nick and Marj Masla represents the best of the lives of the Masla family. This beautiful garden is the culmination of three decades of growing a passion for flowers, creating a retreat, building businesses tied to the bounty of the garden and nurturing a family with strong ties to the land.
The Masla family bought their little farmhouse on 2 acres of invasive scotch broom and blackberries in 1986. The property had a special guardian, a native Western white pine, Pinus monticola. This old tree, with its 4-foot-diameter trunk base, survived the first clearcutting of Bainbridge Island. The Maslas did what they could to keep the old giant as healthy as possible while it aged, but it finally succumbed last winter.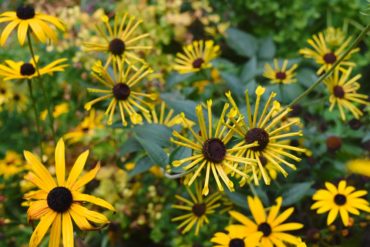 The home underwent several renovations to update the aging plumbing and electrical systems and to grow with the family. The Maslas did much of the work themselves. The home's cozy style is a testament to Marj's great taste and design sense.
Every window looks out into the garden paradise that has evolved under Nick's leadership and participation from each member of the family. As the children grew, they contributed more and more to the family's flower-bouquet stand. The profits from the flower stand funded family vacations to places like Disney World and beyond. What a great way to empower kids to help out, learn wonderful skills, gain a good work ethic and build healthy attitudes and bodies.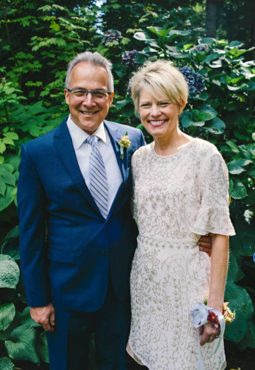 Nick Masla is a farmer and plant collector at heart, and loves a useful landscape. Marj is more interested in the balance and flow of the garden. These two approaches result in a perfect blend.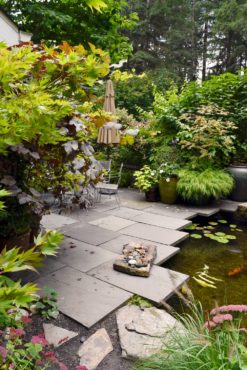 The collector's bounty of plants translates into a generous supply of blooms and foliage for bouquets and wreaths. Marj Masla offers workshops in wreath and bouquet making in their wonderful workshop. The light-filled workspace is decorated with a great collection of eclectic treasures, but the most notable decoration in the workshop is the original, full-sized menu from the Kel-Lin Drive Inn restaurant. Fish and chips were $3.50 back then. It is fun to see how much restaurant menus and prices have changed.
The amazing array of flowers from the garden fuels an active flower-arranging business through a subscription program, where customers sign up for a specific number of bouquets over the eight-week summer season, prepay and get to enjoy a fresh bouquet either weekly or bi-weekly. The bouquets can be seen at businesses around town, as well as being a favorite donation item at local auctions. The flowers also find their way to weddings and other celebrations.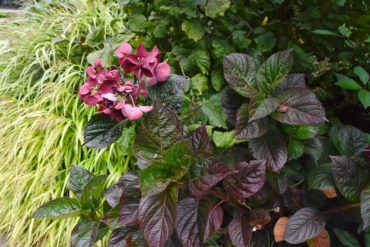 The Fletcher Bay Road flower stand is well stocked from June through October, and customers can stop by to make their own bouquets.
Thriving Plants
Many other types of plants live under the Maslas' care. Among them, a 70-year-old apple tree presides over the garden, lending timeless charm.
Walking along the grassy pathways that wind among the curving planting beds, the visitor can enjoy a large collection of hydrangeas, among Nick's favorite plants. Hydrangea macrophylla Double Delights series have beautiful double lacecaps that bloom all summer long and can be cut back hard each year. Hydrangea paniculata 'Quick Fire' is a 6-by-6-foot beauty with early-blooming, open-cone flowers that change from white to red. Hydrangea macrophylla 'Brunette' sports dark red foliage and deep red flowers. Hydrangea 'Pistachio' stuns with its continuous bloom of green and dark pink petals and periwinkle centers.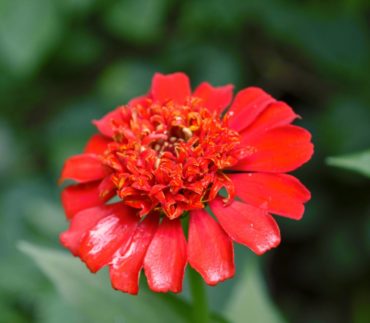 There are many others. Hydrangeas offer a long season of bloom and lend good structure to a mixed border. In return, they only ask for reasonably fertile soil and even moisture during the hot, dry summer heat. They prefer morning sun or filtered open shade.
Another of Nick Masla's favorites is the European spindle tree, Euonymus europaeus, named for its dense wood used in the making of wool spindles (the colorful pink fruits and orange seeds are toxic, and could be attractive to kids). Among the shrubs grow many perennial and annual flowers like Heliopsis 'Summer Sun' (a 2- to 4-foot, double-yellow daisy-like flower), colorful Scabiosa-flowered zinnias, Rudbekia subtomentosa 'Henry Eilers' (4- to 6-foot, edgy, narrow-petaled form of black-eyed Susan with a chocolate center).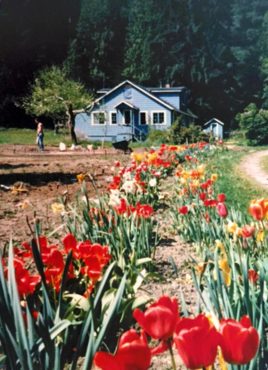 Yearly applications of compost and crisply-edged flower beds keep the bountiful plantings healthy and looking tidy.
The workhorse portions of the garden are long beds filled with flowering plants that surround a charming, sunken greenhouse created from recycled materials. The sun streams through the pane-and-leaded-glass windows, and recycled bricks from Seattle grace the floor and path.
The family can relax on a stone patio, comfortably settled next to the home's front entry and surrounded by generous plantings. A lively waterfall feeds a pond filled with colorful koi fish.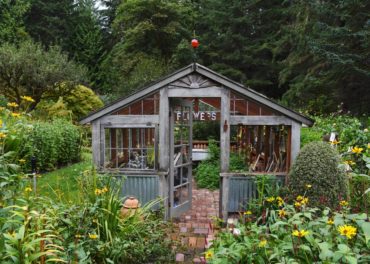 The lovely property serves as the perfect backdrop to the bed and breakfast the Maslas have created over the workshop. Settled among mature trees and overlooking the garden, it is a beautiful private retreat.
Although the Maslas get so much out of their garden, the related businesses serve mainly to support the garden, as they have both worked in their full-time professions off-island. Recently retired, Nick can now devote himself to the homestead, while Marj still splits her time and energy between work and home.
What joy a garden can bring to those who create it, as well as to those who visit!