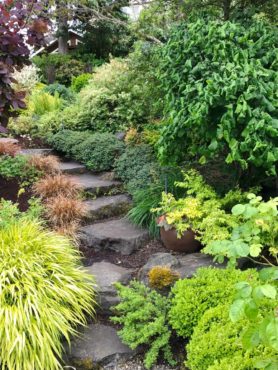 The power of a well-designed landscape is magical. But the long, narrow piece of grassy land sloping quickly toward the waterfront offered little magic to the imagination of Peggy and Bill Fox when they first laid eyes on the property in 1987. The home was a simple, dark rambler with small windows that seemed to shield those within from the best feature of the property: the view of Rosedale Bay and Raft Island.
The well-protected harbor is home to many boats and offers plentiful opportunities to enjoy waterfront living. Eventually, the Fox family would transform their home and garden to enjoy these gifts to the fullest.
A major home remodel started in 1997. The family moved out during reconstruction, and the house transformed into a cozy, two-story home fully engaged in the landscape beyond its many windows. Glass doors would eventually open onto layers of decks that flow into large stone steps and terraces carved out of the hillside.
Peggy Fox worked as a graphic artist until the birth of their first daughter. Caring for her gave Fox more time to dream about her first garden. She had no horticultural background, but her training as a graphic artist had developed a strong sense of color, form and texture.
The existing garden had a few mature trees, running bamboo and grass. The soil was a mix of clay and rock that had been tumbled by glaciers and stayed quite wet as the hillside drained toward the bay. Clay is not all bad; it tends to have good fertility and water-holding ability. It is difficult to weed and work, however, and if it drains poorly, it can cause roots to rot in plants not suited for such wet conditions.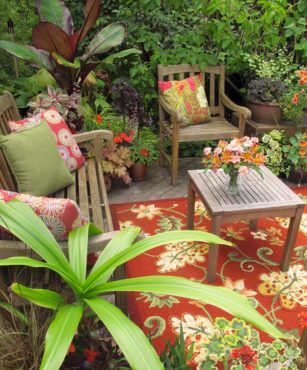 Fox put her ideas on paper and consulted with Scott Junge of Rosedale Gardens about executing them in 2001. Junge took the gist of her plans and went to work with his crew to transform the backyard slope into several terraces linked and bordered with large Lynch Creek rock.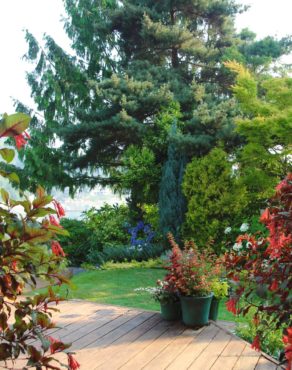 They removed 13 dump-truck loads of existing soil and replaced it with 13 truck-loads of five-way mix to a depth of about 15 inches. (Note: When layering a new soil material on top of existing soil that is different in texture as in this case, it is important to break up the interface between the two soil types to avoid a perched water table and drainage issues). Access to the back area was unobstructed then, and power equipment made the work possible.
Steps made of large, flat Lynch Creek stone lead from the two-tiered decks to the upper, grassy terrace surrounded by planting beds; downhill to the lower terrace and a crushed-granite fire-pit terrace; and to the beach-side, crushed-rock terrace. A floating dock makes getting on the water a breeze.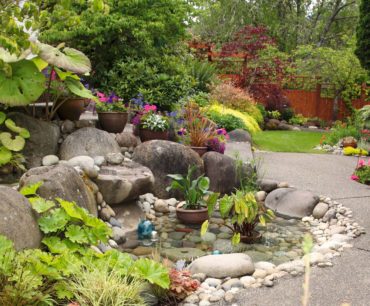 Bill Fox's background as a civil engineer and water-quality consultant were helpful in navigating the Pierce County building code. The construction of the stone retaining wall as well as the terracing was kept behind the existing wooden bulkhead to ease compliance.
Although she was a bit overwhelmed by all the new planting beds awaiting her creative ideas, Fox wanted to choose and plant her own plants. She understood color well, and let that knowledge guide her choices.
The garden is organized by color, mainly of foliage but perennial flowers as well. Hot colors transition toward cooler tones as the eye moves from right to left. The burgundy of ninebark and barberry; the purple of the Royal Purple smoke tree and heucheras; and a splash of red mix it up with the salmon/orange of Excalibur azaleas, yellow lilies and golden ninebark.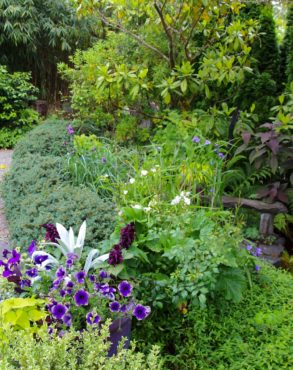 The plantings gradually cool off with pinks, purples and splashes of gold. Colorful pots brighten the vignettes and tie everything together. The garden is lush, full and vibrant. Slow-growing shrubs and grasses line the pathways and provide some unity as well as great color.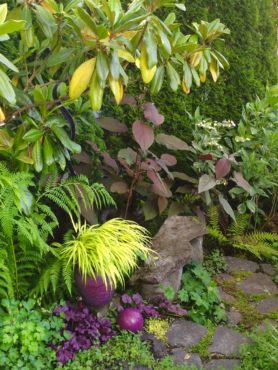 Rhododendron impeditum, with its silver foliage, purple flowers and tight-growth habit, form a splendid border to the other purple and silver, cool plants. The wonderful fragrance of its foliage is an unexpected surprise.
The color scheme warms up again with the foliage of variegated boxwood lining the stone steps leading to the dock. The low, variegated box hedge pairs wonderfully with golden Hypericum and the scrumptious, reddish-chocolate foliage of Uncinia rubra 'Belinda's Find.' This intriguing red hook sedge has a bit of a dark side, as its common name suggests: The seeds tend to grab anything that passes by, be it a beach towel or a sock, so siting it a little farther from a path is advisable.
Most of the ground is covered by plants, from the tiniest of groundcovers like mother of thyme and low sedums, to the heath-like Daboecia cantabrica. Mulch has to be hand-carried in buckets to the waterside garden since access is limited, and the tight plantings cover the ground and outcompete many weeds. Fox is quick to say that she is thankful to the help of Randy Raub of Randy's Nursery and Russ Vadar, both of whom help with some of the maintenance tasks, especially before a garden tour.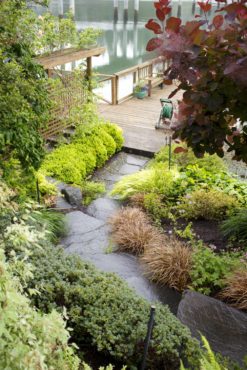 Each terraced level includes a calm backdrop of either green, lush grass or fine-crushed granite that evokes the feeling of being on a beach. Comfortable chairs invite visitors to stay a while and enjoy a fire or the activity on the water.
The decks right outside the back door are filled with ceramic pots overflowing with bright, hot-colored plantings; comfortable seating areas; and even more color in the furnishings.
The front garden was developed in 2003 with the construction help of Lynn Tauscher and her Ukrainian crew. Once again, Fox's ideas were transformed into reality, adjusted and developed further during the build. Beautiful, smooth boulders formed retaining walls; smaller river stones were used in the construction of the ponds; and the transition between the new aggregate pathways and the stonework was nicely blurred.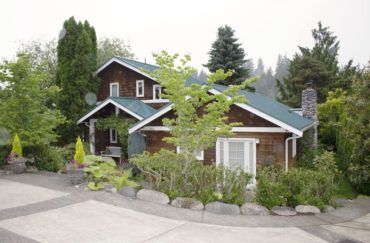 The resulting space has the feel of a cottage garden, filled with flowering perennials like phlox, roses, veronica, gladiolus, lilies, red valerian and pots overflowing with bright colors. The smooth quality of the stone suits this relaxed scene well, and the ebb and flow of the Japanese forest grass, Hakonechloa macra 'All Gold' lends movement, brightness and unity.
A Garden in Transition
The garden is currently going through an editing session. A large blue spruce along the deck was taken down, as it was crowding the space around the deck. An evergreen by the front door was getting too large and was removed, opening up the areas to airflow, sunshine and space. A golden chain tree toppled over, and all that's left are cut rounds of this interesting though toxic wood, better not used in bon fires for the irritating smoke it would produce.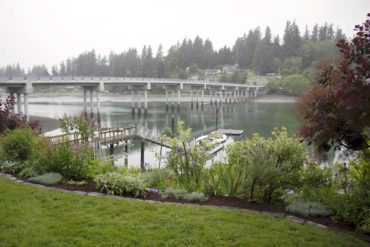 An evergreen magnolia has been declining, the likely culprit a root or trunk rot. The side yard has to be replanted after a fir had to come down, along with a buffer of smaller shrubbery. No garden tours this year, Fox declares, thinking up ways to block the newly revealed, undesirable views.
The whole garden and home came close to an unintended remodel a year ago when the neighbor's house caught on fire. Fox was grilling dinner, but the smell was much smokier than normal. She realized it was a house fire, quickly made some calls, and went into rescue mode.
Many people wonder what they would bring with them if they had to abandon their home in an emergency. Fox found out that day that what mattered most were their two Maine Coon cats and her guitar.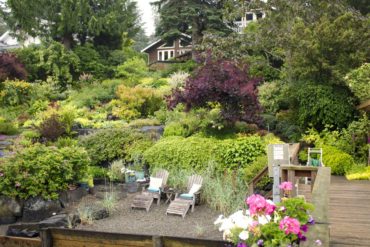 A garden is never static; it is forever changing. Part of the appeal of gardening is the continuous evolution of the canvas. As most enthusiastic gardeners realize when they first begin to fill their new garden spaces, the plants are small, the beds seem big, and exciting plant material is in abundance in the Pacific Northwest gardeners' paradise. This region caters to those plantaholics who have more plants than they could plant in 10 lifetimes. What fun!
Peggy Fox's enthusiasm is evident in her plant collection, yet she is not thwarted in editing as the garden evolves. Every so often, the neighborhood chickens lend a beak or a foot as they do some editing of their own, scratching through the beds. Every gardener has challenges to overcome, and every success feels greater after a challenge — right?